Portland's Best Weekly Bar Events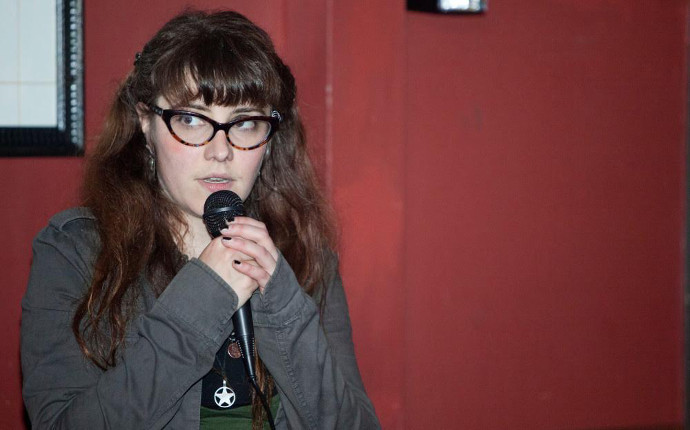 With the glut of bars that Portland has, it's important to come up with ways to bring people in the front door; this is especially true on the nights that are traditionally slower, like Sundays and Mondays. How better to do so than with a fun event? Karaoke, open mics, trivia, and more can be found each day of the week in Portland, so we've rounded up some of our favorite weekly events. We've avoided bars with regular live music, unless there's a specific theme, and focused more on weekdays than the weekend. Let us know if we missed your favorite recurring event at our Facebook or Twitter.
MONDAY
It's Gonna Be Okay
EastBurn
There's no better way to chase away a case of the Mondays than with comedy. Barbara Holm hosts It's Gonna Be Okay, a free comedy show every Monday in the basement of Eastburn. Unlike comedy open mics, these performers are vetted, which means you only get people that are actually funny, including professional comics. What's more, Holm and co. are committed to providing a space free of sexist, ableist, transphobic, homophobic, or racist humor, so the comedians here actually have to work instead of relying on lazy, offensive attempts at humor. (1800 E Burnside St.; 503-236-2876)
Trivia
Gladstone Street Pub
The Gladstone Street Pub is a simple, cozy little bar that serves good food and cheap drinks, including a line of infused spirits. Mondays here are trivia nights, where teams answer questions developed and given by the owner for a variety of prizes. While there's no official limit to team size, it's generally no more than five. It's a great spot for a casual but fun trivia night. The game starts at 7:30 PM. (3737 SE Gladstone St.; 503-775-3502)
Karaoke From Hell
Dante's
There's Karaoke, and then there's Karaoke from hell. Dante's long-standing karaoke night has something most others do not: A live band playing along to your songs. It may not have as long of a song list as others do (though it is impressively large), but no other spot makes you feel as much like a lead singer in a rock band as Karaoke from Hell does. (350 W Burnside St.; 226-6630)
Blackout Bingo
Liberty Glass
Bingo! It's not just for the elderly anymore. Bingo is the perfect bar game, because it requires zero skill and only luck; no matter how much you've had to drink, you can still win the cash prizes offered by Liberty Glass on Monday nights (though please still do drink responsibly). The event goes from 8:30 PM to 10:30 PM, and is free. (938 N Cook St. 503-517-9931)
TUESDAY
Smarty Pants Trivia
Side Street Tavern
Side Street is a friendly and unpretentious neighborhood bar in SE, and every Tuesday owner Jason Youngers and his sister Jenny host Smarty Pants Trivia, a fun, free trivia contest with great prizes. Teams can be up to six players; register when you arrive. The game starts at 8 PM and lasts around two hours. (828 SE 34th Ave.; 503-236-7999)
TNT Open Mic
The Triple Nickel
Classic dive bar The Triple Nickel on SE Belmont hosts its own open mic night every Tuesday. Sign ups are available on the Facebook group page, or you can get there early and sign up there. Even if you aren't singing you can always go for the tequila specials and $1 tacos. TNT goes from 8 PM to 11 PM. (3646 SE Belmont St.; 503-234-7215)
Who's The Ross?
Dante's
Dante's has a number of weekly events in addition to Karaoke from Hell, and one of them is Who's the Ross?, Portland's own late-night talk show, hosted by Aaron Ross. Ross performs standup, interviews local and visiting celebrities, and more, while backed by house band Them! The Band! There's just something distinctly Portland about having our own talk show. Who's the Ross? begins at 9:00 PM and is just $3. (350 W Burnside St.; 226-6630)
WEDNESDAY
Board Game Night
My Father's Place
Somewhere between a dive bar and a greasy diner is My Father's Place, which combines the best of both worlds. The bar always has plenty of entertainment, with pool, pinball, and arcade games, but nothing beats Wednesday boardgame nights. Dozens of board games are available for patrons, from classics to obscure European ones. The games come out at 7 PM, but be sure to get there earlier to assure yourself a seat. (523 SE Grand Ave.; 503-235-5494)
Quizissippi
Mississippi Pizza
Considered by some to be the best trivia in Portland, Quizissippi is hosted every Wednesday evening at Mississippi Pizza. Prizes abound here, and even the lowest ranking team can win things like gift certificates. Each week has a theme and there are questions from every genre, from science to history to pop culture. Tickets are $2, and the quiz starts at 7 PM. (3552 N Mississippi Ave.; 503-288-3231)
Earthquake Hurricane Comedy
The Liquor Store
Comedy supergroup Bri Pruett, Alex Falcone, Anthony Lopez, and Katie Nguyen formed a few years ago at Velo Cult, but recently moved to The Liquor Store to perform every Wednesday night. The group isn't alone, but features other local and visiting comedians, with the foursome performing at the start, riffing topics and ideas before acting as hosts for the guest comics. The show runs each week from 7 PM to 9 PM, and tickets are $5 at the door. (3341 SE Belmont St.; 503-754-7782)
THURSDAY
SHADOWPLAY
Lovecraft Bar
Is your favorite movie The Crow, or maybe The Craft? Do you have posters of Ian Curtis or Robert Smith in your bedroom? Do you own more than one pair of black vinyl pants? Then you'll love SHADOWPLAY at The Lovecraft, one of Portland's longest running goth/industrial nights. Dance (or sway grimly) to to the haunting and raucous tunes of DJ Carrion and friends, while sipping on absinthe cocktails or cheap wells. Doors open at 9:30 PM, and there is no cover.
(421 SE Grand Ave.; 971-270-7760)
Karaoke
Scoreboard
Scoreboard is one part dive and one part sports bar with all the class that comes with both, as well as cheap drinks and questionable food. On Thursday nights it hosts karaoke, generally sung by locals and long time regulars. It's very Old-Portland, and starts around 7. (4822 SE Division St.; 503-234-0181)
FRIDAY
Soul Stew
GoodFoot
Wrap up your work week and start your weekend right with one of the best dance nights in the city: Soul Stew at the Goodfoot, where a live soul/funk band plays the danciest, jiviest licks to get you grooving. Soul Stew starts at 9 PM every Friday, though it usually doesn't get really going until 11 PM or so. Tickets are $5 at the door.
(2845 SE Stark St.; 503-239-9292)
SATURDAY
It's Saturday night, which means bars don't need anything special to bring in customers. There's plenty of live music, karaoke, and dance nights around town, but little on a weekly schedule.
SUNDAY
Stripperaoke
Devils Point
There's karaoke, and then there's Stripperaoke. A phenomenon unique to Portland, Stripperaoke invites guests to come on stage to perform their songs while dancers spin on the pole. It's a wild, fun night every time that helps to break some of the stigma around strip clubs. Just be sure to show up early, or you're liable to wait a few hours to sing. Stripperaoke begins at 9 PM and goes until close; there's no cover, but generous tipping is expected. (5305 SE Foster Rd.; 503-774-4513)
Sunday Sessions
Rontoms
Rontoms acts as a venue menu nights out of the week, but Sundays are the best nights to go because it's an absolutely free show, and the first work night of the week means smaller crowds. Don't think that it means the bottom of the barrel for music--Sunday Sessions is a beloved institution, and many local and visiting acts perform there just for the exposure or fun. Shows start at 8:30 and go late. (600 E Burnside St.; 503-236-4536)
Sinferno Cabaret
Dante's
It can't be helped that Dante's has some of the greatest recurring weekly events, and the Sinferno Cabaret may be its best. The longest running burlesque show on the West Coast at 16 years, it's also considered by many to be one the best in the country. It's a veritable circus, with pole-dancing, contortion, sword-swallowing, puppetry, music, comedy, and more, and it's all the better now that the city has re-allowed fire dancing to be performed here. Sinferno Cabaret helps to maintain Portland's reputation as a debaucherous, wild little city. The show starts at 10:00 PM, and tickets cost $10, or $100 for a guaranteed table of four at the front. (350 W Burnside St.; 226-6630)
Photo via EastBurn

Recent Articles

Feedback
How are we doing? Tell us what you like or don't like and how we can improve. We would love to hear your thoughts!