From Bar Nuts to Currywurst: Portland's Best Bar Snacks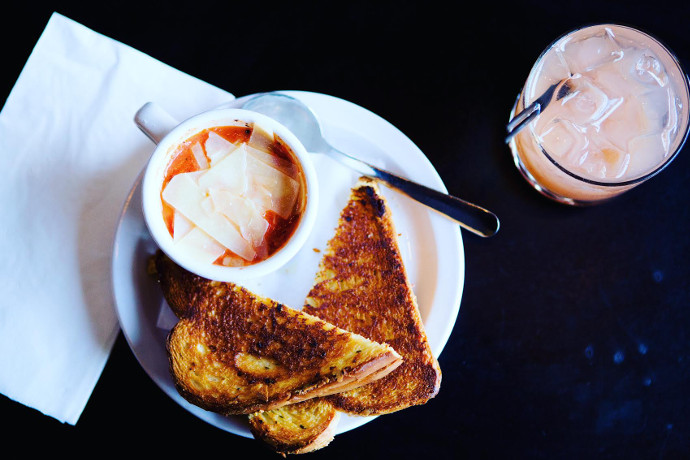 One of the best things about the Portland bar scene is that any place that serves hard alcohol must also have hot food available during all service hours. While some places skirt the regulation by providing microwaved pizzas or TV dinners, many bars have embraced it, and provide as high quality food as they do drinks. You can find full meals at most bars, but this list focuses on smaller fare for snacking on while you enjoy a cocktail or a pint of beer. If we missed your favorite bar snack, let us know on our
Facebook
or
Twitter
.
Aalto Lounge
Grilled Cheese and Tomato Soup
Aalto Lounge has a perfect little grilled cheese sandwich ($6): buttery white bread, stretchy yellow cheddar, and a warm mug of rich tomato soup to dip it in. The best thing about it is that if you get it during happy hour, from 5 PM to 7 PM every day of the week, it's only $2. Just expect a bit of a wait, especially on weekends when happy hour is packed. (3356 SE Belmont St.; 503-235-6041)
Stammtisch
Currywurst
A great German bar needs great German food, and Stammtisch definitely provides. The currywurst ($6), a fried pork and veal sausage with a curry ketchup and crisp golden fries, is a great accompaniment to any of the many biers served here. It's like a hot dog with fries and ketchup, only elevated and more German. (401 NE 28th Ave.; 503-206-7983)
Victoria Bar
Buffalo Cauliflower
The Lightning Bar Collective has earned a large part of its success due to its focus on vegan and vegan friendly menus. While Victoria isn't 100% vegan like The Bye and Bye or Sweet Hereafter, there are still plenty of veggie items to choose from, including a delicious "healthy" alternative to buffalo chicken wings: buffalo cauliflower ($6). Sweet, spicy, crispy, and delicious, they're served with blue cheese and carrot sticks. (4835 N Albina Ave.)
Lutz Tavern
Lutz Corndog
The Lutz Tavern is a quintessential Portland dive with standard pub food that's been taken up a notch. The Lutz corn dog ($6) is house made and is an eight inch all-beef frankfurter dipped in jalapeño corn batter, served with a plate of fries. It might be a guilty pleasure, but you're at a dive bar; you're not looking for health food. (4639 SE Woodstock Blvd.; 503-774-0353)
Vegan Corn Dog Basket
If corn dogs are your thing, but you don't consume animal products, then head to Hungry Tiger for the vegan corn dog basket ($7.75). They're as golden and crispy as the meat kind, and after a few drinks you'd be hard pressed to tell the difference. Even non-vegans will likely find them to their liking. (213 SE 12th Ave.; 503-238-4321)
Dot's Cafe
Kitchen Sink Fries
While you can find a plate of fries for cheap in just about every bar in the city, the ones at Dot's are special. Dot's is the original spot for dressing up fries, and if you're going to go in, you might as well go all in with the appropriately named kitchen sink fries ($8.5): a massive platter of fries dripping with jalapeños, bacon, cheddar, jack cheese, serrano ranch, and tomato jam. (2521 SE Clinton St.; 503-235-0203)
Bit House Saloon
Chicharones
Chicharones are quintessential bar food. They're just fried pork fat with salt and spices, but the chicharones ($3) coming out of Bit House Saloon's new kitchen are just right: crunchy at first and then slowly melt and dissolve in your mouth, with just a hint of paprika and lime to spice them up. (727 SE Grand Ave.; 503-954-3913)
Expatriate
James Beard Onion & Butter Sandwich
Anything on the menu at Expatriate could qualify for best bar food in the city, seeing as the co-owner and chef is Naomi Pomeroy of Beast. However, the winner goes to the James Beard onion & butter sandwich ($6), named for the famous chef's favorite simple dish. It's exactly what it sounds like, but it somehow transcends the banal, as only Beard could have predicted. (727 SE Grand Ave.; 503-954-3913)
Interurban
Grilled Broccolini
Bar food doesn't need to be all meat or fried foods; vegetables can be just as great as any chicken wings or fries. Case in point, the grilled broccolini ($7) at Interurban, A simply prepared dish of broccolini topped with just a touch of calabrian peppers and shredded pecorino. Come in during happy hour, Monday through Friday, 3 PM to 6 PM, when it's only $5. (4057 N Mississippi St.; 503-284-6669)
The Knock Back
Dirty Popcorn
Popcorn has recently gained popularity as a bar snack, and even as an appetizer at nice restaurants; it's cheap, fluffy, crispy, shareable, and easy to garnish. The dirty popcorn ($5) at The Knock Back is covered in parmesan, bacon, herbs, and just a bit of capers, making it salty and delicious. While it comes in a large, shareable portion, it's easy enough to finish off on your own. (2315 NE Alberta St.; 503-284-4090)
Horse Brass Pub
Scotch Egg
Everything on the menu at the Horse Brass is authentically British, from the cask-conditioned ales to the fish and chips, but the best is the scotch egg ($6.25), prepared traditionally: A hard-boiled egg covered in sausage and deep fried. It's served with chips (the British kind) and mustard, and is perfect to help soak up the 20 ounce pints of ale you're downing. (4534 SE Belmont St.; 503-232-2202)
Gold Dust Meridian
Gold Dust Wings
The chicken wings ($9) at Gold Dust Meridian could easily be considered more of a meal than a snack, unless you're willing to share. The dish is a staple there, and comes with six different options for sauces, the best of which is either the Jamaican Jerk or the sweet and spicy marionberry. Gold Dust's happy hour is absurdly long and late, from 2 PM to 8 PM Monday through Saturday and all day on Sundays, during which a plate of wings is only $6. (3267 SE Hawthorne Blvd.; 503-239-1143)
Shift Drinks
Bruschetta
Bar snacks don't have to be heavy or rich; the bruschetta at Shift Drinks is light, fresh, and delicious and pairs well with the creative wine list and cocktails served here. The seasonal fruit bruschetta, which is currently prosciutto, pear, arugula, and ricotta ($11), is often the best one on the list, but you can't go wrong with the traditional, with fresh ricotta, basil, and tomato ($8). (1200 SW Morrison St.; 503-922-3933)
Quality Bar
Pizza by the Slice
This one is cheating a bit, because quality bar is technically an extension of Sizzle Pie. Still, it is its own bar, and it's hard to beat pizza as a drinking snack, especially when it's as floppy and greasy as the slices found at Quality Bar. (931 SW Oak St.)
Bible Club
Spiced Nuts
A list of bar snacks without nuts is an incomplete list. Luckily, there are plenty of options, and the spiced nuts ($5) at Bible Club, the cozy speakeasy in Sellwood, are standouts. Hazelnuts and walnuts with quatre épices (pepper, cloves, nutmeg, and ginger) as well as truffled cashews makes this treat much more than your usual cup of salted peanuts. (6716 SE 16th St.; 971-279-2198)
Photo via Katana Triplett
Recent Articles

Feedback
How are we doing? Tell us what you like or don't like and how we can improve. We would love to hear your thoughts!