A Swedish Brewery is Coming Out With a Shower Beer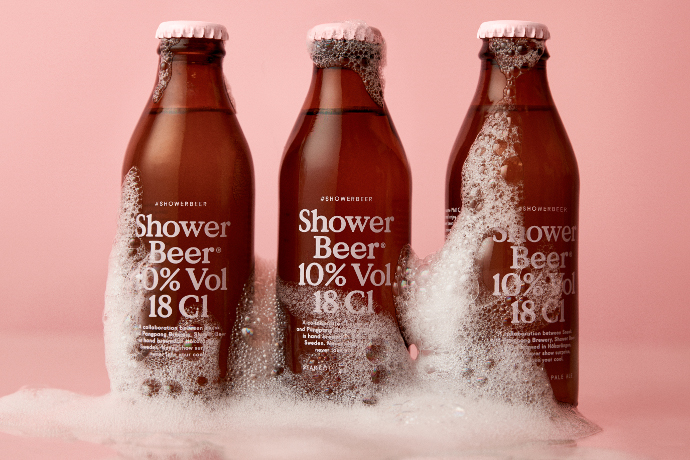 After an absolutely dismal 2016, the new year is off to a wonderful start with a runner-up for greatest beer-related invention ever: Shower Beer. The Swedish craft brewery PangPang, in conjunction with creative agency Snask (which came up with the concept and product design), has designed all facets of the beer for optimal shower consumption, up to and including the mini 6-oz bottles "meant to gulp in three sips while standing in the shower." Also worth mentioning is the fact that the beer is 10% ABV. What a time to be alive.
In addition to the size and alcohol content being designed for the perfect accompaniment to soapy, naked bodies, the beer also has a slightly soapy taste to it. As brewery founder Frederik Tunedal explains, "I let the Shower Beer sit longer in the primary fermenter before dry hopping and cold crashing it, compared to other PangPang beers. This lets it develop a soapy flavor that in some beers is considered an off flavor." Other than the soapiness, the beer is described as a sweet pale ale heavily hopped with Citra hops, giving it a citrusy and herbal flavor.
Despite the flavor profile sounding a lot like shampoo, the first batch of the beer sold out almost immediately, and the brewery is working on more (though no word on if they'll send it stateside).
And if you don't necessarily like beer in the shower — or, more than likely, you've brought three or four of the micro bottles in with you and can't finish them all — the beer's recipe actually doubles as a conditioner. So pour a little in your mouth, a little on your head, rinse, and repeat.
Photo via Snask & PangPang
Recent Articles

Feedback
How are we doing? Tell us what you like or don't like and how we can improve. We would love to hear your thoughts!