A Look Back at Portland's Best Bar Programs in 2016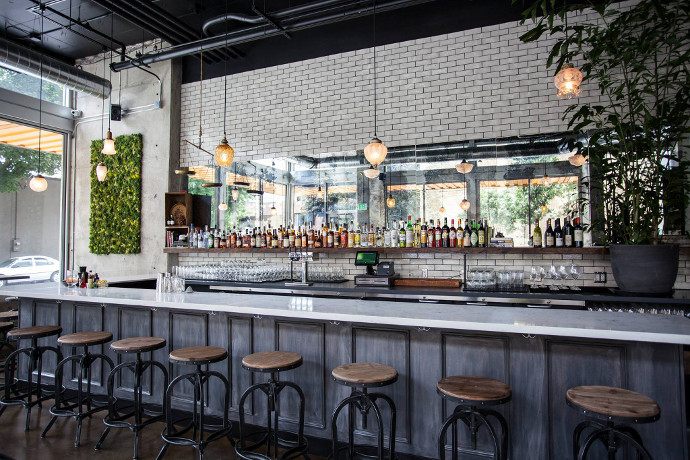 2016 brought Portland numerous restaurant and bar closures, from venerable institutions to flash-in-the-pan operations. Luckily, we also received a good number of new restaurants and bars, many of which included some great cocktail, wine, and beer programs. Here's our look back at our favorite bar programs of 2016. Let us know if we missed your favorite on our Facebook or Twitter.

Wayfinder
"Slightly refined" is the slogan at the top of Wayfinder's website, and it's an apt one. The gastropub is certainly classy, housed in a beautiful vintage building of exposed brick with around 9,000 square feet including its massive wooden patio out front. But Wayfinder is decidedly casual and approachable, in the spirit of what the term pub comes from: a public house, a place to gather for drinks and food. Jonathan Carmean, formerly of Belmont Station, is Wayfinder's bar manager, though bartender Jacob Grier has a substantial role in crafting the cocktails. Grier wrote a book on beer cocktails and also founded the annual Aquavit Week, with both of those elements making appearances on the menu. The staff as much time perfecting classic cocktails, including a delicious rum old-fashioned ($10), as they did crafting original drinks. Beyond mixed drinks, Wayfinder offers a substantial beer selection, including more than a few collaborative beers with local breweries. The bar should, soon, be producing its own beers, focusing on lagers, a decision that is wise and welcome in a city so inundated with ales.
There was considerable anticipation when Headwaters opened in October of 2016. The restaurant is the newest project of one of the city's biggest chefs, Vitaly Paley, and it opened in the space previously home to the longstanding and celebrated Heathman. So far, it's managed to only impress, with its expertly prepared seafood focused cuisine, elegant wine list, and fun bar program. Brandy Feit, previously of Clyde Common, runs the program, which is as ambitious at the food. Come in for a duck confit infused rye whiskey in the Late for Dinner ($10), stay for the
Sweater Puppy ($10
)
while you can. And don't miss their happy hour, which is
as good as any of Paley's spots
, with $5 on tap cocktails plus food and wine deals.
Rue
Jon Lewis helms the bar at Rue, the French-inspired bar and restaurant in Kerns. Don't expect too many classic cocktails on the menu, but instead, confusing sounding cocktails that turn out to be inspired, balanced, and creative. Lewis has a palette for herbaceous and high-acid drinks, which pair excellently with the lively, fresh fare the restaurant offers. If wine is your thing, you'll not be disappointed, as Lewis has also developed an affordable selection of old-world and local wines. The bar recently added happy hour to its program, a great way to sample the cocktail menu with $2 off each drink, not to mention $1 oysters.
The Waiting Room
Portland's best new Southern restaurant needed a strong cocktail menu to stand up to the hearty food, and that's just what The Waiting Room got. Sazeracs are mandatory, and here, they are on tap. Cocktails like Makin Groceries!! ($12) with dark rum, cachaça, maraschino, grenadine, pineapple, and lime or the Seductive Barry ($13), with pineapple infused averna, sweet vermouth, lemon, and a touch of salt draw from musical inspirations, and pair lovely with the oysters and fried chicken that make TWR such a destination.
Quaintrelle
Quaintrelle is the newest vegetable focused European-influenced bistro to grace Portland, and the city's food scene is much better for it. It's no disparagement to the food here to say that bar manager Camille Cavan's drinks are worth the trip alone. The cocktails are rich and complex while remaining fun and accessible, with some unexpected garnishes and helpful descriptions. Take the Fall of Voltaire ($12) for instance, with mezcal, sherry, cardamaro (a bittersweet amaro), and allspice wash, served with a small side of salted nuts to complement the flavor; it certainly lives up to the description of being "robust, deeply layered, and vibrant".
Bar Casa Vale
The newest bar from restaurateur Nate Tilden of Clyde Common, Pepe le Moko, and Olympia Provisions, is Bar Casa Vale, a tapas restaurant and sherry bar. A massive wine and sherry list that perfectly accompanies the many plates of Spanish tapas and cured meats is the main draw here, but the Pan-Latin cocktail menu, full of brandy, rum, sherry, and vermouth, should not be missed. The place itself is dark, brick lined, and the staff is clearly having fun, which means guests are, too. Bar Casa Vale is a welcome addition to the city.
Superbite/KASK
When Grüner shuttered and the owners of Ox took over the space, the future of Kask, its cozy cocktail bar offshoot, was unclear, especially after it, too, closed up. Now, Superbite is open, and Kask has reopened with a revised cocktail menu, with cocktail programs helmed by Beau Burtnick, formerly of Shift Drinks. Both menus have bold, innovative cocktail lists, with unexpected ingredients like ash salt, smoked maple, or Underburg Bitters. The wine list at Superbite is impressive, with wines intended to pair well with the large variety for small plates that it is known for, and Kask has a similarly large spirits list.
Bible Club
The newest, most accurate speakeasy club in sleepy Sellwood has been a smash hit ever since it opened in early spring this year. Patrons have been drawn in by the amazingly accurate Prohibition era decor, but have stayed for the fantastic cocktail menu designed by duo Jessica Braasch (of the original Kask) and Nathan Elliot. The menu is divided between "Proprietary" and "Heritage" cocktails, or original and classic. During the summer, the patio opens up for Revival, with its own cocktail menu and local wines and beers for a more casual, summertime lounge, complete with live music, though it's currently closed for the winter.
Neat Whiskey Bar
Aaron Howard works on his own most nights at Neat, the cozy and cute whiskey bar on Hawthorne. The program is accessible for both casual diners, with a large whiskey list and approachable drinks, as well as cocktail geeks; Howard makes his own ice spheres to fill with cocktail, his own line of shrubs (drinking vinegars), and house bitters, which means drinks you will not find anywhere else in town.
Solo Club
Besaws, the oldest restaurant in Portland by a wide margin, had a tumultuous year. It was forced to shutter in 2015 after 113 years, then, after a legal battle, re-opened around the corner from its old location months later, in conjunction with Solo Club. The airy and Mediterranean styled Solo Club serves as a breakfast spot, happy hour location, and evening cocktail bar, with inventive approaches throughout. The cocktail program, overseen by Mark Hammond, is as stylish as the bar, complete with a creative "coolers" menu: items like Radlers ($6) with your choice of soda, or Gin & Tonics ($10) with your choice of amaro make it a fun "Build your own adventure!" menu, with plenty of options to choose from.
Photo via Rue PDX on Facebook

Recent Articles

Feedback
How are we doing? Tell us what you like or don't like and how we can improve. We would love to hear your thoughts!