Where to Drink Holiday Cocktails in Portland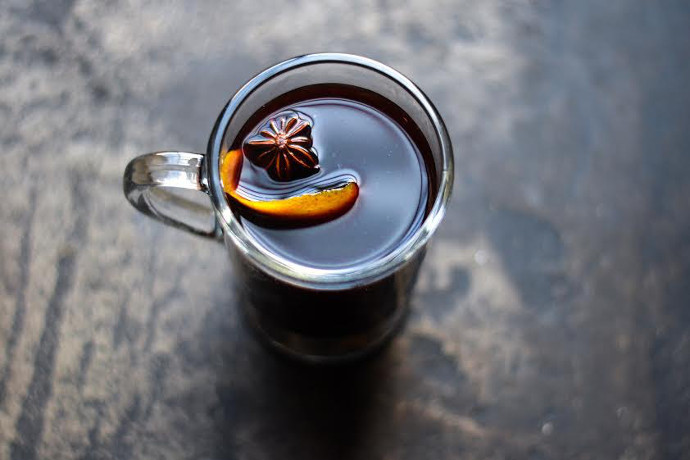 We haven't had this much snow in December in Portland in years — the roads are already icy and many businesses are even closed on the occasional snow day. Luckily, most of the bars in the city stay open, serving up some delicious, warming cocktails. If you're tired of drinking local seasonal beers and are looking for something a bit more high-proof, here are Portland's best winter cocktails for 2016, with plenty of brandy, scotch, and whiskey. (If you're looking for hot cocktails in particular, you can find our favorites here.) Let us know if we missed your favorite sipper at our Facebook or Twitter.
From Portland's best German restaurant comes Gluhwein ($7), which is simply a German mulled wine. This hot, herbal, and dry beverage is delicious on its own, warming you to the bone on a cold winter night, but we strongly suggest adding an additional shot for just $3, of which there are three options: Abach, a German riesling brandy; amaretto, an almond liqueur; or apfelkorn, strong apple schnapps. (401 NE 28th Ave.; 503-206-7983)
The Land Shark ($12), at the swanky cocktail joint Shift Drinks, is an unexpected treat. With a smoky Islay single malt whisky, blackberry brandy, and sweet vermouth, it sounds like it could be a mess. Instead, it's a delightful concoction full of smoke and with a gentle touch of fruit, an antidote to the harsh December weather outside. (1200 SW Morrison St.; 503-922-3933)
The Rambler Bar is a rustic neighborhood spot with a craft cocktail list, and the Cowboyz 2 Men ($11) fits that aesthetic well. With Rittenhouse Rye, Espolon reposado tequila, and Grand Marnier, along with Punt e Mes vermouth, orange bitters, and black walnut bitters, it's a hefty and rugged drink. It's chilled but served in a snifter, tasting much like a hot toddy that just happens to be cold, and evoking a cedar lodge in a winter clearing. (4205 N Mississippi Ave.; 503-459-4049)
Two types of rhum,
Smith Tea
, and a butter batter make The Amaro Buttered Rhum ($10) at Bit House Saloon a rich, sweet, and creamy drink. It then gets topped by a sweetened meringue that's torched by hand. The level of char is indicative of how each bartender liked their marshmallows growing up, so it's a gamble each time. The resulting concoction is almost too much, but just almost.
(727 SE Grand Ave.; 503-954-3913)
While the name might be a little late at this point, as winter has definitely arrived, Winter is Coming ($13) is no worse for it. Aviary is an ambitious and unconventional Asian-inspired restaurant, and this drink reflects that: Primitivo Quiles vermouth, Old Overholt rye, Fernet Branca, allspice dram, and maple syrup are balanced with the heat from fresh ginger juice. It's a perfect holiday cocktail with a balance of sweet, herbal, and spicy notes. (1733 NE Alberta St.; 503-287-2400)
We're not sure why such a classy, upstanding place like Paley's newest venture, Headwaters, would have a drink called Sweater Puppy ($10). It fits Portland's casual attitude, though, and it's good enough you won't care. It's a seasonal, Russian old-fashioned, which means aged vodka, Laird's Applejack, Cardamaro, and an apple-butter syrup, which is drier than a regular simple syrup, making for a lightly sweet, crisp, and warming winter drink. (1001 SW Broadway; 503-790-7752)
Just because it's winter doesn't mean you can't day-drink. In fact, in the winter hours when we barely see the sun, you should take every opportunity for it. To that end, the rustic-but-refined Country Cat has the answer: The Harvest Mimosa ($9), with Clear Creek Apple Brandy, unsweetened apple cider, old fashioned bitters, and star anise, topped with sparkling wine. (7937 SE Stark St.; 503-408-1414)
Urban Farmer, the stylish steakhouse and lounge in the
Nines Hotel
is helping to prove the validity and quality of hotel bars, with its emphasis on farm to table, as well as farm to glass. My Perfect Pear ($12) exemplifies the locavore style of the bar as well, with Portland prodcuts Aviation Gin and Clear Creek Pear Brandy, as well as all-spice, lemon, and pear. It tastes like a pear pie in a glass, and definitely in a good way.
(525 SW Morrison St.; 503-222-4900)
Snow outside? Snow in your glass. There's no reason to wait for summer to enjoy a drink with crushed ice, especially when it's as lovely as the Columbia Cobbler ($10), from the fabulous gastropub Interurban. Clear Creek Apple Brandy appears again, this time mixed harmoniously with a nutty amontillado sherry and lightly sweetened with pear-spiced moscato syrup.
(4057 N Mississippi St.; 503-284-6669)
Recent Articles

Feedback
How are we doing? Tell us what you like or don't like and how we can improve. We would love to hear your thoughts!