Try These Great Local Portland Beers This Winter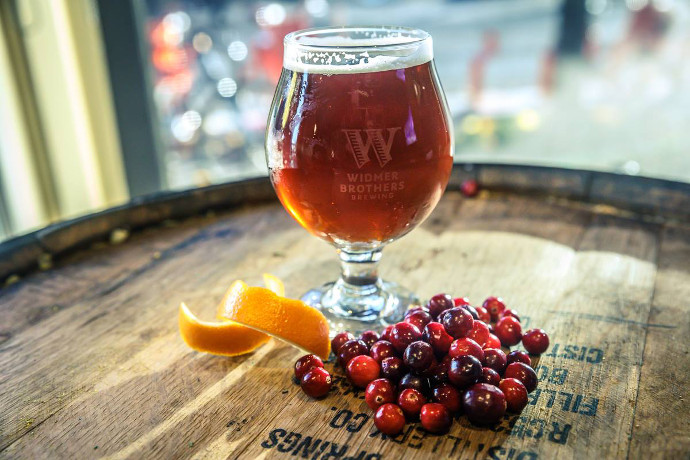 Portland is often known as Beervana, a testament to our city's history as a pioneer in brewing, as well as the sheer volume of breweries we have (i.e., the most of any city in the world). One of the few things to look forward to in the dark, dreary months of winter are the seasonal ales that seemingly every brewery in town releases. With more than 70 breweries in the city, that means a lot of seasonal beers, some released in bottles, others only available on tap. To help you decide where to start, here are some of our favorite Portland seasonal winter beers. Let us know which brewery is making your favorite winter sipper at our Facebook or Twitter page.
The High Voltage from the Reedie founded Gigantic Brewing could easily be described as a red ale. However, it has a pronounced hoppiness, balanced by mild malt and a relatively low ABV that make it a smooth, drinkable IPA. As usual for the brewery, its label was created by an independent artist; the psychedelic boar art was crafted by
Ben Venom
of the San Francisco Art Institute. (5.8% ABV)
Yeah, we know: it's a mega-brewery that makes accessible beers like Drop Top that we all love to scoff at. But the truth is that Widmer Bros is one of the OG breweries in the state, and is still a legitimate group of brewers. Case in point, the Brrr, a velvety winter ale with chocolatey malts and mild hops. There's a reason it gets brought out every year. (7.1% ABV)
The Arctos is a remarkably smooth red ale with a head so thick you'd think it were on nitro. Delicate hops and medium bodied candied malts make it a lovely, traditional winter ale. Baerlic Brewing is still on the newer side, but continues to impress with its balanced, Northwestern style beers. (7% ABV)
Ruse is a bit of an oddity: a brewery inside of a brewery, it's helmed by one of Culmination's brewers who uses the space to try out ambitious and creative beers. The Interpreter is one such beer, a bright but cloudy double IPA that seems more like a spring ale than a winter with its pineapple and stone fruit. Still, its high ABV and thick body make it appreciable in the colder months. (8.2% ABV)
Each year, Stormbreaker makes its winter ale with a different fruit; this year it's plum, which is an appropriate fruit for a winter beer, with dark, lush juice. The plum itself is subtle, and just adds a gentle sweetness to the malt and low IBU of the winter beer. It's also joined by a slight orange zest. (7.5% ABV)
An amber base and a dry, nutty malt make the Liquid Sweater less sweet than your average winter sipper. For those who find winter beers too sweet and rich, this is one you want to go with that still has the characteristic spice of a winter ale. (7% ABV)
The directly named Winter Ale from pFriem boasts a rich golden malt on an IPA style winter beer. pFriem avoids the standard direction of dark winter ales, opting for a lighter frame, and, as usual, nails it. You'll have to forgive us for including a beer from Hood River on this list, but pFriem is simply one of the best breweries in the state. (7.5% ABV)
The Bourbon Little is a mouthful, both in its description and its flavor. Aged in George Dickel bourbon barrels, it has the traditional fruit and spice characteristics of a Belgian ale, along with a complexity from the barrel aging. It's rich enough and has a high enough ABV that it's definitely a slow sipper. Commons remains the standard of farmhouse and Belgian ales in PDX. (10% ABV)
Ecliptic Brewing rarely, if ever, disappoints. While it is still a relatively newer brewery, its pedigree goes back to the early days of Oregon beer making with John Harris at the helm. The Frosty Leo is a dark, malty English style ale, with sweet malts and floral hops. (8.2% ABV)
One of Burnside Brew Co.'s favorite thing to do is load up their beers with a variety of hops to add complexity, and the Permafrost is no exception. This winter ale has seven different hops varietals, giving is a rich bitterness, while its malt lends it christmas spices, perfect for the holidays. (8.3% ABV)
Photo via Widmer Brothers Brewing on Facebook
Recent Articles

Feedback
How are we doing? Tell us what you like or don't like and how we can improve. We would love to hear your thoughts!