Where to Drink on Thanksgiving 2016 in Portland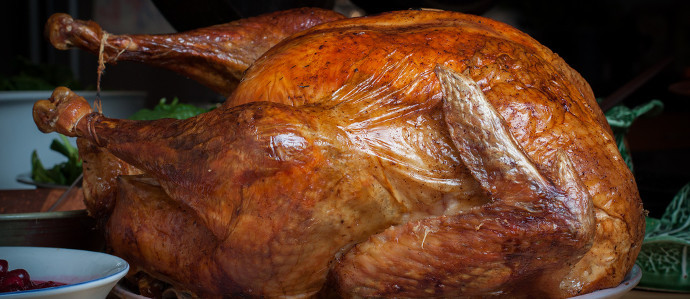 Portland can be pretty dark on Thanksgiving, with most establishments closing up to give their staff a night in with family. However, if you need to get out and get a drink for whatever reason, you do have some options. There are more than a few bars who keep their doors open 365 days out of the year. Here are ten places we suggest you head to on Thanksgiving this year. Let us know where you plan on hiding from your relatives at this Turkey Day on our
Facebook
or
Twitter
.
My Father's Place never closes for any holiday. This great and classic diner/bar is serving a special Thanksgiving dinner, with a ham or turkey option and all the necessary sides for $13. (523 SE Grand Ave.; 503-235-5494)
Every day, all day (or at least from 9 AM - 2:30 AM every day) is the motto at Radio Room. This two-story neighborhood bar will be offering a classic turkey dinner for $21 along with its regular menu, which is one of the better bar menus in town. (1101 NE Alberta St.; 503-287-2346)
Because if you're going to flout decorum and head to a bar for Thanksgiving, you might as well go all in and hit up one of Portland's best strip clubs. 2016 has been rough, so you deserve a fun distraction on the holiday. (633 SE Powell Blvd.; 503-206-7350 & 5305 SE Foster Rd.; 503-774-4513)
The the rustically classy gastrobar Interurban is open this year on Thanksgiving with some specials, including a turkey leg confit skillet with mashed potatoes and gravy. It's not really a spot for reservations, so just head on in early; the rest of the menu is so good you won't be at a loss no matter what. (4057 N Mississippi St.; 503-284-6669)
One of Portland's best and most fun cocktail bars, the Rum Club always feel like coming home to family. It's the perfect spot for a Thanksgiving escape, especially with one of the rich, spice-heavy rum cocktails the bar is so lauded for. (720 SE Sandy Blvd.; 503-467-2469)
While it's mostly known for being an amazing music venue, The Doug Fir Lounge, which looks like a hipster log cabin got turned into a bar, also has great dining. There's not going to be a show on Thanksgiving, but there will be a full turkey dinner being served upstairs all night, which includes all the fixins, as well as pumpkin pie, for $20. (830 East Burnside St.; 503-231-9663)
Pepe Le Moko
Jeffrey Morgenthaler's famous underground lounge is where you go when you really want a fancy take on a Grasshopper. It's also open 365 days of the year (366 in 2016), for those who want a dark, classy, boozy Thanksgiving evening.
(407 SW 10th Ave.; 503-546-8537)
A long-standing Portland destination, the cheap-but-classy Sandy Hut is somewhere between a dive bar and a tiki club. It's also open this year for Thanksgiving, making it a great spot for some cheap drinks this November 24th. (1430 NE Sandy Blvd.; 503-235-7972)
Part of Swank and Swine, the restaurant and bar duo housed in the Paramount Hotel, Swank serves a great whiskey selection in a stylish space. Both the halves of the establishment will be open for Thanksgiving this year. (808 SW Taylor St.; 503-943-5844)
Photo via Flickr user timsackton
Recent Articles

Feedback
How are we doing? Tell us what you like or don't like and how we can improve. We would love to hear your thoughts!