Where to Enjoy Hot & Delicious Alcoholic Drinks in Portland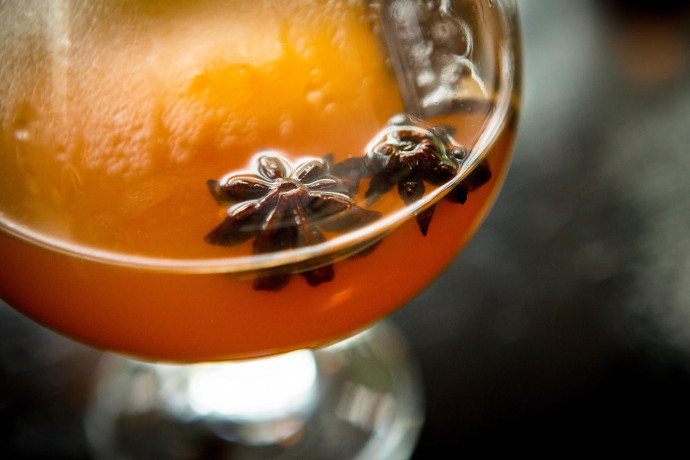 It really is winter now in Portland — what little sun we manage to get abandons us at five in the afternoon, the wind blows, and the rain comes down. But that just gives us an excuse to drink some tasty, warming drinks. Winter is the season of hot toddies, Irish coffees, and hot buttered rums, as well as more unconventional concoctions with warmth. We rounded up some of the best hot boozy drinks in Portland, from the classic to new. Let us know where your favorite spot is for a hot drink at our
Facebook
or
Twitter
.
It might be called a Spanish Coffee ($11), but the drink actually originated right here in Portland. The restaurant it was born at is still best place to get one: Huber's, one of the city's oldest restaurants, where it's still made tableside but skilled bartenders. 151 rum and triple sec are poured into a glass with a sugared rim and lit on fire; the fire caramelizes the sugar, while cinnamon and nutmeg are added with a burst of sparks. Then Kahlua and coffee are added, suffocating the flames, and the drink is finished with a cool cream. It's nothing short of iconic. (411 SW 3rd Ave.; 503-228-5686)
Hot Toddies are a quintessential winter cocktail, a nice warming drink with a hint of spice. The Bang Bang Toddy ($9) at Bang Bang, the casual Thai drinking spot, combines bourbon and brandy with an all-spice dram and lemon for a rich and layered toddy, and then kicks it up a bit with a Thai chili infused honey syrup. It's perfect with one of the Thai drinking snacks, like the Curry Fry Deluxe with fried chicken and soft egg, available after 9:20 PM. (4727 NE Fremont St.; 503-287-3846)
Bollywood Theater, on both Alberta and Division, has some of the best chai tea in town, made with hand cut fresh herbs and fine teas. While this isn't advertised on the menu, you can always ask them to add a shot of rum to it. It's basically a secret menu item, and it's rich, slightly sweet, with a zing. (3010 SE Division St.; 503-477-6699 & 2039 NE Alberta St.; 971-200-4711)
A Mayan style hot chocolate, The Xocoatl ($12) has been a staple of Andina's for years. It's made with ajies (hot peppers indigenous to peru) infused dark Belgian chocolate, hazelnut and espresso infused vodka, Kahlua, and spices. It's a sweet, spicy chocolate drink with historical significance, and you won't find its like anywhere else in town. (1314 NW Glisan St.; 503-228-9535)
The Imperial Toddy ($9) at the eponymous Imperial, the restaurant and bar housed in the Hotel Lucia, is inspired by the quality of apples here in the northwest. A housemade apple cider is added to this rye whiskey toddy, as well as a ginger syrup and a touch of cardamom bitters, to evoke comfort and complexity in the drink. (410 Southwest Broadway; 503-228-7222)
The menus at Raven & Rose and its bar, The Rookery, feature a variety of hot drinks from $10 - $12, including an Irish coffee and a hot buttered rum as well as more unconventional drinks. The San Francisco Fog is like a London Fog, with Earl Grey tea, honey, vanilla, and steamed milk, but is also joined by pisco for a boozy kick. Even more unexpected, though still delicious, is the Ballycotton Toddy: Irish whiskey, black currant, honey, lemon, allspice, cinnamon and, strangely, Irish moss, which gives the drink a thicker consistency and smoothness. (1331 SW Broadway; 503-222-7673)
Almost as venerable as Huber's, Jake's Famous Crawfish has been a Portland institution for decades. And while it seems strange to get an Irish coffee ($9) here rather than at an Irish bar, it's simply the one of best places to do so. The Irish coffee is an old-timey but classic drink, and Jake's does classic very well. There's a reason the restaurant is famous for it. (401 SW 12th Ave.; 503-226-1419)
It's a pretty simple variation, but it makes sense that one of Portland's other classic restaurants would pay homage to Portland's oldest distillery, Clear Creek, and its most famous product, pear brandy. The Ringside Grill Pear Toddy is just that: a hot toddy made with pear brandy in addition to bourbon, along with some maple syrup for a truly autumnal drink. The restaurant also offers over a dozen coffee drinks, each available hot or cold, for the perfect after-supper tipple. (2165 W Burnside St.; 503-223-1513)
Pok Pok, arguably Portland's most famous restaurant group, is mostly known for its wings. However, it also has a line of seasonal drinking vinegars, Pok Pok Som. At any of the restaurants around town (save the new Pok Pok Wing, which doesn't carry liquor), you can order a Cranberry Tot, a toddy made with brandy, allspice, honey, lemon, and Pok Pok Cranberry Som. (Multiple Locations)
Recent Articles

Feedback
How are we doing? Tell us what you like or don't like and how we can improve. We would love to hear your thoughts!