Where to Find Boozy Slushies in Portland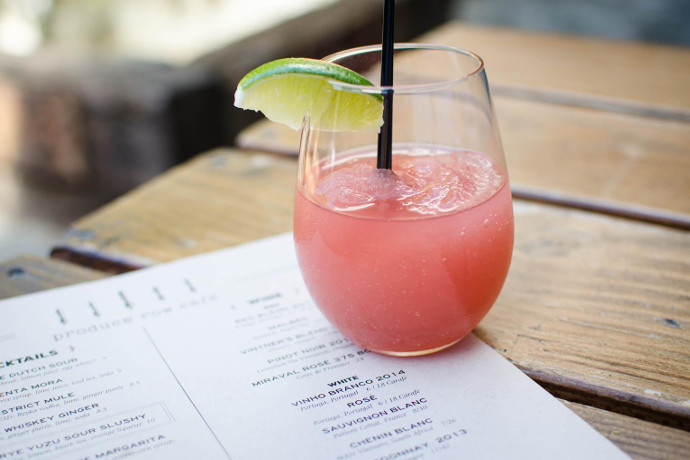 Summer is starting to wrap up, but it's not going without a fight. The last few weeks are looking to be the hottest of the year, with temperatures in the high 90s and plenty of sun. That can only mean one thing: slushie drinks. The Portland bar scene is a lot more than just pretentious ten-ingredient cocktails; even our highest end cocktail bars know that drinking is supposed to be fun, and there's nothing more fun and refreshing in the summer than boozy blended drinks.We're skipping the multitudes of blended margaritas (with one exception), but there are plenty to find on our list of the best. Let us know your favorite place to get a boozy slushie at our Facebook or Twitter.
Produce Row
Rosé (never call it brosé) has been Portland's wine of choice for some years now. Every bar and restaurant has a least a single rosé by the glass, even your neighborhood pub. It's ubiquitous and necessary for hot weather, and Produce Row has made it even better. Here, they have taken Portugese rosé, maraschino liqueur, and honey syrup, and blended it all up to make Frosé, the perfect summer drink. (204 SE Oak St.; 503-232-8355)
Dots Cafe
Dots holds a special place in our hearts for remaining mostly unchanged for the last decade. It's a diner that's also a dive bar with a decent cocktail list and an excellent and long happy hour. The bar carries two rotating slushies each day, and they're generally found for the price of $5 - $7. Sometimes they're fruity, other times they're classic drinks like a Negroni. In any case, they're always great for sipping out on the sidewalk tables. (2521 SE Clinton St.; 503-235-0203)
Honky Tonk Taco
Honky Tonk Taco has just opened and offers delicious tacos and a lovely bar program that goes beyond margaritas. Of course, that still means you can find slushie margaritas, and, even better, the Knockin' Boots, a slushie margarita topped with sparkling rosé because, again, rosé and slushies make everything better. (3384 SE Division St.; 503-384-2259)
Bit House Saloon
Clearly, the summer of 2016 is slushie rosé season, because Bit House Saloon also has a Frosé on the menu. This one has Peychaud's bitters and vanilla and is fantastic. Also on the menu is the Slurricane, a blended Hurricane, as well as boozy Otter Pops. They're available year round but no, you don't get to pick a flavor; you'll just enjoy whatever you get. (727 SE Grand Ave.; 503-954-3913)
The Knock Back
Seeing as Bit House Saloon came out of the Knock Back's bar program, it makes sense that both places would have a slushie machine. The Knock Back remains one of our favorite neighborhood bars in the Alberta Arts District, and that's not hurt by its rotating slushie drinks. Expect fun things like a Watermelon Paloma or slushie mojito. You can enjoy these out on the patio while you hang out with your dog. (2315 NE Alberta St.; 503-284-4090)
Photo via Brady Kennedy
Recent Articles

Feedback
How are we doing? Tell us what you like or don't like and how we can improve. We would love to hear your thoughts!