Portland's Coolest Speakeasy Bars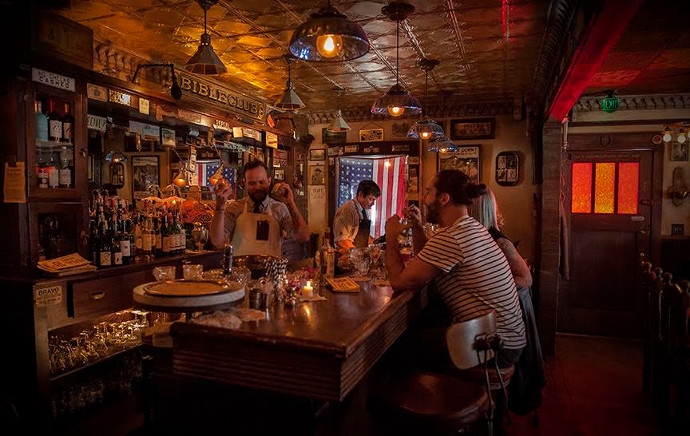 For having as many cocktail bars as Portland does, it boasts surprisingly few speakeasy themed bars. Still, the ones we do have are great—these are the bars with hidden entrances, prohibition style decor, and classic cocktails. But don't worry, for (most of) these, you won't need a password to enter. Did we miss your favorite secret spot you wanted us to 'out?' Let us know on our Facebook or Twitter.
Named for the year 1933, when national prohibition was officially lifted with the 21st Amendment, Circa 33 is one of the original speakeasy bars in Portland. At first glance, it's hard to tell why—the bar is easily found from the street, and besides a beautiful back bar with a sliding ladder and some lovely hardwood decor, it's not that distinct from a normal bar. However, if you wander to the back hallway where the restroom is, you'll find a bookcase. Find the right book to move, and you'll find a keypad. Put in the right code, and the door will swing open, revealing the hidden backroom bar. These days, most Portland bar-goers know about this 'secret' room, but it's still a fun little spot. (3348 SE Belmont St.; 503-477-7682)
Secret Society
The Secret Society operates in a Victorian building that has housed two separate fraternal organizations, so the old-world mystique is palpable. It sets itself apart from other speakeasy style bars by providing a key element from that the originals had: live music. Along with regular live shows, the bar even has its own recording studio. Beyond that, the bar offers classic cocktails, rich Americana cuisine, and an absinthe bar. (116 NE Russell St.; 503-493-3600)
Pepe le Moko
Jeffrey Morgenthaler's bar is famous enough that it's certainly not hidden, but the entrance is still easy enough to miss. The bar itself is underground, in a sleek yet cozy little room full of tufted leather booths. Instead of offering prohibition era cocktails, Pepe le Moko serves drinks from a different era: the 70s and 80s. Here, drinks like the Amaretto Sour, Grasshopper, and Long Island Iced Tea receive a craft makeover from one of Portland's most celebrated bartenders. (407 SW 10th Ave.; 503-546-8637)
Bible Club
We got to sneak into the The Bible Club when it first opened early in 2016 and were blown away by the authenticity of the space. The bar is truly transportive, making you feel less like you walked into a bar and more like you walked back into the 1920s. Bible Club is like an interactive museum, with every element an authentic piece from a century ago, including the bar implements, decorations, ceiling tiles, door knobs, etc… Since it opened, the bar has added a patio, perfect for daytime drinking. The food remains a delicious homage to classic French dining with a modern twist, and the cocktails remain accurate to the time while still allowing for innovation. (6716 SE 16th Ave.; 971-279-2198)
Gil's Speakeasy
Is it possible for a dive bar to be a speakeasy? Well, if you think about it, it's probably actually more accurate than a high end craft cocktail bar being one. Gil's Speakeasy is definitely both, and it's also a Portland institution. There's no sign, just some neon lights in the windows, and, like Pepe, it's a basement bar, this time tucked under an apartment complex. But don't ask for a cocktail here—stick to the cheap beer and cheap whiskey instead. When the bar isn't showing Blazer or Timbers games, it'll be blasting punk rock and soul music on the juke box. (609 SE Taylor St.; 503-234-8991)
Photo via Bible Club
Recent Articles

Feedback
How are we doing? Tell us what you like or don't like and how we can improve. We would love to hear your thoughts!