How to Do Sunday Funday in Portland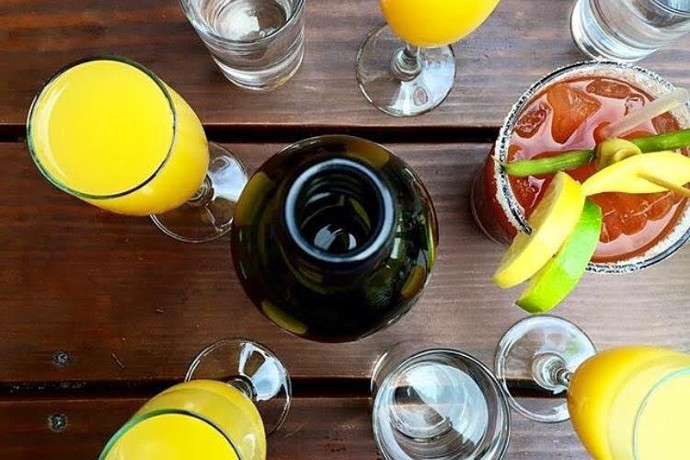 "Sunday Funday is about squeezing every drop of life out of the weekend before Monday."
-Edgar, You're the Worst
Sunday Funday, popularized by shows like
You're the Worst
, is exactly what it sounds like: packing everything you possibly can into a fun-filled Sunday before your work week begins. Here's our loose guide on how to do exactly that in Portland, leaving you room to tweak it as you see fit. This should go without saying, but if you choose to imbibe, stick to public transportation, driving services, or just plain, old-fashioned walking. What's on your Sunday Funday list? Let us know on our
Facebook
or
Twitter
.
Drinking Brunch
You can't start out a Sunday Funday without brunch, especially one with some Bloody Marys or mimosas. We suggest starting out at one of these spots that had cheap or even bottomless mimosas. Make sure you get plenty to eat; you'll need energy for the rest of the day.
Head to a Garden
Portland is home to many beautiful parks and gardens, and they're a perfect, tranquil spot to start off your Sunday Funday before you get too crazy. If you're in SE after brunch, head over towards Reed College to the Rhododendron Garden, full of flowers and ducks. If you're on the westside, the Lan Su Chinese Gardens are a classic. It's a bit of a touristy spot, but for good reason, and you won't mind after you've had a few Bloody Marys. Just be sure to treat the place and visitors with due respect. In the Northwest and finished up with $1 mimosas at Rae's Lakeview? Just take a hike through Forest Park, the largest park within city limits in the US. Afterwards, go to the smallest park in the world.
Hit up a record store or bookstore
Portland isn't just famous for our bikes and stripclubs — we're also home to Powell's Books, one of the greatest bookstores in the country. If you're on the west side, you can hit up the City of Books, the huge Powell's that really defines the organization, but the east side has a cute, smaller Powell's. If you're going to be perusing aisles of antiquated forms of media, you might as well go full-Portland and stop by one of our many record stores. Again, there are some on both sides of the city: Music Millennium is a Portland institution on east Burnside, and Everyday Music has locations on both sides of the river.
Visit the Portland Flea Market
The Portland Flea Market is no ordinary flea market; it's a collection of some of the best craftwork in the city, food, drink, and more. It's only on the last Sunday of each month, so plan your Sunday Funday accordingly. Just be careful not to Drink 'n Shop too recklessly.
Eat at Some Food Carts
At this point, you're probably getting hungry, and there's no better way to do that than at a food cart. Food carts are synonymous with Portland dining, and there are ones strewn throughout the city. Some of our favorites include Matt's BBQ, Boke Dokie, Nong's Khao Mong Gai, Kim Jong Grillin, Chicken and Guns, and Fried Egg I'm in Love. If you're at the Flea Market, there are a number of rotating food carts available.
Play Some Games
Now that you've refueled, it's time to go kick Sunday Funday up a notch with some games. The barcade Ground Kontrol is perfect for this, with a full bar, vintage arcade games, and plenty of pinball machines. SE Hawthorne recently gained a new arcade as well, replacing old punk theater The Alhambra. QuarterWorld has a large selection of pinball and arcade games, as well as beer for adults, and Banh Mi if you're still hungry. For more table-top oriented folk, head over to Guardian Games. There you can pull down one of the hundreds of available board games, role playing games, or card games that line the shelves. The bar in the back, Critical Sip, offers beer, wine, sake, and cider, as well as non-alcoholic beverages.
Tour Distillery Row
If you're coming from Guardian Games, you're already in the neighborhood; if you're at Ground Kontrol, you just need to wander over the Burnside Bridge to Distillery Row. Check out a few of our favorite distilleries, such as House Spirits, New Deal, and East Side, or grab a passport and schedule a pedicab tour to hit them all up!
Happy Hour
By this point, it should be happy hour. If you've come from Distillery Row you'll be in Buckman, perfect for a happy hour crawl. Otherwise, hit up your favorite spot for happy hour drinks and snacks to keep you going.
Catch a Movie and Beer
Later in the evening, you might start feeling a little low energy. Relax into a movie and grab a beer and a slice of pizza at any of the movie theaters that serve drinks.
See a Free Concert
There's no better way to wrap up a Sunday Funday than with a concert. For that, there's Sunday Sessions at Rontoms. Every Sunday the venue hosts bands, generally local and generally of high caliber. Best yet, Sunday Sessions are always free. During the summer, bands play outside on the fantastic patio.
Grab Some Late Night Food
Depending on how late it is, you're veering into Monday Funday territory, but that's okay. If it's before midnight, head to one of these spots for a great late night happy hour. If you closed down the bar at Rontoms and need to get something to eat before you turn in for five hours of sleep, head to one of these late night food spots for a slice of pizza or bowl of Pho.
Congratulations! you got every bit of fun out of a Sunday that you could.
Photo via Rae's Lakeview
Recent Articles

Feedback
How are we doing? Tell us what you like or don't like and how we can improve. We would love to hear your thoughts!