Try These Portland-Made Mixers in Your Next Cocktail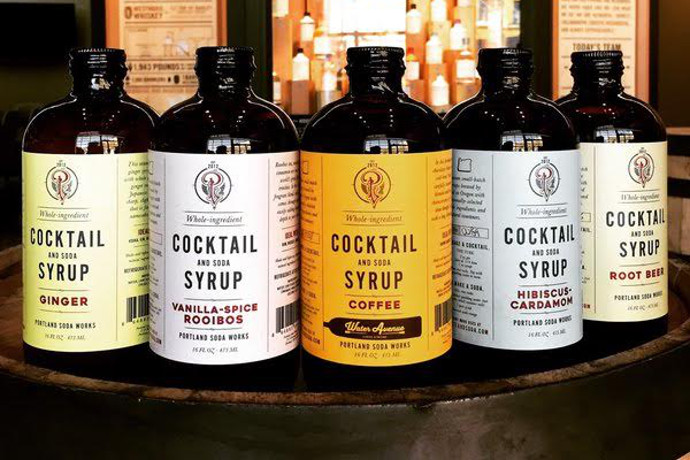 Portland has locally made products that would make a great addition to your dad's home bar. Here are a few of our favorite Portland crafted "mixers." You can find them at a variety of locations, but we suggest starting at some of these great spots for your Portland home bar. What are your favorite Portland products, drinks or otherwise? Let us know at our Facebook or Twitter.
While Pok Pok may be most well known for its Thai chicken wings, the company is also popular for its Som Vinegar and Soda. The drinking vinegar, also known as a shrub, is used in both non-alcoholic beverages as well as cocktails, adding a fruity complexity to any drink. There's a large line of flavors, including pineapple, ginger, Thai Basil, apple, pear, tamarind, grapefruit, strawberry, satsuma, cranberry, black raspberry, and more. You can also find bottled sodas in Turmeric, Grapefruit, Thai Basil, and Ginger flavors. To get really local, try the Honey Vinegar, which uses
Jacobsen Salt Co
salt and
Bee Local
honey. Order online or
find them nationwide here
.
Portland Soda Works
Chris Onstad and Dan McLaughlin began as neighbors and, due to their appreciation of and connections to the Portland food and drink scene, eventually crafted Portland Soda Works, a line of sodas. These high-end spritzers are a world above the standard sodas found on grocery store shelves. They taste as good in cocktails (which they appear in around town) as they do just sipped on their own, making them the perfect gift for the teetotaler dad as much as the bartending one. The flavors are more exciting than the standard soda, from root beer syrups to an hibiscus cardamom. Find them here.
BG Reynolds
This line of tiki syrups from Hale Pele owner Blair Reynolds was one of the first of its kind here in PDX, and for years, every rum bar in town (and many cocktail bars) used BG orgeat and falernum in their drinks. While more bars are opting to craft their own products these days, BG Reynolds products are still the perfect gift for anyone who listens to Jimmy Buffett, owns some Hawaiian print shirts, or just loves a good Mai Tai. Get them here.
Imbue and Petal & Thorn
Vermouth: it's no longer a bad word. Indeed, there now entire bars dedicated to the once reviled cocktail mixer, and for good reason: vermouth is delicious. It's no wonder, then, that Portland has its own lines of vermouth. Imbue was the first, and it was made by Portland bartenders. While the original bittersweet vermouth is solid, the Petal & Thorn, which came later, is decidedly superior — made from pinot gris and fortified with Clear Creek pinot gris brandy, Petal & Thorn gets its beautiful pink hue from beets and has notes of orange, pine, cinnamon, and chamomile. Find it at most wine stores and groceries.
The Bitter Housewife Bitters
You can't make real cocktails without bitters; they're as essential to a home bar as any spirit is. Bitter Housewife, Portland's own bitter company, has a line of five products. The Aromatic Bitters easily stand in for Angostura in any cocktail, and the Bull Run Barrel Aged Bitters add Bull Run Distillery whiskey, making for an excellent addition to an old-fashioned. The other products include grapefruit, cardamom, and lime-coriander bitters. Retail locations are listed here.
Raft Syrups
Sook Goh and Roslynn Tellvik launched Raft Syrups in 2013 because of their love of botanicals. These syrups are all natural, infused with herbs, roots, barks, flowers, and fruit. Like Portland Soda Company, they were created as a response to the artificial sodas of today's world, and they also found their way into cocktails. Recently, in early 2016, the duo retired for the syrup industry and sold Raft Syrups to Genevieve and Dan Brazelton, who own Bitter Housewife. Improper Goods is the planned parent company for both products, which means a long line of delicious, all natural bitters and syrups for any home bar or soda enthusiast. There are currently only three flavors of Raft Syrups: Hibiscus Lavender, Lemon Ginger, and Smoked Tea Vanilla, the last of which longs to be included in a Thomas & Sons cocktail.
Photo courtesy of Portland Soda Company
Recent Articles

Feedback
How are we doing? Tell us what you like or don't like and how we can improve. We would love to hear your thoughts!