The Best Wine Bars In Portland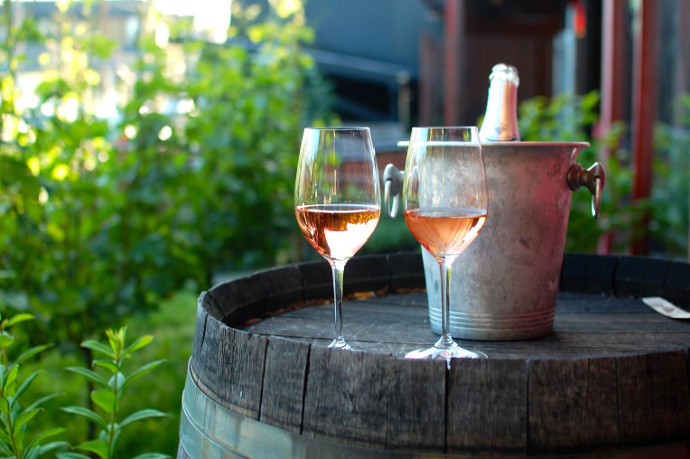 Portland is well known for its breweries and constantly growing cocktail scene, but it also has a number of great wine bars for a glass of Oregon Pinot or imported rosé. It's hard to beat a wine bar for a date spot, and nothing is as celebratory as a bottle of bubbles. While there are a number of great spots for wine, here are eight of our absolute favorites.
Most fine dining restaurants in Portland have amazing wine lists, as do many of our cocktail bars, but we're sticking to just pure wine bars for our list, with a few exceptions. Did we miss your favorite place for a glass of vino? Let us know on our
Facebook
or
Twitter
.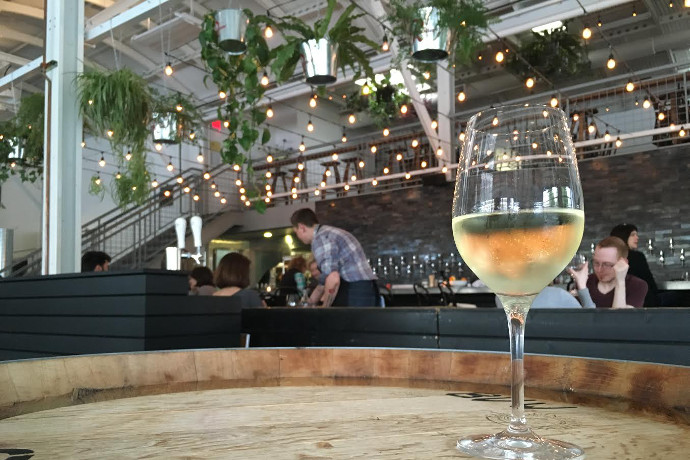 Cooper's Hall
One part wine bar, one part winery, and one part event space, Cooper's Hall is a unique experience. It's the first winery to skip the bottle and put everything in a keg; all wine here, including guest wines, comes out of a tap rather than a bottle, and kegs are available in multiple sizes for your event, either in the space or at home. You'll need to check the website before stopping by, as it's often closed for private events, but when you can get in, there's plenty of space for groups of any size in the warehouse styled bar. (404 SE 6th Ave.; 503-719-7000)
Noble Rot
It's hard to beat the Noble Rot for a great date spot. This stylish spot leans towards being a full restaurant, but it's still primarily a wine bar with an excellent list of local and imported wines, including a long list of flights. But the real draw of Noble Rot, and what makes it so romantic, is the beautiful balcony view of the city. Noble Rot has the best view anywhere on the east side and even offers tours of the top floor garden, where the kitchen sources much of its vegetables. A flight of bubbles, some olives or charcuterie, and a view of the sunset is a truly perfect combination for a date. (1111 E Burnside St.; 503-233-1999)
Shift Drinks
Shift Drinks is a cocktail bar that happens to have a great wine list. But we're letting it slide—not only does it feature a great glass pour list (including a very cool vermouth they call "Drinking Tobacco"), but the bar caters specifically to industry workers by selling bottles of wine to go until close. Whether you're in town spending the night at one of the many nearby hotels, just getting off work and looking for something more than a quick shot, or moving the party from the bar to your house, you can grab any bottle of wine from Shift Drinks for $10 off the menu price until 2:30 AM. (1200 SW Morrison St.; 503-922-3933)
Bar Vivant (Pix)
Pix Patisserie closed both stores a few years back in order to open a consolidated tapas and wine bar on East Burnside. The new Bar Vivant is, however, one of the best wine bars in the city due to its massive selection of champagne and sherry (as well as many other styles of wine) all at prices that leave you bewildered. It's especially great on Thursdays, when bottles are all 10% off, complimentary tapas are offered with each order, and glasses of Txakoli or Tino are just $4. All this and we haven't even gotten to how great the desserts are; it's still one of the best chocolatiers in the city. (2225 E Burnside St.; 971-271-7166)
Oso Market
Oso is a wine store and bar that also happens to do brunch, because this is Portland. It has a fantastic supply of European, Oregon, and other wines by the glass, half bottle, and full bottle. Because it's a wine store, you can grab any bottle of wine you like off the shelf and have it in-store, though there's a $10 corkage fee for anything not on the bottle menu. Happy hour, 4 PM - 6 PM most days of the week and all day on Sunday, sees $2 off all wine pours and 10% off all retail wines, which means you'll be doing all your wine shopping here on Sundays. (726 SE Grand Ave.; 503-232-6400)
SE Wine Collective
The SE Wine Collective is a space that brings together a number of urban wineries alongside wines from all over the state, giving Portlanders an opportunity to sample Oregon's bounty without having to drive into (and back from) wine country. Ten different urban wineries use the facility here, as well, all of which are available as bottles and glass pours. In addition, flights, wine dinners, and tastings are regular occurrences, often under the watchful gaze of Butch Cassidy, the city's best "maitre dog." (2425 SE 35th Pl.; 503-208-2061)
Ardor Natural Wines
Unlike some other spots on this list, Ardor is purely a wine bar. No food menu, no cocktails, just wines by the glass and bottle, all carefully curated to fit the profile of natural wines. This means most of the wines are from organic and/or biodynamic vineyards and use indigenous yeast, handpicked grapes, and are often unfiltered. Not every wine on the list hits all these points perfectly, but most are representative of a strong attempt towards naturalness. If it seems pretentious, don't be intimidated: the staff behind Ardor strives for accessibility and service. (1006 N Killingsworth St.; 503-852-1125)
Muselet Restaurant & Wine Bar
Muselet is a fine-dining restaurant, but the wine list, cultivated in part by owner and manager Ron Acierto, is too great to exclude, with thirty wines by the glass and over 300 by the bottle. Acierto worked in the Oregon wine industry for many years, and his love of Pinot Noir brought him to the state. Now, he uses his connections, charm, and impeccable taste to bring in hard to find bottles from Oregon and Europe, many from small wineries. Bubbles are a star here; the name Muselet refers to the wire basket on a Champagne bottle. Every Saturday from 5 PM - 6:30 PM, guests can join the restaurant for a complimentary wine tasting, often with local wineries. (3730 SW Bond Ave.; 503-265-8133)
Photos by Alexander Frane
Muselet photo courtesy of Little Green Pickle
Recent Articles

Feedback
How are we doing? Tell us what you like or don't like and how we can improve. We would love to hear your thoughts!