Americano Brings Vermouth, Coffee, and Breakfast to East Burnside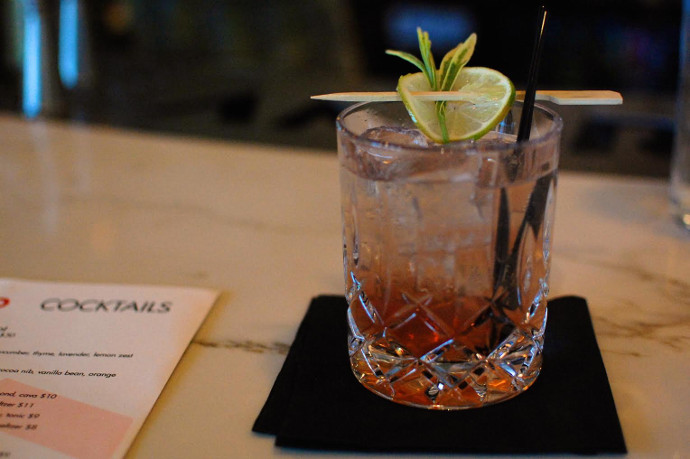 Americano, the new hot spot from Blair Reynolds of Hale Pele and Ian Christopher of Coco Donuts, is a testament to the growth of the bartending world. Ten or so years ago, you would be hard pressed to find a dusty bottle of vermouth at a cocktail bar. It was a joke, something to be glanced at while making a martini. Now, we have a bar that not only embraces the fortified wine, but puts it front and center as the star of the bar. The name refers to both the spritzer—vermouth, Campari, and soda—as well as the espresso drink. Americano blurs the line between a cocktail bar and a cafe and is open from 7 AM to 12 AM daily, serving coffee and breakfast in the morning, dinner in the evening, and drinks all day. It's ambitious, but fantastic.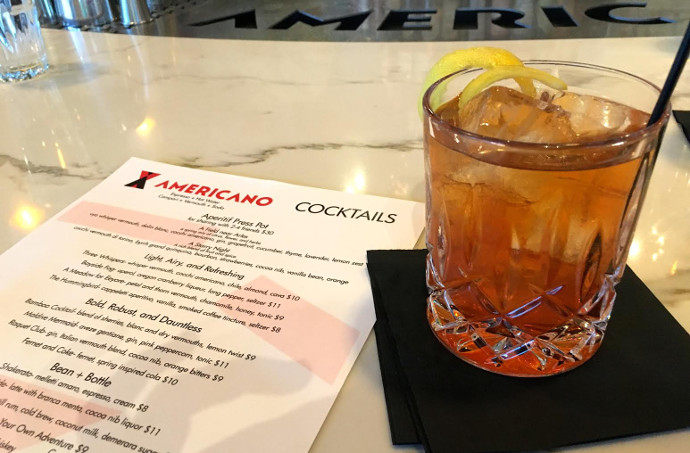 Reynolds and Christopher have found an incredible talent in Kate Bolton from Maven in San Francisco. Bolton takes advantage of the plethora of vermouths now available; almost every drink on the menu includes some form of fortified herbal wine. They often serve as the primary ingredient, such as in A Meadow for Eeyore ($9), where Imbue Petal & Thorn pairs lovingly with chamomile, honey, and tonic, and The Racquet Club ($9), made with a blend of Italian vermouths combined with gin, orange bitters, and cocoa—a rich yet light cocktail distinct from but not unlike a Negroni.
Bolton uses other aperitifs, digestives, sherries, amaros, and more. The menu is full of playful, spritzy, and generally lower proof cocktails. Her approach here is unique — it's often less about combining flavors to make something new, and more about taking a base ingredient already packed with ingredients and flavors and exposing, building on, and elevating it. An exemplary of this is The Hummingbird ($8). At its core is the principal of a Campari and soda, but Bolton instead takes Cappelletti, a similar liqueur, and adds a touch of vanilla, some smoked coffee tincture, and tops it with seltzer. The result is delicious, and it builds on the flavors of the Cappelletti rather than mixing it with others.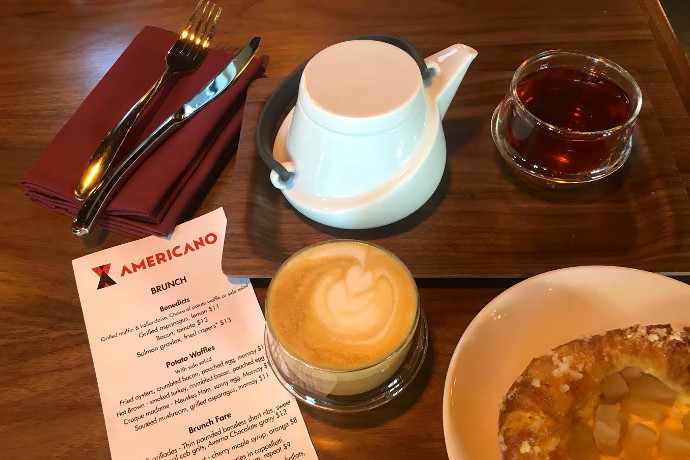 Other fun drinks include the Aperitif Press ($30) — large, shareable blends of vermouth and spirits with fresh fruit and herbs, served in large French Press pots to share between 2 - 4 friends — and the series of Bean + Bottle drinks, coffee and liqueur drinks that marry the two themes of Americano. The wine list is also well cultivated, and includes some great deals on glass pours.
Americano is a bold endeavour. From 7 AM to 9 AM, it serves as a coffee shop with delicious pastries from Fleur De Lis Bakery and coffee roasted by owner Ian Christopher, after which it transitions into a brunch spot complete with a morning cocktail and espresso list, though all drinks are available. Breakfast items include benedicts, savory potato waffles, and light brunch fare. After 3 PM, the place transitions again to a menu with bar food (mostly a variety of crostini and antipasti), before switching to a frequently rotating dinner menu at 5 PM. Finally, from 10 PM until closing at midnight, the restaurant converts back to the smaller bar food list.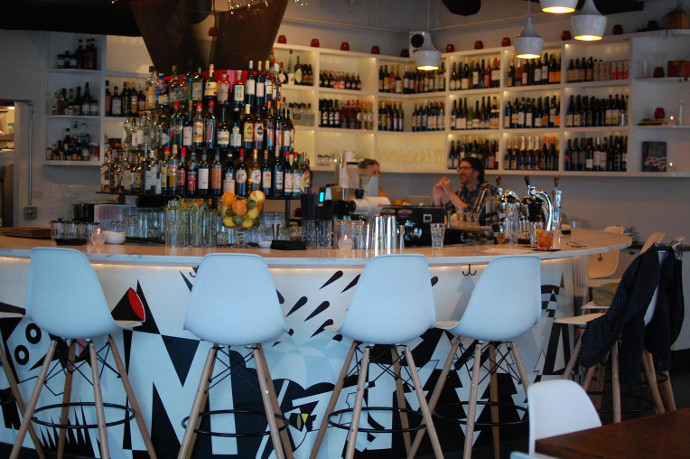 The bar faces certain challenges concerning the line between variety and accessibility, but its products are all excellent and refreshingly unique to a city inundated with bars — Portland is ready for a vermouth bar, especially with someone as talented at Kate Bolton behind it. It's also ready, as evidenced by the success of Coquine, for an all-in-one cafe and bar. Its premise: Stop in before work for a coffee and pastry, then drop in afterwards for a light, herbal aperitif and some snacks, and then maybe stay for dinner and wine before finishing off the night with a Fernet and Spring Cola ($10). It could easily become your new haunt.
Photos by Alexander Frane
Recent Articles

Feedback
How are we doing? Tell us what you like or don't like and how we can improve. We would love to hear your thoughts!