Bar Rescue's Jon Taffer Made a Terrible Manhattan on National TV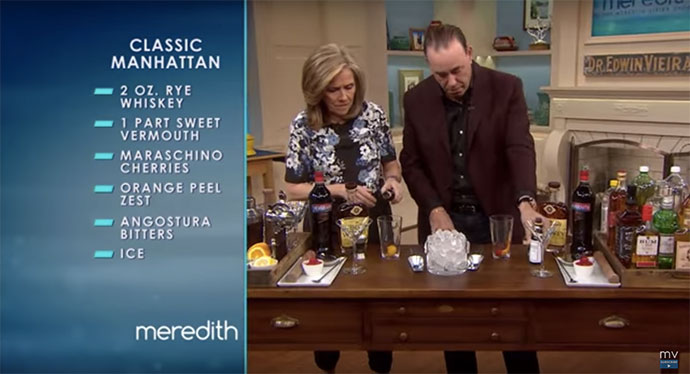 Bar Rescue host Jon Taffer is at it again, this time spreading his great bar "knowledge" on Meredith Viera's daytime talk show. This time, instead of claiming that mescaline (the hallucinogenic drug) is made from mescal (tequila's smokier cousin), he is instructing Viera on how to make a Manhattan, which she claims her husband loves.
After some banter about Taffer's success as a bar rescuer, some shocking statements about bar hygiene (there could be glass in your ice!), and a brief conversation about Taffer's "butt funnel," Taffer and Viera make their way over to a makeshift bar so he can presumably show her how a professional would make a Manhattan. And then he ruins it. Skip ahead to the 3 minute mark for the "tutorial."
Aside from annoyingly referring to orange peel as "zest" the entire time, he begins by putting an orange peel, a cherry, and bitters into a glass and muddling them. Now, I am by no means a cocktail expert or a classic cocktail purist, but I don't think I've ever seen a recipe that calls for muddling of any kind with a Manhattan, nor have I ever seen anyone begin this way. He then pours in the rye whiskey (at least he got that part right), stirs it a bit, and strains it. That's it. He mentions you can add some vermouth. Again, neither expert nor purist, but every proper Manhattan I've ever heard of contains vermouth.
Maybe I'm wrong. Maybe this guy is changing the game, or is so old school I don't even realize it. But, judging from the kind of buffoon he is in the interview and the past comments he's made, I highly doubt it. My guess is he's just a clown who doesn't know what he's doing—after all, many of the bars he's "rescued" have closed.
Photo via Youtube
Tags:
Cocktails
,
Spirits
Recent Articles

Feedback
How are we doing? Tell us what you like or don't like and how we can improve. We would love to hear your thoughts!