Portland's Best Tacos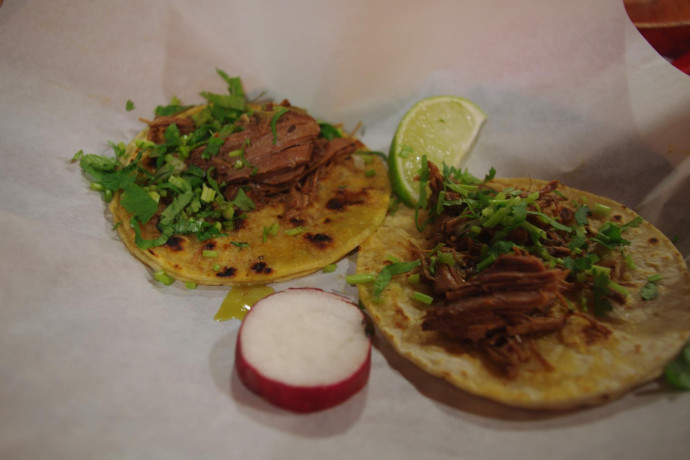 It's almost Cinco de Mayo, and while this holiday provides a perfect opportunity to try some of Portland's best margaritas, it's also an excuse to eat some of the city's best tacos. Not that you need an excuse, of course; these places are awesome any time of year. For a city that supposedly doesn't have good Mexican food (a stereotype that is quickly changing), we sure do have some stellar taquerias. Did we forget your favorite place? Let us know on our Facebook or Twitter.


Sadly, Robo Taco is no longer open until 3 AM. The staff was understandably exhausted by the unending stream of overly intoxicated bar patrons wandering in after last-call. Luckily, Robo Taco is still selling some of Portland's best tacos up until midnight every day. Grab the pastor, (rotisserie marinated pork topped with pineapple) and make it a giant size taco, which is perfect during a night of drinking. (607 SE Morrison St.; 503-232-3707)
Taqueria Portland
This So-Cal themed taco shop just moved from far north in St. John's down to the Belmont neighborhood, only a few blocks from Robo Taco. If you want to avoid crowds of young bar-goers, head here for some truly great tacos. The extensive menu of tacos, burritos, and more includes chips and salsa with every order. (820 SE 8th Ave.; 503-232-7000)
Taqueria Nueve
Just a few blocks from both Robo Taco and Taqueria Portland is Taqueria Nueve. While the tacos here are still affordable and authentic, the restaurant sports more of a fine-dining aesthetic, with full table service rather than counter. Still, it's a fairly affordable spot with fantastic margaritas to boot, making it a nice place for a casual date. Try the wild boar roasted in banana leaves for a unique taco. (727 SE Washington St.; 503-954-1987)
Stella Taco
Alongside its excellent meat tacos (with options like carnitas and chorizo), Stella Taco goes the extra mile for vegetarians, offering options such as fried avocado and vegan mole tacos. This spot also offers breakfast tacos for those looking for something new. Add in a killer happy hour and you'll see why this is one of our favorite spots in NE Portland. (2940 NE Alberta St.; 971-407-3705)
Nuestra Cocina
Nuestra Cocina offers some of the best crafted Mexican food in Portland, and while it's not a taqueria, the kitchen still makes some of the best in town: the tacos de puerco. The Señora de la Tortilla's entire job at the restaurant is to handcraft tortillas for these and other dishes on the menu, and the difference is readily apparent. While you're here, you might as well grab the Cocina Especial Margarita, one of our favorites in the city. (2135 SE Division St.; 503-232-2135)
¿Por Que No?
There is almost always a line out the door here, especially on Tuesdays during the all day happy hour. ¿Por Que No? Always pleases, and the fresh juice margaritas are delicious. ¿Por Que No? also does a lot for the community, often participating in fundraisers for meaningful causes. (3524 N Mississippi St.; 503-467-4149 & 4635 SE Hawthorne Blvd.; 503-954-3138)
Uno Mas
Chef Oswald Bibiano (from Autentica, the classic Portland cantina) has two spots for his taqueria — one in Northeast and the other on West Burnside. While both are fantastic, the western location boasts a much larger space and menu and serves over twenty varieties of tacos, including breakfast ones and unique options like blood sausage and cactus. (2337 NE Glisan St.; 503-208-2764 & 1914 W Burnside St.; 503-710-4768)
Koi Fusion
This spot is as nontraditional as you can get, but the Korean inspired tacos helped launch this food cart into a brick and mortar restaurant. You can choose from a variety of meats, but our favorites are the bulgogi and the short rib. Don't hesitate to add some kimchi. (Multiple locations)
Photo by Alexander Frane
Recent Articles

Feedback
How are we doing? Tell us what you like or don't like and how we can improve. We would love to hear your thoughts!