Portland's Best Spring Cocktails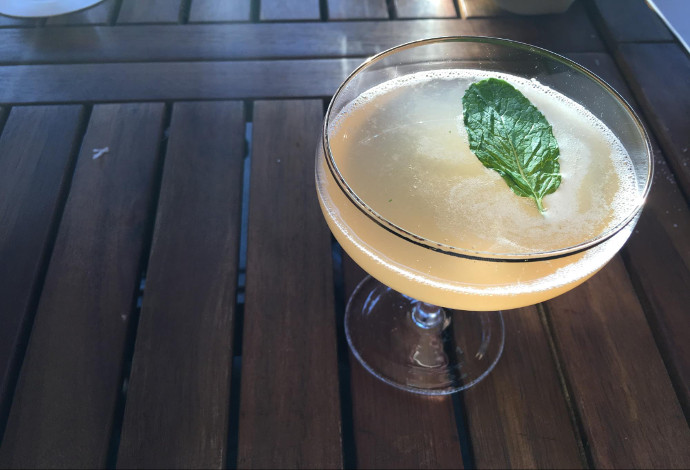 Spring has arrived in Portland — our mercurial weather has turned sunny and the days have lengthened, encouraging bartenders to develop new cocktails for us to enjoy while we luxuriate on sun-dappled patios. This year, we visited some of our favorite spots in town to find the best new spring cocktail menus. Let us know your favorite drink of the season on our Facebook or Twitter.


This fantastic Italian place in the lower SE Industrial District features an excellent array of cocktails this spring that are designed to pair with appetizers, preferably out on the shaded patio for a pre-dinner happy hour. The list includes the Arrossire, featuring Cappelletti, Benedictine, Punt e Mes, lemon, and soda; the Vita e Fuoco, a delightful gin sour with apricot, lapsang tea, lemon, and mint; a Negroni variation called Church, with gin, lemon, Aperol, and Cocchi Americano; and the Paper Moon, a lovely and daring take on a pisco sour, with pisco, vermouth, bay leaf, chamomile, lemon, and foamy egg white. All of the cocktails cost $12 and are perfect aperitifs to start your meal. Along with a number of other cocktails, Renata offers two flights, each for $20 — a Negroni flight and an Old-Fashioned flight.
Besides cocktails, Renata offers an incredible list of wines curated by a truly passionate and knowledgeable sommelier, Chris Wright. Sadly, Chris passed away from pancreatic cancer on Wednesday, April 6th, while guests were celebrating his life at a fundraiser at Renata. It's a devastating blow to Portland's restaurant community, but his passion lives on in his program. (626 SE Main St.; 503-954-2708)
Bit House Saloon
Bit House owner Jesse Card's nerd flag flies proudly on the bar's new spring cocktail menu, with items like Orange You a Little Short for a Stormtrooper? ($9) and the Kilgrave Crusta ($9), among others. The menu is a collaborative venture, with each bartender contributing. The Hydra & the Rose ($12) by Chris Churilla is a striking and delicious variation on a Mai Tai, substituting gin and applejack for rum and made with with pistachio orgeat, ginger, lime, and molasses bitters. It's finished with a rose petal foam and garnished with edible petals that are beaded with riesling rain drops.
Another favorite is Card's own Sucker Punch ($10). Far superior to the Zack Snyder film of the same same, this curious elixir blends tequila, curaçao, lime, cinnamon, and soda with a housemade snap pea shrub, giving it a vivid green color and a zesty, lively finish, perfect for spring. It's garnished with snap peas, cinnamon, and lime. During happy hour (or after,), grab the Rhubarbarella ($6/$8), a refreshing highball of vodka, rosemary-rhubarb shrub, Lilet, elderflower, grapefruit, and soda. The Spring of Sauron ($10) takes the prize for best name. It's made with Tanqueray, Bit House Blend sherry, cherry heering, vanilla, grapefruit, and ginger beer, and topped with a burning Eye of Sauron, or a cherry wrapped in orange zest. (727 SE Grand Ave.; 503-954-3913)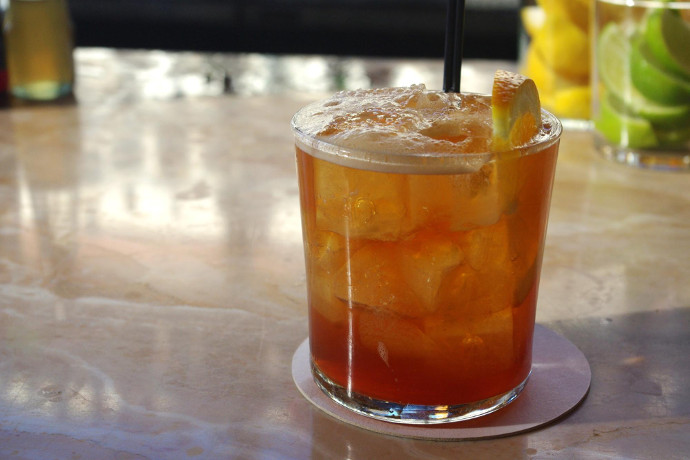 The Liquor Store
It's been a little while since the staff of the The Liquor Store has updated their menu. Even recently, you could order a Winter Manhattan or a Fall Old-Fashioned. But spring has enlivened the crew, and they're rolling out an entirely new menu for sunnier weather.
As usual, their focus is on classic cocktails with a few originals thrown in. Some menu staples remain — The Real Good Gin and Tonic is never leaving, the Mint Julep is back from last summer, and the Piña Colada remains year round. These are joined by some fresh spring drinks: the popularity of sherry drinks in Portland is evident here with the Sherry Cobbler, made with aged rum, amontillado sherry, cassis, maraschino, lemon juice, and bitters garnished with mint, orange, and berries; the Basil Gin Gimlet spices up the traditional recipe with basil infused gin along with lime and lime cordial; the always popular Negroni gets a twist with the Blonde Negroni, made with gin, Lillet instead of sweet vermouth, and Salers, a newer French aperitif made with gentian root, instead of Campari; the Spicy Tequila #2 is a hot take on a margarita, with tequila, ancho reyes (a chile liqueur), mezcal, lime, passionfruit, and hellfire bitters. (3341 SE Belmont St.; 503-754-7782)
Teardrop Lounge
TDL has a constantly rotating seasonal menu, and it never fails to please. The menu is, as usual, split into three parts: classic drinks, house cocktails, and guest drinks from bartenders at other bars. While the house cocktails are all excellent, there are two standouts.
The Other Side of Summer ($11) is a refreshing quaffer (and is described as such on the menu) made with TDL Blend Gin, mint, lime, lemon, bitters, and topped with a sweet and lively cantaloupe-dill-cilantro soda. The Not Fade Away ($12) exemplifies the bar's more unconventional approach and is made with cachaça, kiwi, Génépy des Alpes (an herbal liqueur not unlike Chartreuse), lime, and coconut milk. It's a creamy, rich drink that is still balanced and refreshing, perfect for a spring day. (1015 NW Everett St.; 503-445-8109)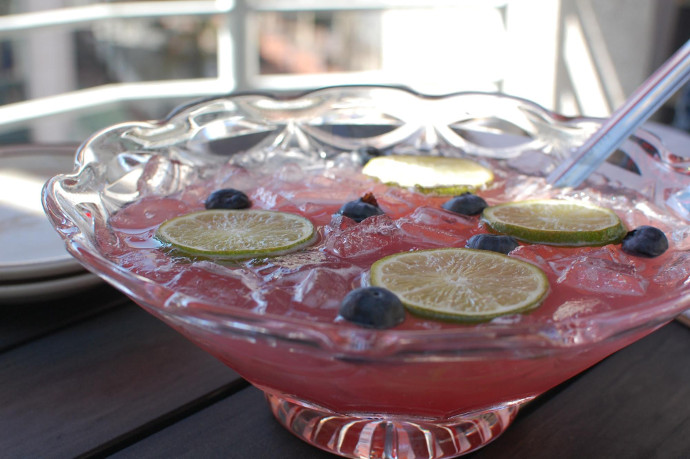 Punch Bowl Social
PBS may be the least "Portland" bar in Portland. This mega-bar franchise in a mall may not appeal to craft-cocktail lovers as much as other spots in town, but all the juices and syrups are house made, and what other cocktail bar in town has bowling alleys and karaoke?
Furthermore, Punch Bowl is working to incorporate itself into the city by working with local distilleries and the like. Each month has a seasonal punch which is served in a single, four person, and eight person servings. For April, the punch is Lavender Fields Forever ($7/$25/$48). The punch is a mix of tequila, lime juice, lavender syrup, pear tea and blueberry syrup, and is great for sipping out on one of the bar's two balconies overlooking downtown Portland.
In May, PBS is collaborating with Portland's oldest distillery, the always excellent Clear Creek Distillery, which is famous for its pear and apple brandies, among other spirits. Up Apple's Creek Punch ($9/$33/$55) will be made with Clear Creek Apple brandy, Bacardi Silver, grenadine, lemon juice, and cinnamon tea. The bar will also feature Clear Creek Loganberry Liqueur in the decadent Loganberry Shake ($12) which is made with vanilla ice cream and fresh strawberries and topped with whipped cream and chocolate. Both drinks will be available in May, and a release party is scheduled for April 27 from 4 PM—6 PM, with complimentary hors d'oeuvres. (Pioneer Place, 340 SW Morrison St.; 503-334-0360)
Photos by Alexander Frane

Tags:
Cocktails
Recent Articles

Feedback
How are we doing? Tell us what you like or don't like and how we can improve. We would love to hear your thoughts!