Bible Club Is Committed to Bringing an Accurate Speakeasy Experience to Portland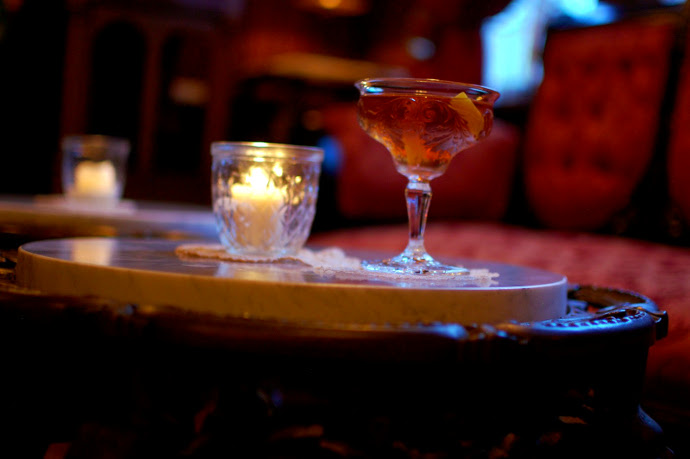 Speakeasies are a popular theme for bars, and there are a few in Portland, including
Circa 33
with its hidden back room, and
The Secret Society
above
Toro Bravo
. Great bars in themselves, none of them are as dedicated to the theme as
Bible Club
, recently opened in Sellwood.
From the outside, it doesn't look like much: a plain yellow house, standing in a mostly deserted block in one of Portland's older residential neighborhoods. A single signboard directs customers up the stairs to a door bearing a brass knob with the letters B and C. This door knob, it turns out, dates back to the 1800's, and was sourced by owner and co-founder Ryk Maverick. It's indicative of what's inside.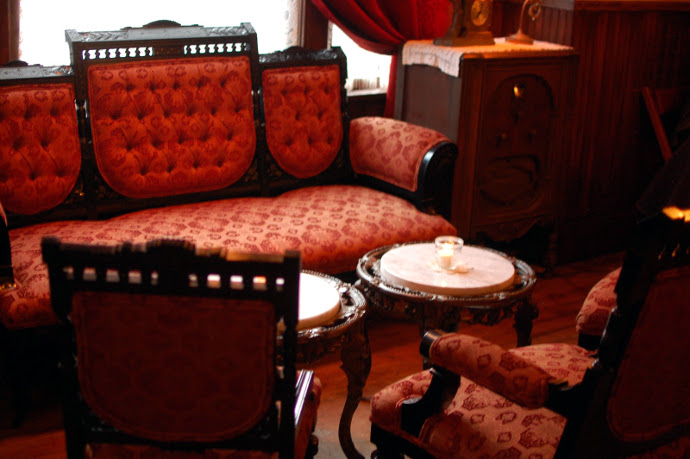 The doorway feels like a portal to the prohibition era. The cozy space is filled with vintage comfy chairs, wooden bar stools, antique light bulbs, and American flags. A discerning eye will notice that the flags have only 48 stars; Alaska and Hawaii were not recognized as states until 1959. Rather than contemporary music, tinny jazz and old-timey music plays on a 1920's radio. A host, often co-owner Brandi Leigh, greets guests at the door and offers to hang their jackets. Even the coat hooks are authentic, down to the screws that hold them in. On one wall, vintage portraits of George Washington and Abraham Lincoln hang, a hallmark of the era when every bar had them.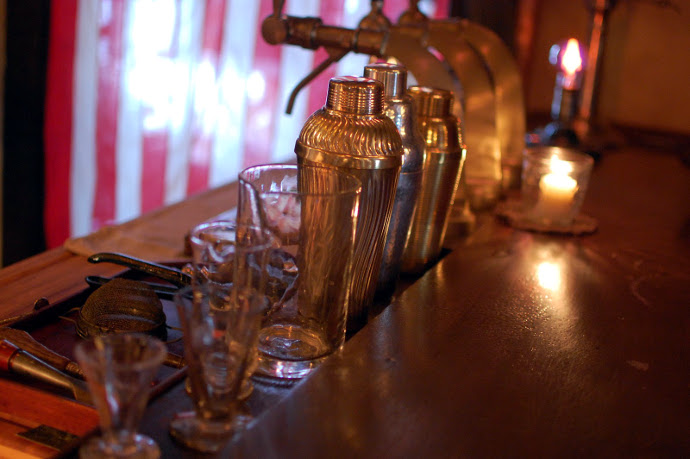 The bar itself is no different. The era predated the glass and tin Boston Shaker, so bartenders use only hand-pounded metal three piece shakers. Strainers, spoons, peelers, and all other bar equipment is similarly ancient. All of it was sourced by Ryk from auctions, estate sales, and anywhere else he could find the pieces. The only modern devices are some
Bull in China
mixing glasses. Glassware, from cocktail to wine, is clunky yet elegant. It makes one wonder why other bars insist on using nothing but the most delicate and unadorned glasses.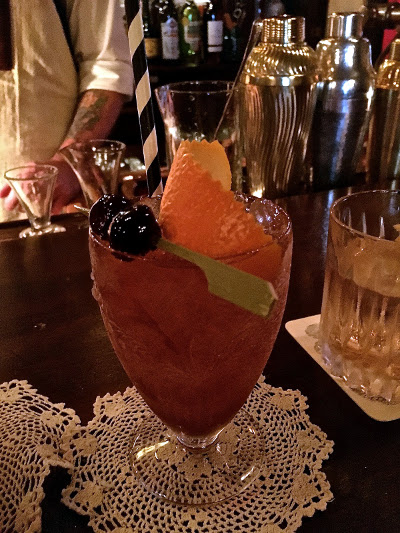 The menu is as vintage as it gets. The gin and tonic is unlike most others—aged gin, housemade tonic syrup, and soda from a bronze tap. Punch is made daily with the classic five ingredients: Spirits, bitters, tea, citrus, and sweetener. Cobblers, swizzles, and more from bygone times grace the pages. Original cocktails, inspired by the era, are created by the pedigreed bartending duo
Jessica Braasch
, previously of
Kask
and
Gruner
, and
Nathan Elliot
, from
Chop Shop
and Four Seasons in Seattle. The drinks are all made with aplomb, but be prepared for New York level prices. For beer, guests have the option between lager or ale, and the wine is European. A temperance menu is available for teetotalers, and those drinks are just as carefully crafted as the boozy ones.
In the kitchen is Anthony Cafiero, the gregarious chef who opened the now shuttered Racion. Cafiero runs solo, putting out delicious French inspired dishes five nights a week, including an incredible duck confit and some of the best macaroni & cheese around.
The clientele is distinctive from other Portland bars—Sellwood has long been home to families as well as parents whose children have long left home. Here, they can find a bar without the swarms of youthful hipsters that fill other establishments. While the clientele runs older, there are still younger people to be found; Bible Club makes a great date spot for people of all ages.
If it were anything less than it is, Bible Club would come off as a hokey affectation. But the level of dedication to the experience, from the design to the craft, is transportive. It feels anachronistic to pull a phone out here, and those in t-shirts and jeans look more out of place than the burlesque dancers and suited men that have been making this a regular spot. Bible Club is pricey, but it's also the most authentic speakeasy in Portland, from the style to the product.
Bible Club
,
6716 SE 16th Ave.; 971-279-2198
Photos by Alexander Frane
Tags:
Cocktails
,
Food
Recent Articles

Feedback
How are we doing? Tell us what you like or don't like and how we can improve. We would love to hear your thoughts!