Where to Find the Best Bloody Marys in Portland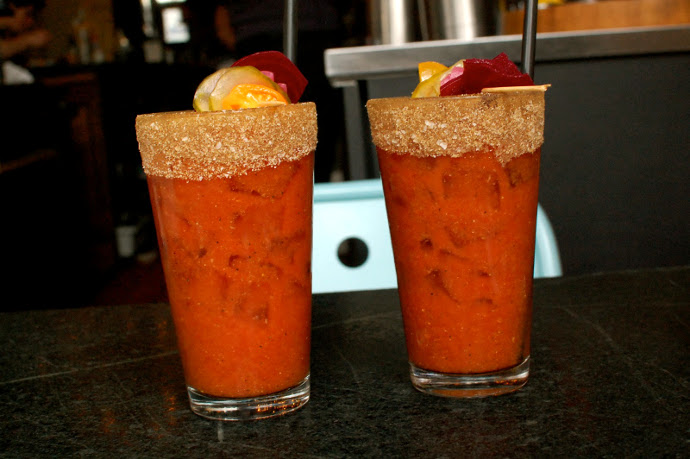 Portland is the capital of brunch. Almost every restaurant and bar in the city has a weekend brunch, and many actually serve it all week long. Some restaurants' entire purpose is brunch. And every place has its own take on the Bloody Mary, the most ubiquitous and iconic of breakfast drinks, and the most perfect hair of the dog with its savory, spicy, boozy kick.
Because of its popularity, it's easy to get overwhelmed by the amount of options, so we've narrowed it down to just a few of our favorites. There are plenty others out there, though, so let us know your favorite on our
Facebook
or
Twitter
. And if Bloody Marys aren't your thing, check out some of these more
unconventional brunch drinks
.
Build Your Own
We might be losing many of our classic dives in Portland, but luckily Holman's remains. The bar is
open early
for breakfast and Bloodys all week, and on the weekend, the brunch menu has the famous Bloody Mary Bar. Grab a glass of vodka and ice from the bartender, then doctor it yourself from the line of mixes, spices, bitters, and garnishes.
(15 SE 28th Ave.; 503-231-1093)
The Danish Mary
It just make sense that a unique, delicious brunch spot like Broder would have a unique Bloody Mary. While the standard vodka Bloody Mary is available here, and is excellent, the Scandinavian inspired Danish Mary (pictured at top) with aquavit is what you're after. The savoy botanicals provide a lush background for this Mary, especially if you go with the dill spiced aquavit. What's more, it's Krogstad, from House Spirits here in Portland. (2508 SE Clinton St.; 503-736-3333 & 2240 North Interstate Ave. #160; 503-282-5555)
Bloody Miriam
In a city where brunch rules supreme, menus start to get repetitive, with different takes on eggs benedicts and chicken & waffles. While there's nothing wrong with either (quite the opposite), sometimes it's nice to mix things up. Luckily, Ya Hala, one of the best Lebanese restaurants in Portland, has launched its own brunch menu, including a Bloody Mary. The Bloody Miriam is a mediterranean spiced drink, complete with a slice of basturma, an Anatolian cured meat. (8005 SE Stark St.; 503-256-4484)
Proud Mary
This delicious southern-inspired spot serves an amazing weekend brunch, and The Proud Mary here is considered a first course. It's served in a pint sized mug, garnished with a veritable garden of pickled vegetables and beef jerky. But what really makes this one of the best Bloodys in town is the location: Besides the Montavilla spot, the Country Cat has a branch at the Portland International Airport. It's the perfect antidote to a morning flight into or out of the city. (7937 Southeast Stark St.; 503-408-1414 & PDX International, North Lobby between D and E)
Olympia Mary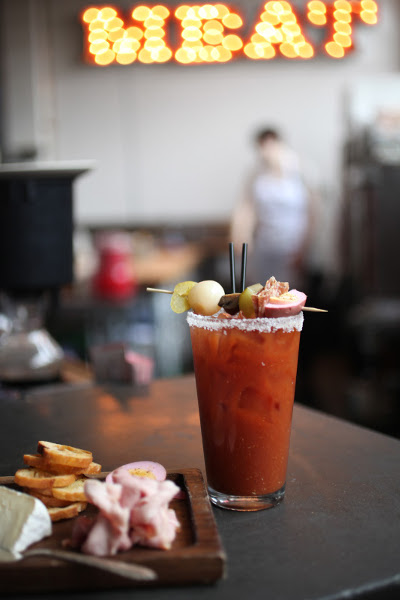 More than any other drink, a Bloody Mary's garnish is an integral ingredient and, unlike others, it often involves meat. So it's no wonder Portland's best charcutier has one of the best Bloodys on its brunch menu. The Olympia Mary (pictured right) is made with a house mix, salt and pepper rim, pickled veggies and, of course, salami swizzle stick. You have the option between vodka, spicy vodka, or aquavit when you order one of these. (107 SE Washington St.; 503-954-3663)
Bottle-Conditioned Bloody Mary
Barrel aged cocktails are very much a Portland thing, having mostly come from bartender Jeffrey Morgenthaler at Clyde Common. We also love our
sherry based cocktails
. At the Woodsman Tavern, the wonderful northwestern restaurant and bar from Stumptown founder Duane Sorenson, The Bloody Mary is both. The sherry and the bottle-conditioning add depth and richness to the drink, making this another top contender.
(4537 SE Division St.; 971-373-8264)
BYOB
At LeChon, the South American wood fired grill spot in Downtown PDX, like Holman's, you can Build Your Own Bloody. Unlike at Holman's, however, the staff will do it for you. You just fill out a card, marking off your choices of spirits, garnishes, salts, and extras, like shrimp or additional peppers. Easy, fun, delicious.
(113 SW Naito Parkway; 503-219-9000)
Top Photo by Alexander Frane; Olympia Mary photo courtesy of
Little Green Pickle
Tags:
brunch
,
Cocktails
,
Spirits
Recent Articles

Feedback
How are we doing? Tell us what you like or don't like and how we can improve. We would love to hear your thoughts!