Interurban's Spring Cocktail Menu Draws Inspiration From Savoy Recipe Book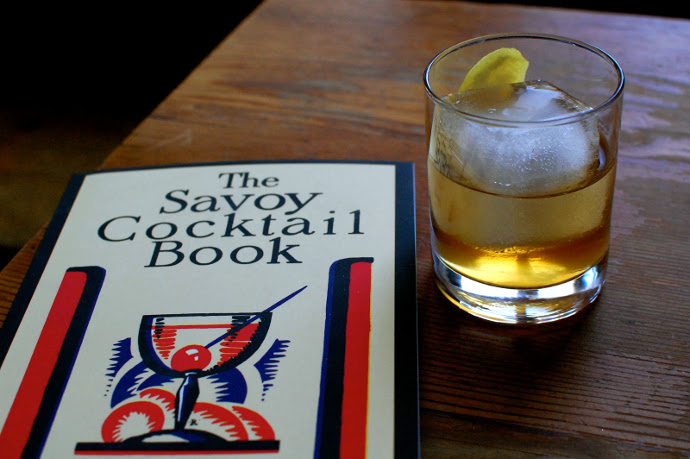 Dan Hart
and
Chris Navarra
of
Prost!
opened
Interurban
in 2011 with the express purpose of creating what they call a "Big City Bar"; while Portland has plenty of bars with great food and restaurants with great drinks, Interurban acts as both, blurring the line between the two. You can get a full, amazing, restaurant meal until 2:30 in the morning, or stick around after dinner and grab more drinks without the need to pay and rush off. Both the food menu and the cocktail menu are exceptional, the latter of which draws directly from different classic cocktail books, rotating seasonally. For spring of 2016, it's the
Savoy Cocktail Book
.
Cocktails are a distinctly American invention, but during Prohibition, when they were made illegal along with all other alcohol, many US bartenders emigrated to Europe. In England, France, Italy, and more they combined their know-how with local ingredients and styles. One of these bartenders was Harry Craddock, an English immigrant to the US who returned home to London during Prohibition to work at the American Bar at the Savoy Hotel. There, he penned his cocktail book, named for the hotel: The Savoy Cocktail Book. Besides recipes, it's also filled with anecdotes, advice, and the occasional complaint about women in bars.
Originally, bartender
Jeff Seymour
and the staff were to keep copies of Savoy around the bar, where guests could treat them as menus and select any drink. However, the staff realized a few problems: one, many of the cocktails in the book were dreadful; two, many were repetitive; and three, some cocktails used ingredients that we don't have anymore. So instead, Seymour and the others focused on finding just a few and perfecting them.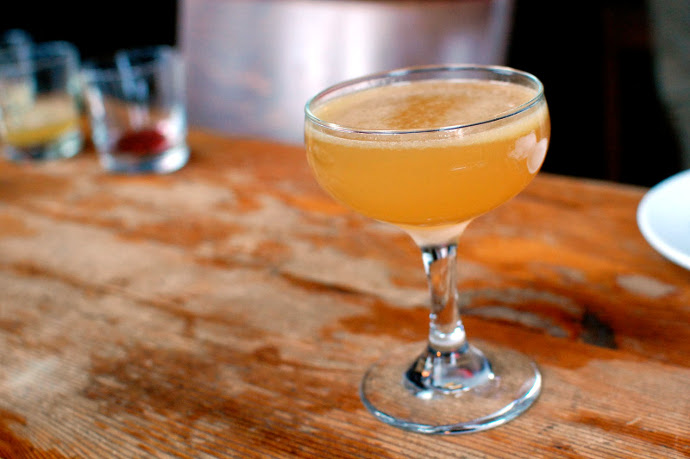 The drinks are exemplaries of the time, though more balanced, especially in regard to sweetness. They are also a great way to introduce some unique cocktails in an approachable way:
The Applejack Rabbit
($9)
for instance, uses Laird's Applejack, maple syrup, lemon, and orange. While it sounds strange on paper, and would probably never occur to a modern bartender to combine those ingredients, it's remarkably balanced deliciousness in actualization.
The Leave it to Me #2
($9)
is another odd one; it calls for gin, maraschino, lemon, and raspberry syrup in the original recipe. Luckily, we have
The Commissary
now in Portland, a place for quality citrus, syrups, and mixers, so Seymour picked up some raspberry gomme syrup. The drink is filled with crushed ice, rather than served up, minimizing sweetness and making this a bright, refreshing spring quaffer.
Many of the recipes in the cocktail book are batched, made for 6 or so people. This works well for Interurban, which has long had a bottled cocktail for the table on its menu. This time, it's
The Lord Suffolk
, a take on the Martinez, with gin, Cointreau, maraschino, and Cinzano Rosso. It's a rich, silky cocktail that truly represents the era. Grab a single serving for $9, or split a bottle with your friends, like you would in 1930, for $35. And sorry, Mr. Craddock, but women are more than welcome here, too.
Interurban
,
4057 N Mississippi St.; 503-284-6669
Monday–Friday, 3 PM–2:30 AM; Saturday & Sunday, 10 AM–2:30 AM
Photos by Alexander Frane
Tags:
Cocktails
Recent Articles

Feedback
How are we doing? Tell us what you like or don't like and how we can improve. We would love to hear your thoughts!