South Waterfront Gains a Vibrant Night Spot With Muselet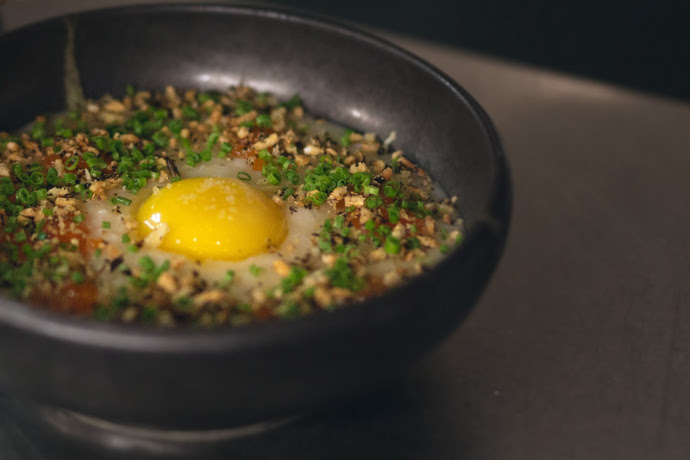 South Waterfront feels artificial compared to the rest of Portland due to its uniformity of design and the fact that it's a collection of apartments built on a mostly empty lot with the occasional manicured garden.
Muselet
, which missed out on some of the media attention given to other 2016 openings, helps bring some authenticity and vibrancy to the area. It arrived just in time, as South Waterfront is soon going to be the most densely populated area in the city, and it deserves a quality spot like this.
Food
The food menu at Muselet, dubbed New Modern American, is filled with rotating, seasonal dishes by chef
Greg Zanotti
, previously of
Castagna
, that are intended for sharing. The goal is simple, approachable, but sophisticated food. Glistening
pork belly
($12), delicate
oysters
($12) and
charcuterie
($12) make great happy hour snacks. Deliciously creamy
foie gra
($22), tender
wagyu beef
($26), and more grace the dinner menu, including the can't-be-missed
rice porridge
($16,
pictured at top
), a nod to owner
Ron Acietro
's Fillipino heritage, a rice congee with warm yolk and trout roe, and an amazing
pear salad
($10), with buffalo mozzarella, kale, and arugula. When it comes to dessert, the goal is to wow the customer with the final item. Whether it's something fun, like a perfectly made ice-cream sundae, or something remarkable and unexpected, like the goat custard with blackberry bubbles, it's sure to leave a lasting memory.
Wine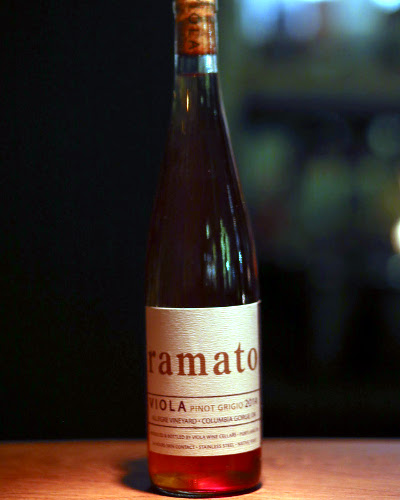 Acierto, besides owner, manager, and consultant at all levels, acts as wine steward. Pinot Noir brought him to Oregon, so it sees a strong presence on the expansive glass pour menu. Bubbles are another passion of Acierto's (Muselet gets its name from the cage around a champagne cork) so glasses of Champagne, cava, prosecco, and others have a home. For wine geeks, there is always something fun and exciting, like an orange wine (like a rosé, but spends more time on the skin) from a local winemaker's garage, a wine from an unexpected place like Slovenia or Greece, or just something from an Oregon vineyard you can't find on any grocery shelf. Acierto is no snob, though: those who want a large Californian red or an oaky Chardonnay will still find something to their liking. Happy hour (soirée hour, here) has numerous featured wines for $7 each, and is a great way to explore the list. Happy hour starts at 5 PM, and, for the month of February, lasts all day in the bar. That's liable to change in March.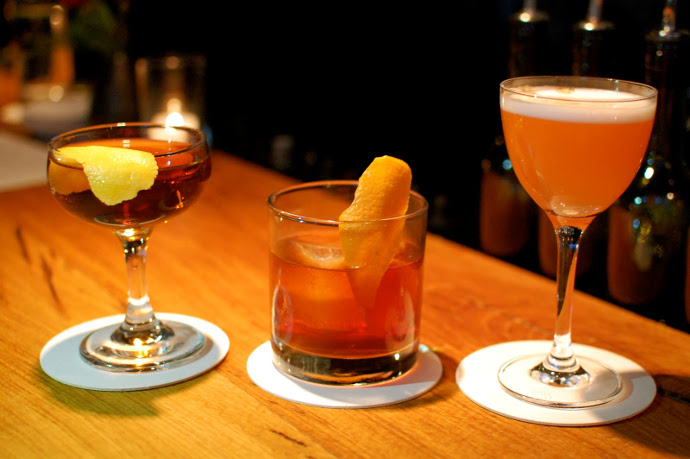 Cocktails
The cocktail program, a collaborative effort from bartenders Greg Devine and Ryan Nolan, is as elegant as everything else here. Three classic cocktails are rotated weekly, there are always two seasonal features, and five or so original drinks for each of the main spirit families: Tequila, whiskey, rum, vodka, and gin. Our favorites: The Ardea ($11), a sort of old-fashioned cocktail with Wild Turkey 101 Rye, local chinato, nocino della cristina, and walnut chocolate bitters, is lush, rich, and delicious; The eponymous Muselet ($10) is the perfect aperitif, vivid and bright with olmeca alto platas tequila, aperol, grapefruit, lemon, agave, and sparkling rosé; and the Bond...not James ($12), is halfway between a Martinez and a Manhattan and sure to please lovers of both, with Ransom Old Tom Gin, Combier, Carpana Antica, and whiskey barrel bitters.
Muselet is on the pricier side, but the welcoming attitude and approachable menu make it a great place for the occasional splurge, or for a quick happy hour pork belly and sparkling Oregon riesling. Either way, Acierto and his staff will treat you well, and you'll be sure to leave happy.
Muselet
,
3730 SW Bond Ave.; 503-265-8133
Tuesday–Saturday, 5 PM–Late

Photos: Rice Porridge and Wine courtesy of Muselet; Cocktails by Alexander Frane
Tags:
Cocktails
,
Food
,
Wine
Recent Articles

Feedback
How are we doing? Tell us what you like or don't like and how we can improve. We would love to hear your thoughts!