House Spirits Releases Old Tom Version of Renown Aviation Gin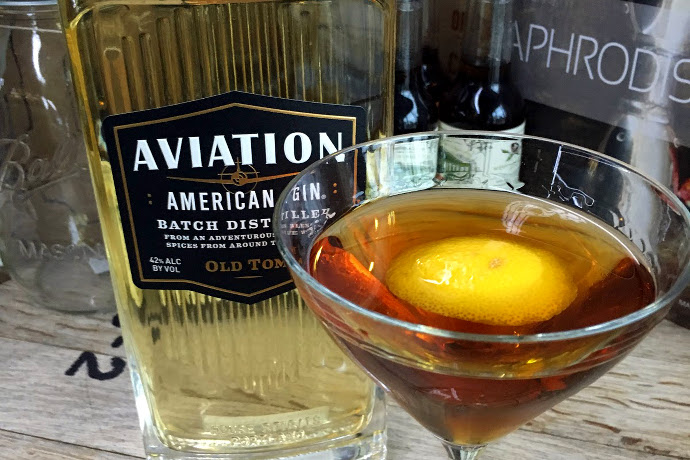 For many Portland bartenders and imbibers,
Aviation
is a household name and not just for the
cocktail
. The gin, which was named in honor of the drink, is the product of a collaboration between Ryan Magarian, whose new bar program at
Olympia Oyster Bar
we recently enjoyed reviewing,
and distillers from the popular
House Spirits
, including founder Christian Krogstad and, later, Andrew Tice. It's a unique gin, flavored with juniper, cardamom, lavender, sarsaparilla, coriander, anise seed, and orange peel. It, along with the spectacular
Krogstad Aquavit
, helped to define House Spirits as an eminent Portland distillery. And now, there's an Old Tom version.
What Is Old Tom Gin?
Think of it as a
missing link
between the sweeter, richer Dutch Genever, and the classic London Dry Gin that we drink now whenever we order a G&T or a martini. The Old Tom style faded from popularity for many years, and we've only seen a resurgence in the past decade, notably from
Hayman
and
Ransom
.
Old Tom Gin lacks a clear definition, but it's generally sweeter, and sometimes barrel aged. For House Spirits, it's a simple process of aging regular Aviation in a
Westward Whiskey
barrel for a year. That's it—no other botanicals, sugar, or anything else is added. And, as the Westward barrels were already used to age the whiskey for three to four years, it's a neutral oak, imparting little flavor. The result is a gin that is unmistakably Aviation, but much mellower and smoother, a gin easy enough to sip neat.
What To Do With It
While you would rarely want to drink a clear gin neat, this light, caramel-colored spirit is the perfect opportunity. You could drink it over ice, or even in an Old Fashioned. But the best way might be in a Martinez.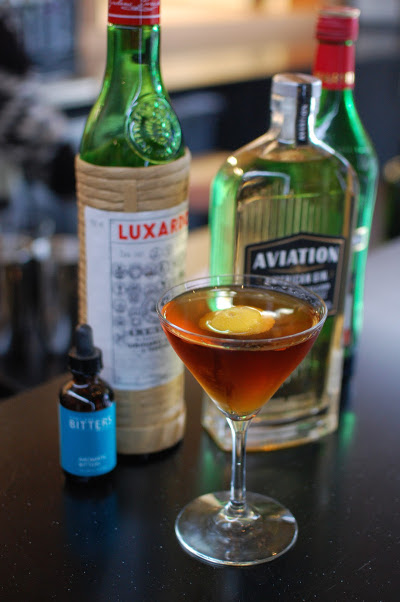 The Martinez
is something between a Martini and a Manhattan, and the predecessor to both. The Aviation Old Tom is dry enough to keep the drink from being too sweet, even with the vermouth and maraschino liqueur. While the original recipe called for a 50/50 mix of gin to vermouth, we prefer ours at a 2/1 ratio, to keep the drink from being cloying.
Aviation Martinez
2 oz Aviation Gin
1 oz Martini and Rossi Sweet Vermouth
1/4 oz of Luxardo Maraschino Liqueur
2 dash bitters
Stir over ice, and strain into a chilled cocktail glass. Garnish with a flamed lemon peel or, as Margarian prefers, with a lemon disk.

Our Take
If you're already a fan of Aviation Gin, you will probably love the aged version. If Aviation doesn't fit your taste, the more mild Old Tom might change your mind, but it may not. The $50 price tag is likely a major deterrent for the average consumer, but if you're a big fan of Old Tom style gins, check it out.
Photos by Alexander Frane
Tags:
Cocktails
,
Spirits
Recent Articles

Feedback
How are we doing? Tell us what you like or don't like and how we can improve. We would love to hear your thoughts!