Where to Find Portland's Best Donuts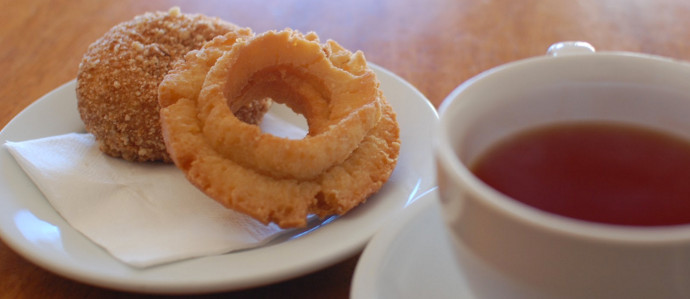 It doesn't matter if you spell it doughnut or donut, these fried and frosted treats are a staple of American decadence, and arguably our most iconic pastry. Originally in Portland the only place to find them was at a Dunkin' Donuts or Winchell's. Now, those two establishments are absent, and Portlanders have plenty of other options.

Not only can you find these donuts at their respective stores, but plenty of coffee shops and cafes around town include them on their menu or in their pastry cases. Here are our favorite spots for a donut in Portland. Did we miss yours? Let us know on our
Facebook
or our
Twitter
.
When Krispy Kreme finally came to Portland a few years back, there was a line around the block for weeks. People camped out ahead of time as if it were a Black Friday sale. Whether or not the donuts here deserve that level of adoration, it certainly remains a popular spot. (9950 SE 82nd Ave.; 503-774-3300)

Many Portlanders remember with fondness the days when Voodoo was but a tiny donut shop housed in a closet-sized establishment, with three-piece bands playing on the minimal space above the bathrooms. Now Voodoo is the most popular tourist death-trap in town, with lines pouring out the door at all hours, but especially late at night. Maybe the bacon-maple bars really are worth facing the lines, and it's certainly a uniquely Portland experience, for better or worse. Don't forget to bring cash, as neither location accepts cards. (22 SW 3rd Ave.; 503-241-4604 & 1501 NE Davis St.; 503-235-2666)

This is cheating, because Blue Collar serves bundt cakes, not donuts. But they're still round with a hole in the middle and often frosted. They're as good as any donut in the city; the motto of the shop is "we're not afraid of butter!", and it shows with these delectable goodies. They come in a variety of sizes, from donut-sized to a full bundt cake, perfect for birthdays, holidays, and work parties. There are even tiny, donut-hole sized mini bundts. (319 SW Pine St.; 503-227-3249)

Blue Star is vying for donut dominance of Portland against Voodoo, and they just may have won out. The mantra from Portlanders to tourists is "forget Voodoo, go here instead and skip the lines". It's a very different style of donut, made with a classic French brioche recipe and local high-quality ingredients. They also take 18 hours to make, so bakers work day and night to produce them.
(
Multiple Locations
)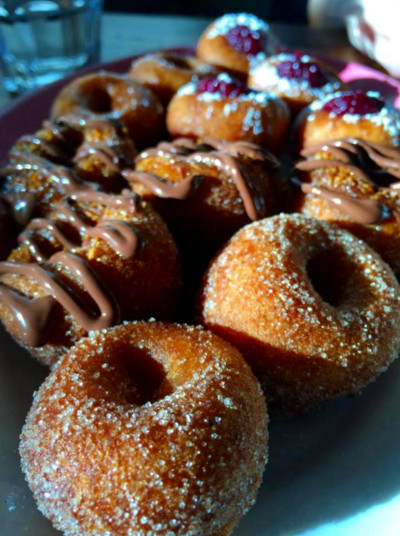 Portland's newest favorite donut shop is both a brick & mortar and a mobile van. Pip's
(pictured right)
serves mini-donuts hot from the frier, with styles both classic and original. They are the 'foodie' donuts of Portland, appearing at all the major food and drink events. It's for good reason, as they are loved even by those who don't care much for donuts. Don't forget to grab a cup of their own housemade Chai as well.
(4759 NE Fremont St.; 503-206-8692 &
mobile van
)
Donut Queen
This is probably the most overlooked and underreported donut place in town. It doesn't help that it has no website, facebook, or listed phone number. It's been open for years and lacks any sort of pretension, looking more like a classic cheap donut space than anything fancy or hipster. It's also incredibly inexpensive, especially for the apple fritter, which is probably the best in town.
(5842 E Burnside St.)
Delicious Donuts is another often overlooked place, which may be due to the odd hours—the store is open from 5 AM to noon, Monday–Saturday. This family owned shop has been operating for over ten years now. It serves mostly as a wholesale donut provider to grocery stores, cafes, and coffee-shops, so chances are you've had a Delicious Donut without even realizing it.
(12 SE Grand Ave.; 503-233-1833)
Top photo by Alexander Frane (Delicious Donuts at
Kenilworth Coffee
); Pip's Donuts photo by
Kristen Lakey
Tags:
Coffee
,
Food
Recent Articles

Feedback
How are we doing? Tell us what you like or don't like and how we can improve. We would love to hear your thoughts!