The Best Portland Cookbooks and Bar Books to Add to Your Holiday Shopping List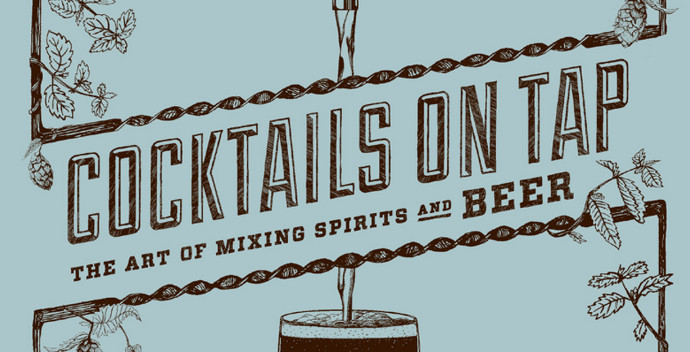 Portland is well known for its food, drinks, and books, and this holiday season, you can give all three with one gift! A number of Portland bartenders, chefs, and restaurants have released cookbooks and bartending books that make a perfect holiday present for whatever you happen to be celebrating. Of course, all of these books would also look great on your own bookshelf or in your kitchen. To keep it really Portland, order your copy from Powell's Books rather than Amazon, and support local businesses this holiday season, and share your favorite recipe from these cookbooks with us on our
Facebook
or
Twitter
!
Boozy Bar Books
The Bar Book came out a year and a half ago, but if you or your bartending friends don't have it yet, it's definitely worth picking up. The Bar Book is not a cocktail recipe book so much as it is a guide to being a bartender, both at home or professionally, written by one of Portland's most celebrated people behind the stick. It's filled with instructions on everything you need to know about the craft, from selecting citrus and freezing ice, to shaking, muddling, stirring, and pouring. Its approach is casual and unpretentious, and the photography is stunning. Despite Morgenthaler's claim that it is not a recipe book, it's filled with fantastic recipes—try Jeff's Rum Old Fashioned, and you may never make one with bourbon again.
Photo: Jeff demonstrates a perfect stir technique. Credit: Alanna Hale

Bitters, vermouths, and amari are making a huge comeback in the cocktail world after decades of obsolescence, and Mark Bitterman's shop, The Meadow, has been a huge help for that in Portland, featuring the city's largest supply of bitters, quinquina, vermouth, amari, and more. The Field Guide is the perfect companion to this array: The introduction includes everything you need to know to understand what bitters and amari are and how to use them, while the rest of the book offers over a hundred recipes for cocktails, food, and even making your own homemade bitters.

Another Portland bartender, Grier mostly works at the
Multnomah Whiskey Library
. His book, Cocktails on Tap, was released earlier this year. It's a celebration of craft cocktails and craft beers, combining the two for the first barbook ever to focus entirely on beer based cocktails. IPA spiked mai-tais, Belgian beers with gin and absinthe, and more fill the pages. Grier's book is far more than just following a trend; according to Morgenthaler of The Bar Book, "Jacob Grier was at the forefront of the beer cocktail renaissance before many of us had ever contemplated the idea of a beer cocktail. His vast knowledge of beer and passionate dedication to this area of mixology is certain to push the craft of cocktails forward in a positive new direction."
Photo: The Fiercracker, from bartender Lauren Scott at
Angel Face
. Rye whiskey, Aperol, lemon, simple syrup, orange bitters, and hefeweizen
Cookbooks
Heartlandia is based on husband and wife team Adam and Jackie Sappington's acclaimed Portland restaurant,
The Country Cat
. Adam, executive chef and a self-taught expert in whole animal butchery, and Jackie, executive pastry chef, make food that is the definition of soulful, heartwarming comfort food. Some of the mouthwatering dishes include autumn squash soup with apple cider and brown butter, red wine braised beef with wild mushroom steak sauce, and crispy fried oysters with smokey bacon and green apple ragout, and, of course, their famous skillet fried chicken. Additional chapters include one for desserts, one for drinks, and another for pickles and preserves. The cookbook also has beautiful photographs that capture not only the amazing food but also the spirit of the restaurant and the heartland.
Portland's favorite tapas spot,
Toro Bravo
, may be a bit expensive for some, so pick up this Spanish based cookbook and make all your favorite dishes at home, including homemade chorizo. The Toro Bravo book is more than just that; the "No Bull" aspect refers to the fact that it's also a documentation of owner John Gorham's life and relation to food. From his childhood with a drug addicted mother to becoming a father and opening his restaurant, Toro Bravo's book gives you an insight into his story, and that of the restaurants he owns.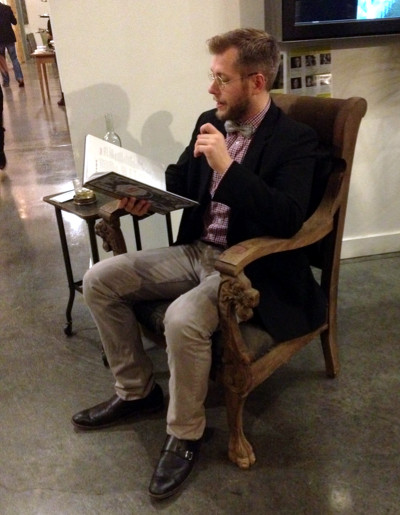 Olympia Provisions,
by Elias Cairo and Meredith Erickson
Olympia Provisions
is more than just a sausage and charcuterie shop; it's a collaborative venture of numerous Portland talents, coming together to celebrate pig and spice, wine pairings, and dining. This irreverent cookbook-slash-scrapbook features techniques, recipes, and essays about the history and personalities behind their restaurants and meat shop. In Olympia Provisions, owner and salumist, Elias, dives deep into their charcuterie, offering step-by-step recipes for confits, pâtés, sausages, salumi, frankfurters, and more. The book also goes beyond recipes for cured meat, featuring stories of a trip back to Switzerland where Elias did his apprenticeship, essays about the perfect wine lunch, and non-charcuterie recipes from Olympia Provisions' two restaurants.
Photo: A gentleman reads contemplatively from the OP book during its release party. Credit: Alexander Frane

Top cover image by David Lanthan Reamer
Tags:
Beer
,
Books
,
Cocktails
,
Education
,
Food
,
Wine
Recent Articles

Feedback
How are we doing? Tell us what you like or don't like and how we can improve. We would love to hear your thoughts!