A Shot and a Beer: The Best Pairing Menus in Portland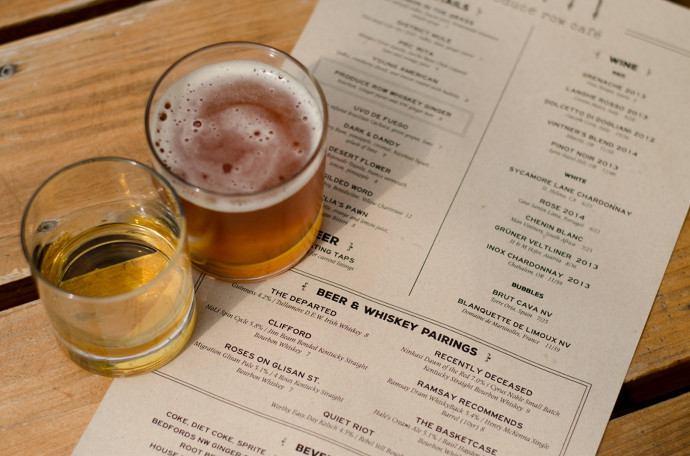 The pairing of a tumbler of whiskey and a glass of beer goes by a few names: In Philadelphia it's called a Citywide Special, though that name more specifically refers to a Jim Beam with a Pabst Blue Ribbon. More regularly it is known as a Boilermaker. The exact origin of the title has stirred up much debate in the past, but it's the classic drink for bartenders who have gotten off work and want a drink to relax with.

Nowadays, boilermakers no longer only refer to a whiskey with a beer, but also any number of spirits paired with beers, cider, and even wine. Of course, you can grab a beer back for your whiskey at just about any bar in the city, but here are the ones that have dedicated menus for them. Some are just fun pairings, others are more thought-out drinks, meant to enhance both the spirit and the beverage as you drink both side by side.

Produce Row -
Beer and Whiskey Pairings
The original spot for pairings is back, as we discussed in our
happy hour roundup
recently. Produce Row was the first bar in town to feature beer carefully paired with whiskey, and the tradition continues. Beers are poured short, whiskey is neat, and the names are clever. Some standouts include
The Departed
, an Irish pairing of Tullamore D.E.W. and Guinness ($8),
Roses on Glisan St.
, a classic with Four Roses Bourbon and Migration Glisan Pale Ale ($7), and the expensive but fun
Werewolves and Vampires
, which is Silver Moon Voodoo Dog ISR paired with a shot of Blood Oath Whiskey, a whiskey made from a blend of 6 year wheat whiskey, 7 year rye, and 12 year rye ($19).
(204 SE Oak St.; 503-232-8355)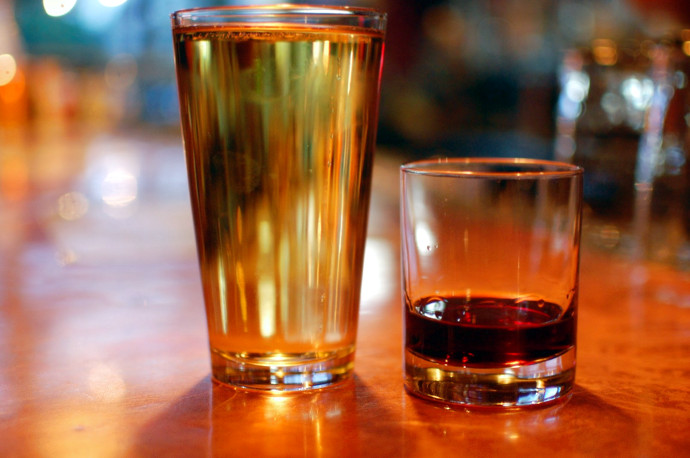 The Knock Back -
Boilermakers
The boilermaker menu at the Knock Back was developed by Jesse Card, now of Bit House. He wanted to make his bar an industry spot, as well as give people an opportunity to try new spirits. Most are something other than a whiskey and a beer, including the
Face Plant
($8, pictured). This boilermaker is named for
Bull in China
's Lucas Plant; the team used Knock Back as their home base when setting up the company, and Plant would regularly order a Fernet-Branca with a glass of Portland Cider Co.'s Kinda Dry Pear Cider.
The Card
($10) is also fun: A pint of Base Camp's S'more Stout, complete with a toasted mallow on top, and a shot of the famous Ron de Jeremy. The Knock Back serves full pints with each of the boilermakers, and during happy hour, they are all $2 off, making them an incredible deal.
(2315 NE Alberta St.; 503-284-4090)

Bit House Saloon -
Boilermakers
Card continued his boilermaker program when he opened Bit House Saloon. Like the Knock Back, most are something other than whiskey and beer, and they're all named for one of the staff's (or friend's) children. Delilah's Fancy ($8) is named for Card's daughter; it's a striking pairing of Green Flash Pale Ale and Genepy des Alpes, a liqueur not unlike Chartreuse. Winston, Put the Cat Down! ($8) wins the best name on the menu; like the Face Plant it involves a shot of Fernet, but is paired with a Miller High Life Pony, a short 6 oz bottle whose availability in Portland Card is responsible for (you'll be sure to see these cute little bottles around town at every bar, soon). Plant gets another shout-out here, with the Charlie's Brunch ($10), named for his daughter. Combier Kummel (a sweet liqueur with caraway, cumin, and fennel) and prosecco makes it the only wine-based boilermaker on the menu. (727 SE Grand Ave.)
For a slightly more low brow pairing, head to The Fixin' To in St. John's. This neighborhood joint serves up southern food and cheap drinks, including a number of well drinks and cheap beer pairings. The Down 'N Out is (appropriately) only $5, and gets you a shot of Old Crow Bourbon and a pint of Rainier, the beer currently vying for the position of ultimate hipster beer in PDX. Or mix it up a bit and replace the Old Crow with a shot of Jager for the Rain 'N Blood ($6.50). Most of the other beers are served by the can, including the Mexi-sconsin ($6), which includes a shot of Jose Cuervo Tequila and a tallboy of Hamm's, a pairing guaranteed to kick start your night. (8218 N Lombard St.; 503-477-4995)
There's no name for the pairing menu at Bar Bar, just a list of a few spirits and cans of beers to chase them.
The Sneak Attack
($8) is like a (slightly) fancier Mexi-sconsin, with El Jimador Reposado and a tallboy of Tecate. For a warming winter combo, try the
Roy's Birthday
($10), with a shot of Jack Fire (Jack Daniel's cinnamon whiskey) and a bottle of Woodchuck hard cider, perfect for sipping on while wrapped up next to a heat lamp out on the large patio.
(3939 N Mississippi St.; 503-288-3895)


Produce Row photo, top by
Brady Kennedy
/Produce Row; Knock Back photo by Alexander Frane
Tags:
Beer
,
Spirits
Recent Articles

Feedback
How are we doing? Tell us what you like or don't like and how we can improve. We would love to hear your thoughts!