Where to Find Portland's Best Sherry Cocktails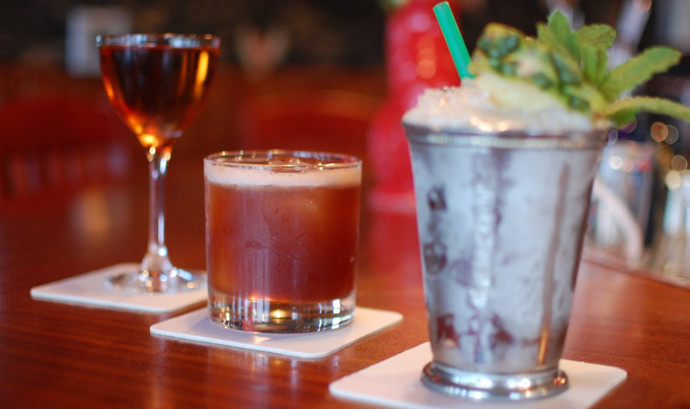 The most recent trend in cocktails in Portland is sherry. This Spanish fortified wine comes in a variety of styles, from the light and refreshing fino to the heavier, oxidized oloroso. Bartenders across Portland are using the wine to add complexity and depth to cocktails. They're using it in place of vermouths and amari, and even using it as a base for drinks. While a few years ago, it would have been a surprise to see a sherry drink on a menu, it's much less rare now. Here are just a few of our favorite spots and the bartenders making the drinks. If we missed your favorite sherry drink, let us know on our
Facebook
or
Twitter
.
Mike Shea and co. have been making sherry cocktails since opening in 2011. "We have a hard time not putting it in every drink", jokes Shea. For him, it adds depth and body without being overly boozy—a great substitute for a heavier liquor. The Rum Club currently has three sherry drinks on the menu, the best of which may be the
Fino Countdown
(pictured top middle)
, made with a blend of sherries, a blend of rums,
Don's Mix #2
, lemon, and bitters and is one of those drinks almost impossible to recreate at home. The others are still exceptional, including Shea's own
Old Quarter Master
(pictured top left)
, a rich drink with rums, scotch, and sherry; and the refreshing
Waterloo Sunset
(pictured top right)
with Pimm's, sherry, pineapple, and citrus.
(720 SE Sandy Blvd.; 503-265-8807)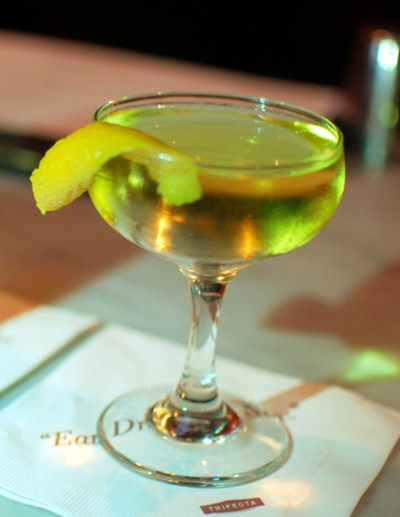 We reviewed Trifecta's
unconventional and delicious
bar program recently, including the use of charred wood in its drinks. The
Alaska #2
cocktail balances the potent mix of gin and Yellow Chartreuse with some light fino sherry and then infuses the whole thing with charred orange wood. It's fantastic. Also on the menu is a classic sherry drink, dating back to the turn of the century:
The Bamboo
, a light and pleasing mix of sherry, vermouth, and bitters.
(726 SE 6th Ave.; 503-841-6675)
Tommy Klus at La Moule has more than one reason for putting sherry on his wine list and in his cocktails: The first is that he loves sherry, and like the other bartenders on this list, finds that it mixes well with spirits. The other reason is that he worries for the wine's future. "If people don't put it on their menus and in their drinks, we're going to see an end to the market for sherry", says Tommy. Luckily, if the trend in Portland is any indication, that won't be a concern much longer.

Along with the sherries that pair so well with the eponymous mussels, La Moule also features the Lilah, a lovely drink made with oloroso sherry, Green Chartreuse, and Mellow Corn Whiskey, an American whiskey similar to bourbon, but with a little less spice. The drink is finished with Whiskey Barrel Bitters. (2500 SE Clinton St.; 971-339-2822)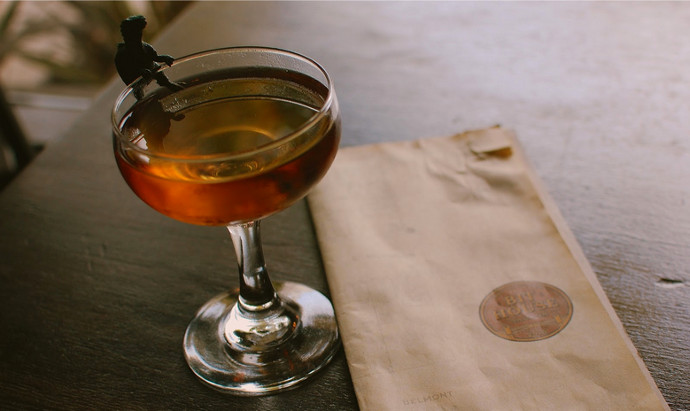 Jesse Card at Bit House likes sherry cocktails so much he's not only put them on tap at his bar, but he's whipped up a sherry blend—a mix of fino sherry and cream sherry, for flavor and depth. The BH Blend Sherry goes in two cocktails, the Kingpin, a deliciously complex and rich cocktail with Hennessy, smoked fig infused bourbon, walnut bitters, Nocino (a walnut liqueur), and BHB Sherry; and The House of Bamboozle, the bar's own take on the Bamboo, complete with a plastic dinosaur garnish. (727 SE Grand Ave.)
Being a Spanish tapas joint, it's no wonder Toro Bravo is one of the best places to find sherry in town, both on the cocktail and the wine lists. Sherry is offered by the glass (with over a dozen options), by the bottle, and even by the flight, including a "very old and rare" flight. The Jerez Negroni here sees its gin replaced with a cream sherry, making for a lighter, lower alcohol quaffer; the Contrabandista is an interesting mix of bourbon, Old Tom Gin, amontillado sherry, benedictine, and orange bitters; and the Toro Bravo Old Fashioned is made with Cardenal Mendoza—a brandy aged in used sherry casks—as well as cognac, orgeat, and bitters. (120 NE Russell St.; 503-281-4464)
Photos by Alexander Frane
Tags:
Cocktails
,
Wine
Recent Articles

Feedback
How are we doing? Tell us what you like or don't like and how we can improve. We would love to hear your thoughts!