Where to Grab a Bite to Eat After Most Restaurants Say Goodnight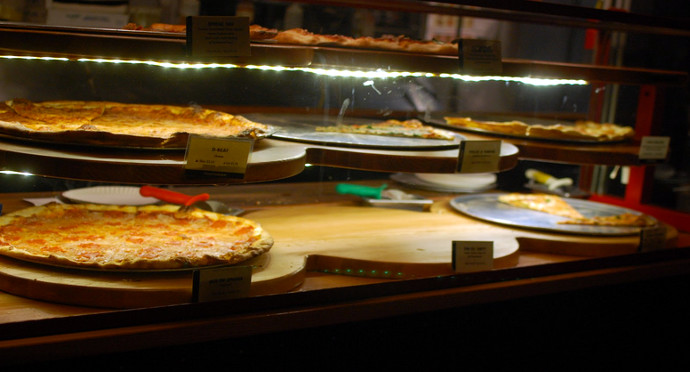 In Portland, as in all of Oregon, we're lucky—bars are open until 2:30 AM, and as long as they are, they are required to serve full food menus. This has created a sort of blurring of the lines between bars and restaurants in the city. Many restaurants have
impressive bars
, and
many bars have great food
. But sometimes, after a night of heavy drinking, you need something to soak up some alcohol before bed, and the bars have closed. Or maybe you want to get some food and
a last
drink, but want to be polite and not order ten minutes before they close.
Here are some of our favorite late night food spots, a few of which also serve alcohol up until 2:30 and all of which are open later than 2:30. Did we miss your favorite spot? Let us know on
Facebook
or
Twitter
.
Sometimes, after a long night of drinking, a fully loaded hot dog is the only thing you want. Zach's Shack is there to satisfy that craving. Open until 3 AM every day of the week, Zach's Shack also sports a full bar with cheap beer and well drinks at happy hour and late night happy hour. It's the perfect place to end a night out after bar-hopping the dives at East Hawthorne. Hours: 12 PM–3 AM (4611 SE Hawthorne Blvd.; 503-233-4616)

Sizzle Pie

Pizza is another late night classic, and Sizzle Pie serves up some of the best
slices in the city
. Sizzle Pie has two locations on almost the exact opposite sides of the river: 9th and West Burnside, after you've gone out to the cocktail bars in the Pearl or the gay bars in Old Town; and 6th and East Burnside, after you've gone out dancing at The Lovecraft or caught a show at Rontoms or The Doug Fir. It also has a full location in North Portland. If you aren't finished drinking, they also have a full bar at the East side, and beer and wine at the others.
Hours: Sunday–Thursday, 11 AM–3 AM; Friday & Saturday, 11 AM–4 AM
(624 E Burnside St.; 926 W Burnside St.; & 125 NE Schuyler St.; 503-234-7437)
Straight from New York

The pizza at Straight from New York is a similar style to Sizzle Pie. And, like Sizzle Pie, they have locations on the west and east, though only the SE Belmont location is open late—3 AM. It's a great place for a late night snack after hitting the
Belmont bars
.
Hours: Sunday–Thursday, 11 AM–12 AM; Friday & Saturday, 11 AM–3 AM
(3330 SE Belmont St.; 971-279-5970)
Luc Lac

Not everyone wants greasy pizza at 3 AM, especially someone who just got off an 8-hour bar shift and is hungry. Luckily, on the weekends, Luc Lac is open until 4 AM, serving pho, vermicelli bowls, and delicious sides. Wine, beer, and cocktails are also available until 2:30 AM.
Hours: Sunday–Thursday, 11 AM–12 AM; Friday & Saturday, 11 AM–4 AM
(835 SW 2nd Ave.; 503-222-0047)
Le Bistro Montage

Montage is a Portland institution. It's been serving its famous mac n cheese and Cajun inspired cuisine since 1992, and is open until 2 AM during the week and 4 AM on the weekend. Be sure to order an oyster shot: servers still shout it out to the kitchen when you do. The tinfoil animal leftover wrappings are also
a classic.
Hours: Sunday–Thursday, 5 PM–2 AM; Friday & Saturday, 5 PM–4 AM
(301 SE Morrison St.; 971-271-8920)

The Hotcake House

The Hotcake House is even more of a Portland institution than Montage; your parents were probably getting food here at 3 AM in the 70's. It serves breakfast food, steak, burgers, and more, all on a grill that's been in almost constant service for more than 40 years. The actual quality of food might not be the highest, but it's open 24/7 and portions are huge, so you probably won't care.
Hours: Open 24/7, closed on Thanksgiving and Christmas Day
(1002 SE Powell Blvd.; 503-236-7402)
Cartopia

The food carts on 12th and Hawthorne have gone through a lot of
drama
, as their fate was extremely tenuous last year. Luckily, a public outcry managed to keep the lot from being renovated into condominiums. Today, you can still wander over from the bars at 3 AM or later to grab a burrito, PB&J, or a stone-oven baked pizza.
Hours: Vary by shop
(SE 12th and Hawthorne)
Unfortunately,
Robo Taco
, the beloved late night taco house, has started to close at midnight due to the behaviors of its late night clientele.
Sizzle Pie photo by Alexander Frane
Tags:
Food
Recent Articles

Feedback
How are we doing? Tell us what you like or don't like and how we can improve. We would love to hear your thoughts!