The New Fall Menu at Trifecta Is Unconventional and Full of Delicious Surprises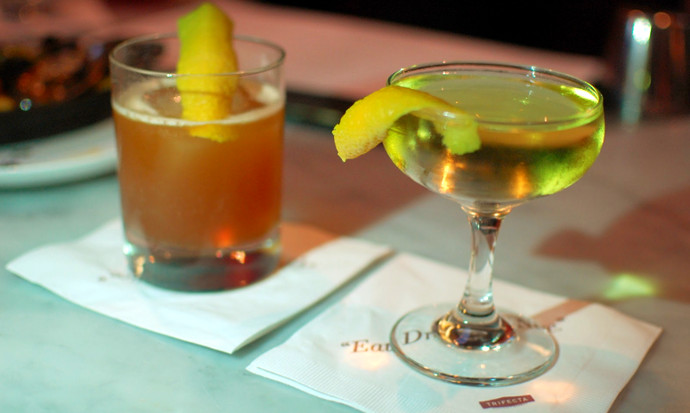 T
rifecta
is the newest restaurant from restaurateur
Ken Forkish
, having opened in late 2013. The restaurant is now as established and well-loved as Ken's namesakes,
Ken's Artisan Bakery
and
Ken's Artisan Pizza
. Unlike the other two spots, Trifecta houses a full bar, complete with an amazing cocktail program run by the talented
Colin Carroll
(pictured below). The fall menu has just been released and is exceptional.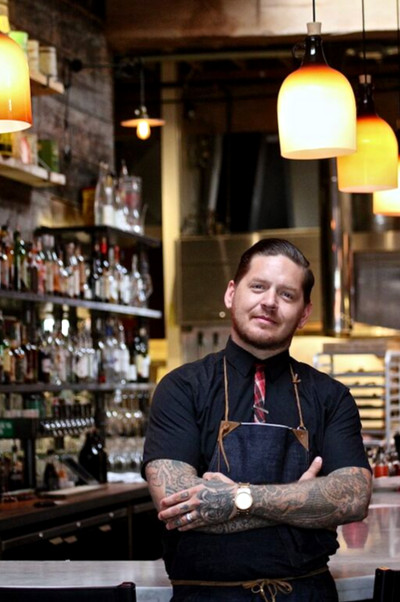 The bar program at Trifecta is one of the most innovative in town, with some unique concoctions that utilize the techniques and tools of the kitchen. Two drinks are infused with charred wood: the Alaska #1 (pictured above), with Union Gin, Yellow Chartreuse, and Fino Sherry; and the Bobby Burns, with Black Grouse Scotch, Cocchi Sweet Vermouth, and Benedictine.

The wood—orange wood for the Alaska and maplewood for the Bobby Burns—is charred in the kitchen's wood-fired ovens. Then, the staff whips up a large batch of the drink, adds the charred wood, and places it all in a sous vide bag and cooker. The controlled heat allows them to quickly infuse the cocktail in a manner of hours, around 6 to 18, without cooking out any of the alcohol or damaging the liquors. The housemade drambuie is similarly made in the sous vide style, and the housemade falernum, used in the Algonquin alongside Old Overholt Rye and Dolin Dry Vermouth, is infused with pineapples roasted in the wood oven.
Another older technique is applied to the Clarified Milk Punch (pictured below). Bartenders boil milk, then add it to a concoction of bourbon, lemon, sugar, and housemade chicory coffee (also cooked in the wood-fired ovens). The citrus in the cocktail curdles the milk, allowing it to be strained through a fine mesh cloth. The resulting drink is silky and delicious, unlike anything else. The technique dates back to early America; Carroll found a description of Benjamin Franklin, while he was postmaster general, doing much the same thing though Franklin strained his milk through a pillowcase.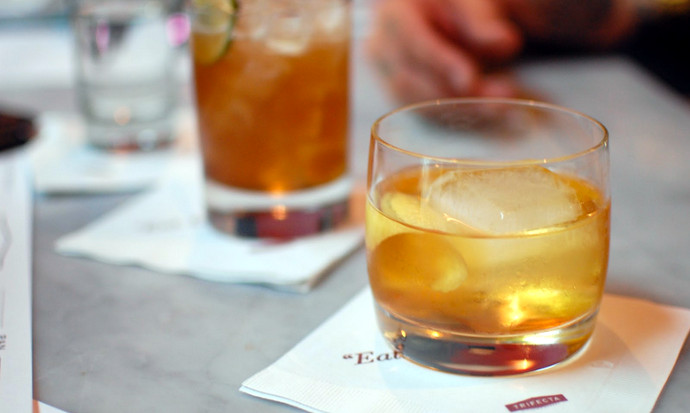 This considerable prep work allows bartenders to make cocktails quickly for the large restaurant. Bartenders don't have to spend minutes stacking multiple ingredients in a glass to get an interesting drink. Similarly, these housemade ingredients make for a cocktail menu tightly focused on the base spirits within a drink, but are still rich and complex. Carroll says, "If I make a Scotch drink, I want it to taste like Scotch. I want a tequila drink to taste like tequila." Charred wood, clarified milk, and other homemade products enhance the primary ingredients, rather than covering them up, as sometimes happens with drinks using five or more liquors.
Not every drink on the menu is so unconventional. Classics like the Old-Fashioned, Manhattan, Gibson, and Sazerac are all there. Other original cocktails are reflective of Carroll's straightforward approach, such as the amazing Diki Diki Punch, with Laird's Applejack, housemade Swedish Punsch, grapefruit, and grapefruit bitters; or the Sherry Flip, with Oloroso Sherry, Ramazotti Amaro, demerara sugar, and a whole egg, topped with grated nutmeg, which makes a perfect dessert drink.
Whether you're ordering a drink you can make at home or one that is completely unique to the bar here, you're sure to be impressed.

Trifecta, 726 SE 6th Ave.; 503-841-6675

Drink photos by Alexander Frane; Colin Carroll photo by Kayt Mathers
Tags:
Cocktails
,
Spirits
Recent Articles

Feedback
How are we doing? Tell us what you like or don't like and how we can improve. We would love to hear your thoughts!