Don't Break the Bank: Affordable Happy Hour Specials at Otherwise High-End Restaurants
Live large while on a budget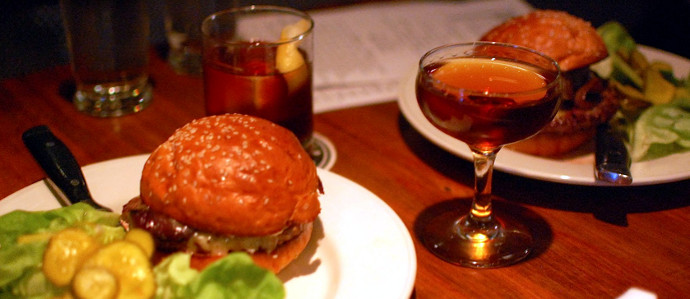 Portland has a lot of amazing fine dining, but more often than not those places come with an equally impressive price tag. For many Portlanders, an expensive prix-fixe or steak dinner is simply out of reach.

Luckily, a number of these restaurants and bars are aware of this and want to make their food and drink more accessible. Happy Hours can be the perfect time for a restaurant to display some of their wares at a rate that most anyone can afford. Here are our favorite spendy spots that drop prices significantly during happy hour. Unsurprisingly, they all include a burger.

Vitaly Paley is one of Portland's most beloved chefs, both for his talent and his character. The eponymous Paley's Place has reigned for twenty years as one of our top culinary establishments. It would be safe to say that Paley's Place helped to define what Portland and northwestern cuisine is. But many people can't afford to sample Paley's amazing food, much less one of his $70-$90 tasting menus. Luckily, Paley's Place offers one of the best happy hours in town, dropping prices drastically for a few choice menu items that are no less delicious than anything on the dinner menu. Try one of the best burgers in town for only $7, or an artisanal daily cheese plate for only $5. Oysters are $2 a pop. There's also a selection of glass pours for $5; these are no mean table wines, but the same French wines that go for $10 and up on the dinner menu. Finally, there are discounted beers and exceptional cocktails, including a Hemingway Daiquiri for only $5.

Happy Hour at Paley's runs from 5:30–6:30 PM, Monday–Thursday and from 5–6:30 PM, Friday–Sunday. (1204 NW 21st Ave.; 503-243-2403)
Imperial
Vitaly Paley continues the fantastic happy hours at his other, newer restaurant, Imperial. Happy Hour starts a little earlier at Imperial and includes another amazing burger, this one at only $6, as well as numerous treats such as $6 smoked tongue sliders and $4 pate. Wine is more expensive than at Paley's Place at $8, but the on-tap Vieux Carre is the real treat at only $5, as well as the other, rotating cocktail at the same price.
Happy Hour runs from 2–6 PM every day, followed by a Late Night Happy Hour from 10–11 PM, Sunday–Thursday and 11 PM–12 AM, Friday and Saturday. (410 SW Broadway; 503-228-7222)
Portland Penny Diner
Next door to Imperial is the Portland Penny Diner. This sandwich shop and cafe becomes more of a casual cocktail bar in the evening with a great happy hour that makes all the on-tap cocktails a mere $5 and most of the sandwiches $6. The regular menu prices ($7 for cocktails, less than $10 for dishes) are affordable at any time of day, making the place a great way to sample Paley's excellent cooking whenever.
Happy Hour at the Diner runs from 4–6 PM, Monday–Saturday. (410 SW Broadway; 503-228-7224)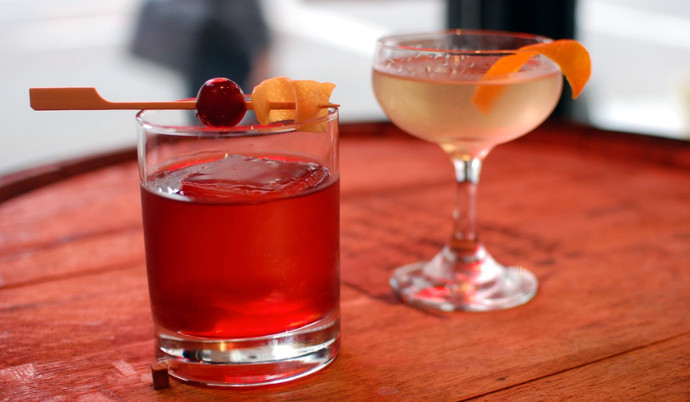 Ringside Steakhouse
The Ringside is another Portland staple; while it might feel a bit old-fashioned, its continuing presence in the face of so many fine dining restaurants and steakhouses over the years speaks to its relevance. Like any steakhouse, prices run high, but at happy hour, steak bites are only $3.95, pasta with steamed mussels or gnocchi with meatballs are the same, and the cheeseburger is an absurdly priced $2.95. It's such a great deal that you'll forgive the lack of discounted wine and the supermarket style price tags.
Happy Hour is later here running from 9:30 PM–Close, Monday–Saturday and is also available on Sundays from 4–5:30 PM and again from 9:30 PM–Close. (2165 W Burnside St.; 503-223-1513)
Ringside Fish House
Another paired restaurant, the Fish House's happy hour can't be missed. Like the steakhouse, it's the food that takes precedence: the burger and steak bites make an appearance again and are joined by more seafood, including fried oysters for $3.95 and fish tacos for $4.95. Here there are happy hour drinks, but skip the $6 well cocktails and opt for a glass of house wine or a $5 fish house punch instead.
Two Happy Hours are available Monday–Saturday from 4–6 PM and 9 PM–Close and all day is Happy Hour on Sunday. (838 SW Park Ave.; 503-227-3900)

Bluehour is yet another westside Portland classic with an expensive northwest menu and a great happy hour with a burger ($7). The "happy bluehour" also has some other fun, affordable options, such as fried green tomatoes for only $4 or gnocchi for $6. The drink specials here are great and $6 across the board. They include drinks like the margarita and moscow mule, as well as pairings, like the Gigi, which is a glass of bubbly and a shot of whiskey, or the Industry, which is a bottle of beer and a shot of whiskey. Bluehour makes for a great happy hour date: Split a bottle of wine for only $20, and grab that plate of gnocchi and an arugula salad ($5).
Happy Bluehour runs from 4–6:30 PM, Monday–Friday and on Saturday from 5–6:30 PM. (250 NW 13th Ave.; 503-226-3394)
Levant
This Israeli restaurant is newer and less expensive than the other places on this list, but it's still pricey, and the happy hour is just as good as any other. Levant, of course, also has a happy hour burger ($9), though this time it's lamb. Luckily, everything else is unique, including fried cauliflower for $5 and an outstanding falafel sandwich for $8. What you're really here for, though, are the drinks. They are also $6 across the board and include an amazing white negroni with gin, Cocchi Americano, and Green Chartreuse; a choice between red, white, rosé, or sparkling wine; and a selection of sherries.
This Happy Hour runs Monday–Friday from 5–6 PM and again from 9–10 PM. (2448 E Burnside St.; 503-954-2322)

Photos by Alexander Frane
Tags:
Beer
,
Cocktails
,
Food
,
Wine
Recent Articles

Feedback
How are we doing? Tell us what you like or don't like and how we can improve. We would love to hear your thoughts!