Trust Us, Bit House Saloon Is Your New Favorite Cocktail Bar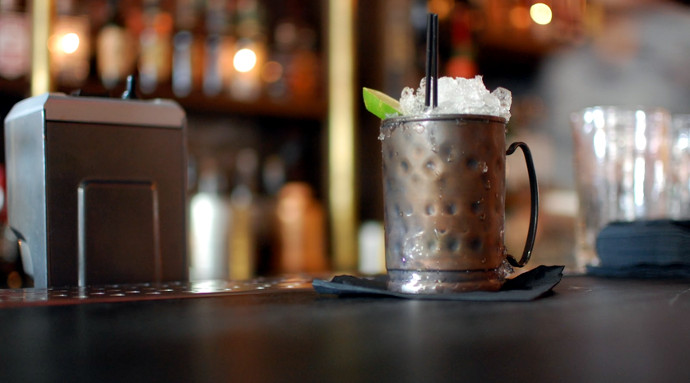 Jesse Card has opened his ambitious new spot, and after a premiere night that included a collapsing bar shelf, it is quickly becoming a destination. Bit House Saloon is both historical and new, ambitious, and intelligent. Card and his staff have developed a bar that is focused on hospitality above all else, with cocktails and sherry on tap to expedite service while still providing excellent craft drinks. But Bit House is more than a speed bar that serves good drinks—it's creative, welcoming, and above all, fun.
The enthusiastic bar staff reads like a dream-team of Portland cocktailers: Chino Lee of Departure, Brian Gilbert of Teardrop Lounge, Chris Churilla who came with Card from the Knock Back, Nick Cifuni from Ataula, and Chauncey Roach from Racion. Other staff members have also come from the Knock Back, as well as Tasty & Alder and Interurban. It's a collaborative expedition of industry veterans, and it's created a communal vibe.
It's no wonder so many bartenders flocked to Bit House though; Card's demeanor is equal parts professional and friendly. It's important to him that his bartenders have as much fun as his patrons do. "This is my kind of riff-raff, and I love them," he says of his staff. Simple drinks, cocktails on draught, and a bar he designed himself assure his staff has a good time while still providing excellent service, and this level of fun translates to the environment as a whole.
Another aspect that makes Bit House so great is the space itself: A beautiful turn of the century brick building on the corner of Grand and Morrison, Bit House is named for its original incarnation, back in the late 1890's. Comfortable black leather chairs adorn the space, great chandeliers found in the attic hang from the ceiling, and an old-school boxing ring bell was taken from the upstairs gym and hung on the wall of the bar to be rang every time a regular enters the bar (a constant occurrence). And while the bar embraces a perhaps overused aesthetic of industrial-chic, the original exposed brick and gorgeous wooden bar make the space feel classic, rather than cliché.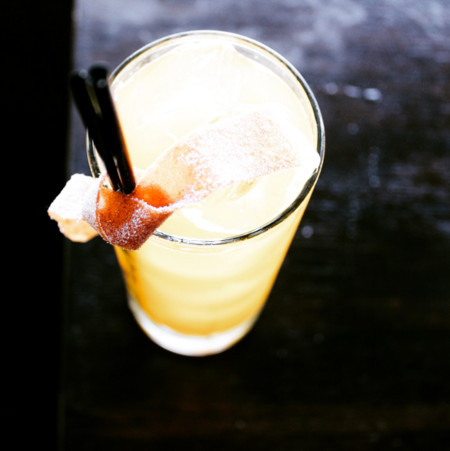 Of course, none of this is important if the drinks aren't good. Luckily, with a powerhouse team behind the bar like this one, that is no concern. The impressive drink menu includes colorfully named original cocktails, such as the Mary Jane Watson, a drink made with tequila, mezcal, Aperol, lime, and delicious strawberry shrub, or the Grandmaster Flowers (pictured right), with bourbon, nectarine, chamomile, grapefruit, lime, and Dandelion & Burdock bitters. The two drinks are both $10, and represent the top price of cocktails here—many are around the $7 and $8 range, a welcome sight. Symbols and a key indicating drink qualities (carbonated, refreshing, e.g.) help patrons to navigate the menu which also includes frozen slushy drinks, house picked single barrel spirits, and a list of boilermakers named for staff members' children. Delilah's Fancy, a pairing of Green Flash Pale Ale and Génépy des Alpes is named for Card's own, though Winston, Put the Cat Down!, a High Life Pony bottle (brought in specially for the bar) and Fernet pairing, wins the best name.
The beer menu is as good as any in Portland, and the wine menu has some stand outs, including a $6 glass of Willamette Valley Pinot Noir rosé, an absurdly good deal, and a series of sherries, including the house blended one on draught.
Bit House is open 3 PM–2:30 AM daily with a happy hour that runs from open until 7 PM.
Bit House Saloon, 727 SE Grand Ave.; 503-954-3913
Top photo by Alexander Frane; Grandmaster Flowers courtesy of Bit House Saloon
Tags:
Cocktails
,
Food
,
Spirits
Recent Articles

Feedback
How are we doing? Tell us what you like or don't like and how we can improve. We would love to hear your thoughts!