Don't Miss Your Last Chance to Try Teardrop Lounge's Summer Cocktail Menu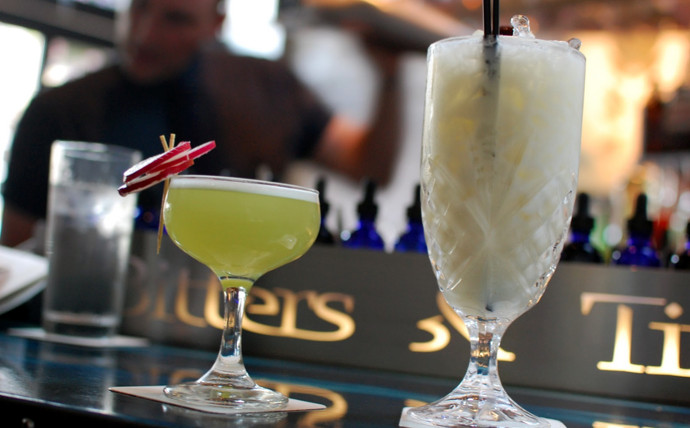 T
eardrop Cocktail Lounge
is an integral part of Portland's cocktail culture as it's one of the original craft cocktail bars on the scene. When
Daniel Shoemaker
opened the bar in 2006, it was one of only a few bars devoted to classic and original cocktails. While the city is now home to dozens, if not more, Teardrop still remains one of the best and most popular.
Teardrop's success is due in part to the staff's dedication to celebrating classic cocktails, their constant innovation, and their emphasis on seasonal drinks. To this end, the cocktail and food menu change regularly, with a summer menu that is entirely different from the spring menu while retaining some drinks from previous summers.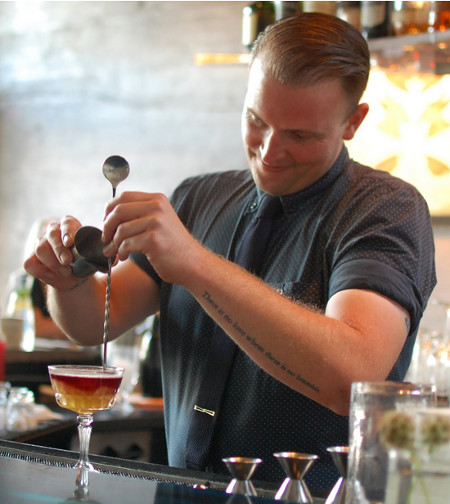 It's a testament to their professionalism how consistent and efficient the bartenders are—they swiftly produce a large volume of drinks each night from an extensive, oft-changing menu. The menu is divided into thirds: House cocktails, classics, and friends. The latter is an assortment of drinks from different bars around the country and beyond. Each menu also features a punch. The bar staff, including Shoemaker; bar manager Tyler Stevens; and Daniel Osborne (pictured right with a Pan Am Sour) of Bull in China—where the bar sources its eclectic glassware and mixing glasses—collaborate on the menus.
The summer menu is varied, with a wide range of flavors. Classics such as the Piña Colada, which is pictured above ($11), made with housemade cream of coconut, Plantation 3-Star rum, pineapple juice, pineapple gomme, and lime, or the Army Navy ($11), with a blend of gins called the TDL gin blend, lemon, housemade orgeat, and bitters, are sure to impress even a skeptical patron.
The Pan Am Sour ($12) on the friends list is an amazing variation on a traditional sour, with both cachaça and Elijah Craig bourbon, and is topped with a malbec float. It comes by way of Ivy Mix, the appropriately named bartender at Leyenda in New York City who recently won Bartender of the Year at Tales of the Cocktail. The Fogerty ($11) hails from another award-winning bar, this one ABV in San Francisco, which won bar of the year from Imbibe Magazine. It's crafted with Buffalo Trace bourbon, campari, cream de cacao, and orange bitters.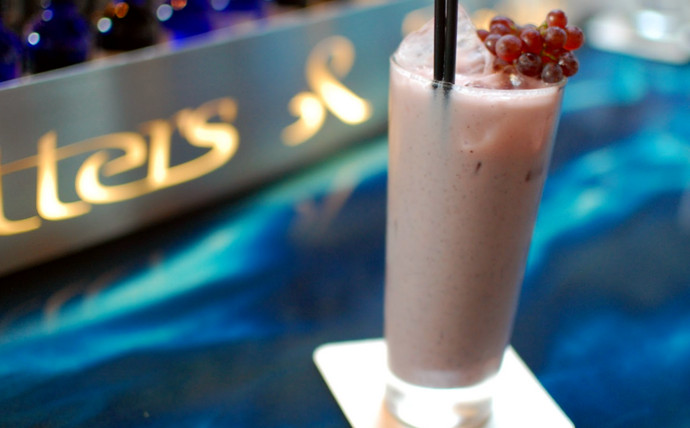 On the house menu, innovation rules. The Force of Habit (pictured directly above) ($12) is made with a delicious and far too easy to drink black rice horchata, made in-house and spiked with pisco. The Frankly, Scarlet ($10) pays homage to Stevens' background as a barista: a cognac and amaro drink with cascara tea, an herbal tea made with the dried fruit of a coffee plant. And the El Gustavo (pictured at top) ($11) is a delicious, slightly savory but tropical drink with the TDL gin blend, Lillet Blanc, fino sherry, honey, lemon, and a snap pea juice.
The Summer Menu will remain through August and into September, though there is discussion of the possibility of an Indian Summer menu before fall. Whatever Teardrop decides, it's sure to be good.
Teardrop Cocktail Lounge, 1015 NW Everett St.; (503) 445-8109
Photos by Alex Frane
Tags:
Cocktails
Recent Articles

Feedback
How are we doing? Tell us what you like or don't like and how we can improve. We would love to hear your thoughts!