Sip, Sample, and Savor Local Spirits Along Portland's Distillery Row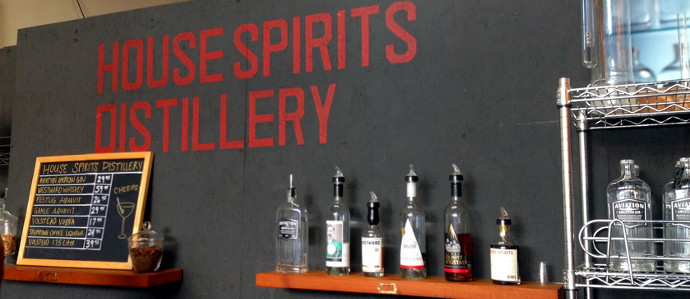 Portland is famous for its craft breweries, boasting one of largest numbers per capita of any city. But it is also quickly gaining recognition as a distillery city. Thanks in part to the OLCC, which both purchases and sells all liquor in the state, we've managed to accrue almost a dozen distilleries in the city alone, a few of which have surpassed the title of "micro-distillery" and produce high-end spirits for the whole country and beyond.

Here are a few of our favorite distilleries where you can stop in to taste the product and purchase bottles for yourself. Many of these distilleries can be found in
Distillery Row
, an area in the industrial district of SE Portland. Customers interested in touring all the distilleries in the row should consider purchasing a
Distillery Row Passport
, which includes tastings at all seven distilleries, plus recipes, a $5 gift card, and more.
Clear Creek isn't just Portland's first distillery, it's also one of its very best. Its flagship spirit, the pear Eau de Vie, has won numerous accolades, and is largely considered to be one of the best brandies in the world. The Bartlett pears are picked just an hour away in Hood River, and it takes over 30 pounds of fruit per 750ml bottle. For a truly decadent spirit, try the "pear in the bottle" Eau de Vie, which is just as it sounds--a pear is grown right there in the bottle before it's filled and packaged.

Clear Creek is more than just pear brandy though--it sports a variety of fruit Eau de Vies (including a delicious apple brandy, which also comes with the option of a fruit in the bottle), Oregon brandies, a Scotch style whiskey, and some truly spectacular grappas.

Tours and tastings are given at the North West distillery, and large parties are encouraged to call ahead to assure a space. Clear Creek is open 12–6 PM on Monday through Friday and 10 AM–6 PM on Saturday and Sunday. (2389 NW Wilson St.; 503-248-9470)

Another Portland celebrity, House Spirits is most famous for its
Aviation American Gin
, recently rated as one of the best gins in the world by Wine Spectator with 97 points. The gin's profile is unique, with notes of cardamom, coriander, and sarsaparilla setting it apart from other gins.
Like Clear Creek, House is more than its flagship spirit. Among a variety of other spirits including vodka and Stumptown Coffee liqueur, House Spirits is responsible for introducing aquavit, the Scandinavian cousin to gin, to Portland.
Krogstad Festlig Aquavit
and its variant, Krogstad Gamle, which is aged for 10 to 12 months in Oregon Pinot Noir barrels, are award winning spirits, and are found in numerous cocktails at Portland's favorite Scandinavian restaurants,
Broder
and Broder Nord.
The tasting room for House Spirits, part of Distillery Row, is currently located on lower Division, but is moving to a larger space on the corner of Water and Stark, across from Olympia Provisions this fall. Tastes are available for a $1 or $5 for a flight of all six spirits. House Spirits is open from 12–6 PM daily. (505 SE 11th Ave. Suite 118; 503-235-3174)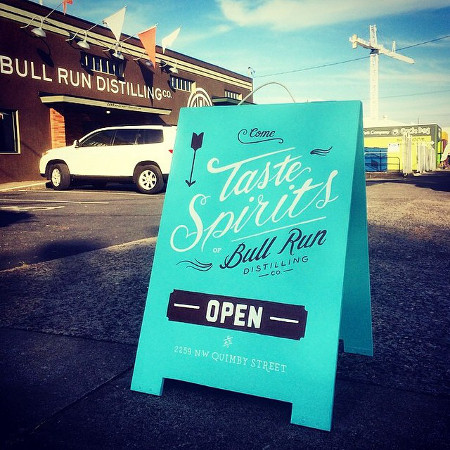 Named for the famed watershed that Portland receives its drinking water from, Bull Run uses this pristine Oregon water in all of its spirits. Like House, Bull Run makes just a few different liquors, rum, whiskey, vodka, gin, and aquavit. Out of all of them, the Aria Gin, made with 10 different botanicals for complexity, is the best.
The tasting room, open Wednesday through Sunday from 12–6 PM, is nestled on NW 23rd, surrounded by cocktail bars and restaurants, most of which serve Bull Run spirits. Swing by the tasting room for a sample, then head out to one of the many nearby bars for a cocktail made with Aria Gin or Pacific Rum. (2259 NW Quimby St.; 503-224-3483)

Whiskey and rum are the hallmarks of Eastside Distilling, particularly flavored versions of the spirits. Eastside offers a wide variety of whiskeys, from the Burnside Bourbon to the Marionberry and Wild Cherry whiskeys. Flavored and seasonal rums are also produced here, including coffee rums, spiced rums, and, during the winter, eggnog rum.

Currently, Eastside is closed for tours, as they move from a small space on 7th to a grander one a few blocks away on Martin Luther King. The tasting room on Martin Luther King is open while renovations occur. Visit between 12 and 6 PM, Sunday through Thursday or 12 and 8 PM, Friday and Saturday. (1805 SE Martin Luther King Blvd.; 971-888-4264)

New Deal Distillery is well known for its clean and delicate New Deal Vodka, espoused as a sipping vodka that is also perfect for martinis. Also offered are the 88 proof version of the vodka and the Hot Monkey Vodka, an award winning spirit perfect for spicy bloody marys. The Portland Dry Gin 33 is a perfect London Dry, and the New Deal Gin No. 1 is a savory and lovely sipping gin.

The New Deal tasting room is a beautiful, wood paneled industrial space, and is another member of Distillery Row. The room is open Wednesday through Sunday, 12–6 PM, and, like Clear Creek, parties greater than six are encouraged to call ahead.
(900 SE Salmon St.; 503-234-2513)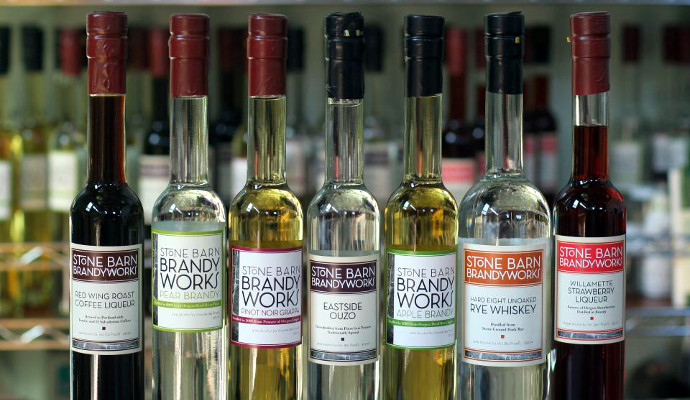 Though not as famous as Clear Creek, the family owned and operated Stone Barn also offers a delectable range of Oregon fruit brandies, using only local, seasonal fruits, as well as making a rye whiskey year round, including a clear, unoaked variety. Besides the tasting room, another participant in the Distillery Row tour, Stone Barn also makes regular appearances at farmers markets, demonstrating their connection to local farms. Stop by the Stone Barn from 12–6 PM, Friday through Monday. (3315 SE 19th St., Suite B; 503-341-2227)
House Spirits Photo by Alexander Frane; Bull Rull Photo via Bull Run Distilling; Stone Barn Photo via Stone Barn Brandyworks
Tags:
Cocktails
,
Spirits
Recent Articles

Feedback
How are we doing? Tell us what you like or don't like and how we can improve. We would love to hear your thoughts!