On the Hunt for Portland's Best Mint Juleps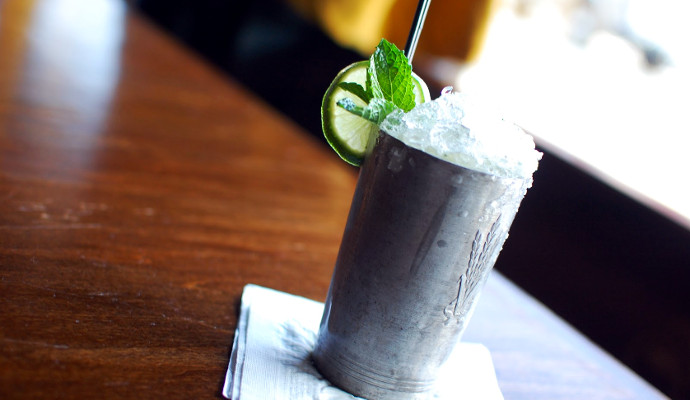 The mint julep is one of the oldest mixed drinks in America, and one of the earliest iced drinks. Originally, they were often made with brandy, and maybe some fruit. During the early years of the 20th century, juleps became what we know them as now: muddled mint with sugar, bourbon, and a heaping pile of crushed ice, served in a silver cup with a generous mint garnish to be slowly imbibed while one watches a horse race, particularly in Kentucky.
But the Derby is done for this year, and the mint julep is a popular drink in all parts of the US. It's the perfect drink for a summertime afternoon, sitting out on a patio or inside an old house renovated and retrofitted as a bar. And while anyone can muddle mint and crush ice, and a silver or tin serving cup is easy enough to find, there is something elusive to making an amazing julep. Here are the bars we think do it best.
Open less than a year,
featured
on Drink Portland
twice
, and having won the coveted position of "Best New Bar" from the Willamette Week's reader's poll, The Liquor Store is on a roll, despite its misleading, confusing name. The bar's usual approach is to take classic cocktails and add a little embellishment. Bartenders resist this urge for their juleps, aside from an unorthodox lime garnish, and prepare a delicious, straight-forward mint julep. The owner, Ray Morrone, has acquired a set of matching pewter julep cups from auctions and estate sales, and uses JTS Brown, a Kentucky bourbon that has not changed its label in 40 some years. As Ray says, "If it's good enough for Paul Newman, it's good enough for us!". The best part: The staff is so proud of their juleps, they're selling them for only $5 during happy hour, all summer long.
(3341 SE Belmont St.; 503-421-4483)
The Old Gold is one of the
best whiskey bars in the city
, so of course it offers a fantastic mint julep. The bar has lewis bags for crushing ice, and the necessary metal julep cups. While you will never go wrong ordering a julep here, the Old Gold also offers an interesting, delectable variation called a Minty Hombre. It's prepared like a julep, but with
anejo
tequila instead of bourbon, and topped with a decorative drizzle of house-made grenadine. Another cheat, but again, you'll enjoy it.
(2105 N Killingsworth St.; 503-894-8937)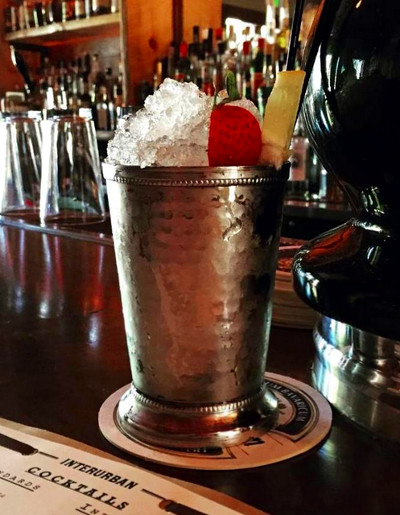 Jon Green of Interurban loves juleps, both for their history and for the drink itself. Interurban offers an excellent mint julep year round, with the appropriate vessel and the technique and attention that Interurban bartenders are known for. Also offered are a variety of seasonal juleps. For the summer menu, bartenders here mix Green's take on a cobbler, a relative of the julep, made with sherry and fruit. On a historic note, it's possible that cobblers were the first drink requiring a straw; juleps were originally sipped through a strainer, appropriately known as a julep strainer and used today to strain stirred cocktails.
Green's cobbler is made with sherry, brandy, house-made fig syrup, a touch of orange and lemon and is garnished with seasonal fruit. It may be cheating to include it as one of the best mint juleps in town, but it's so delicious we don't think you'll mind. Try one out on Interurban's
shaded patio
.
(4057 N Mississippi Ave.; 503-284-6669)
The Pope House is another whiskey bar and celebrates all things bourbon with bourbon 101 classes, whiskey flights, and, of course, an excellent cocktail menu specifically tailored towards the spirit, all in a beautiful historic house in the Alphabet District. In the summer heat, the mint julep here, a generously poured Maker's Mark julep in a sleek metal cup, is the perfect thing to imbibe while sitting outside on the lights strewn patio. If you are somehow tired of juleps, Pope House offers an exceptional happy hour list of cocktails, most of which are bourbon-based, and all for only $5. Even during "sad hours" these drinks are only $7, a great deal. (2075 NW Glisan St.; 503-222-1056)

At $14, the mint julep at Raven & Rose is the most expensive on this list. It's also the best mint julep in town. The staff is dedicated to making the
classics
and making them perfectly. The Rookery bar manager Estanislado "Tanis" Orona makes mint juleps with aplomb and care, lightly muddling mint and sugar in a silver cup, before adding the bourbon and a heaping pile of ice. He gently expresses the mint garnish, dusts the drink with sugar, and then adds a fine mist of atomized absinthe, just enough to add some delicate aromatics.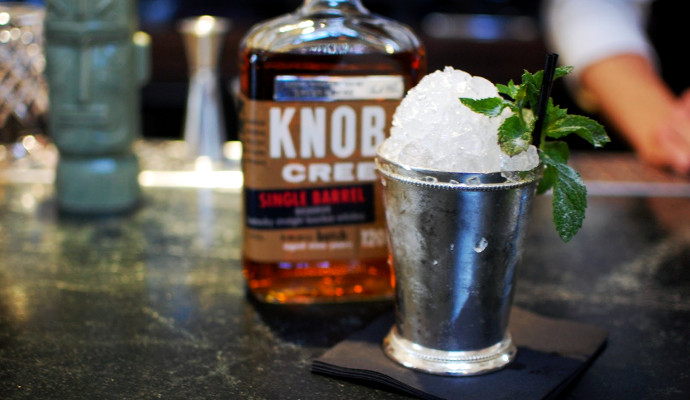 All this makes an amazing cocktail, but what really sells it is the choice of bourbon: Raven & Rose bar manager Dave Shenaut and his bartenders visit distilleries and carefully select a single barrel that best matches their desired style of whiskey. In this case, it's a 120 proof Knob Creek single barrel select. The high proof bourbon stands up to the ice and sugar of the drink, allowing you to enjoy it slowly as the ice melts and mellows the bourbon. It really is simply perfect.
(1331 SW Broadway; 503-222-7673)
The Liquor Store and Raven & Rose photos by Alex Frane; Inerurban photo by Jon
Tags:
Bourbon
,
Cocktails
,
Spirits
Recent Articles

Feedback
How are we doing? Tell us what you like or don't like and how we can improve. We would love to hear your thoughts!