5 Bars Serving Up Portland's Best Dark 'N Stormys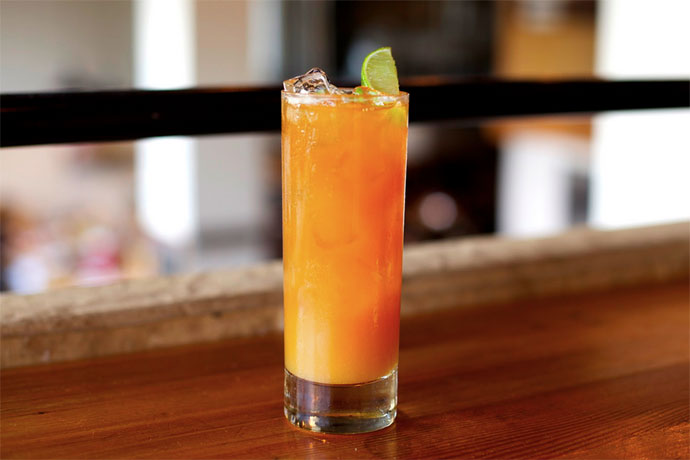 The days are getting longer and warmer as Spring arrives here in Portland, and it's just about time for one of our favorite warm weather cocktails: The Dark 'N Stormy.
An enticing concoction of dark rum, ginger beer and lime, the Dark 'N Stormy is unique in that it requires a particular type of rum, Gosling's Black Seal, in order to officially be named so. Still, while not every bar on this list uses that particular rum, they're all worthy of the title, however they choose to spell it. A few have their own take on the name, as well.
These are some of our favorites. Did we miss yours? Let us know on our Facebook or Twitter.
Double Dragon
Dark + Stormy
This Division street hotspot is famous for its amazing Bánh Mì, and it's a popular spot on Saturday nights when it hosts Baby Ketten Karaoke, a local Karaoke night with an impressively large song list. Double Dragon also serves as a bar and serves the delicious and zesty Dark + Stormy. Here, they opt for a raw ginger syrup and soda water rather than ginger beer, which gives an extra kick to the drink. (1235 SE Division St.; 503-230-8340)
GoodFoot
Stark and Stormy
The GoodFoot bar and venue serves its "Stark and Stormy" short, opting for a ginger and lime infused Bacardi black rum and just a splash of ginger ale, rather than ginger beer. The result is a pleasantly concentrated variation on the cocktail, perfect for knocking back while you take in a show downstairs or play a game of pool in the upstairs lounge. (2845 SE Stark St.; 503-239-9292)
Clyde Common
Dark and Stormy
Home of one of Portland's most celebrated bartenders, Jeffrey Morgenthaler, Clyde Common proves itself once again as an amazing cocktail bar with its take on this drink. The Dark and Stormy is a straightforward version without frills, just an excellent housemade ginger beer that pairs perfectly with the black Gosling's rum and some lime. This may be a perfect representation of the highball. (1014 SW Stark St.; 503-228-3333)
Kask
Boot Strap Buck
The companion bar for Gruner, the excellent German restaurant in downtown Portland, Kask serves up some of the best cocktails in the city. Its menu is separated into base spirit types, with cute titles such as "Juniper" for the gin section and "Agave" for tequila and mezcal drinks. Under "Sugar Cane", customers can find the Boot Strap Buck, a slight variation on the Dark 'N Stormy, sweetened with demerara and garnished with fresh nutmeg for additional spice. (1215 SW Alder St.; 503-241-7163)
Olympia Provisions
Storm Front
The name has changed, but the restaurants and butchery formerly known as Olympic Provisions still serve the best cured meats in the city, and probably the state. And while the SE location, tucked away in an old brick facility in the industrial district, serves the same quality of amazing cocktails, the NW location is where patrons can find the Storm Front. Ransom Old Tom Gin, a barrel-aged, corn-based Oregon gin, takes the place of rum in this drink, and there's the addition of Cynar, an artichoke liqueur. While distinct from a Dark 'N Stormy, it shares a similar flavor profile, balancing sweet and herbal with gingery spice. (1632 NW Thurman St.; 503-894-8136)
Photo at Clyde Common by Little Green Pickle PR

Tags:
Cocktails
,
Rum
,
Spirits
Recent Articles

Feedback
How are we doing? Tell us what you like or don't like and how we can improve. We would love to hear your thoughts!