The 5 Best Gin and Tonics in Portland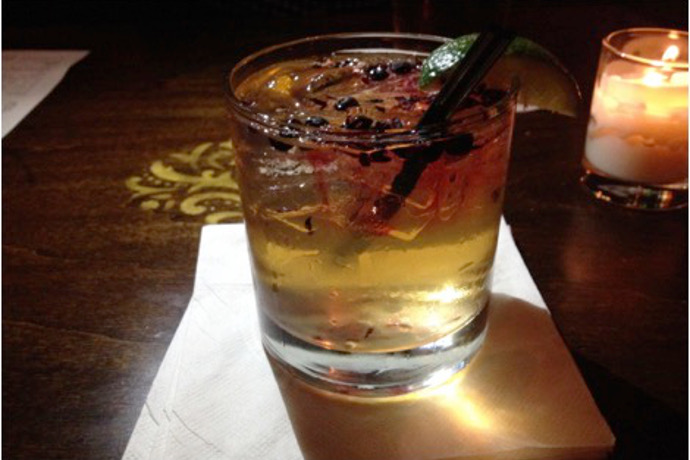 The gin and tonic may be the most ubiquitous of highballs; any bar in the city with hard alcohol offers one, generally with well gin and tonic water from a soda gun. Luckily, in the past few years there has been an increase in bars that use high-quality tonic water, free from corn syrup and artificial flavorings. Some bars even have a unique take, serving something that, while unmistakably a gin and tonic, is special and different. These five bars take the classic highball to new heights.
Victory Bar, on the corner of 37th and Division, is a cozy, dark bar plastered with faux communist propaganda, specializing in original cocktails and amazing spätzle (especially the one with pork belly). It also offers a gin and tonic, both ingredients of which are housemade. The tonic is great enough to go with any quality of gin ordered, but the Victory gin, infused with dry hops for an extra floral quality, is designed to pair perfectly with it. (3652 SE Division St.; 503-236-8755)
GoodFoot
The Cucumber Gin and Tonic
Cucumber and gin are perfect together. There are a number of bars in Portland that offer cucumber gin and tonics, but the Goodfoot's, with cucumber and lime infused gin, stands out as the best. At only $6, it's the perfect cocktail to drink slowly while playing a game of pool in the upstairs pool hall, or for downing quickly to return to the dance floor downstairs for Soul Night or a show. (2845 SE Stark St.; 503-239-9292)
The Rookery at Raven and Rose
The Navy Strength Gin and Tonic
The Rookery serves as Raven and Rose's more casual space. It's a large, beautiful bar with a fireplace, a tv for games and an excellent cocktail menu. Currently, the gin and tonic is not on the menu, but any bartender can make it if asked. Hayman Royal Dock Navy Strength gin is the key to this highball, a high proof, intense gin supposedly provided to the Royal English Navy in the 19th century. In the case of accidental spillage, the proof (57% alcohol) was strong enough that the gunpowder would still be able to fire the cannons, or so the story goes. Nowadays it makes an excellent gin and tonic, especially when cleverly paired with Jack Rudy tonic syrup, soda water and lime juice, all of which help to mellow the high proof gin. (1331 SW Broadway; 503-222-7673)
The Liquor Store
The Real Good Gin and Tonic
The recently opened, and confusingly named, Liquor Store serves a number of classic drinks with a creative twist. The Real Good Gin and Tonic is, like The Rookery's, made with a tonic syrup and soda water. The drink is garnished with juniper berries and hibiscus flowers, the latter of which sink into the drink and slowly imbue it with a vivid pink color and a subtle floral taste. Like at The Goodfoot, try one of these while checking out a local band in the basement venue. (3341 SE Belmont St.; 503-421-4483)
Toro Bravo
The Portland Gin and Tonic
More of a restaurant than a bar, Toro Bravo, the more dinner focused part of the Tasty and Sons family, serves incredible Spanish tapas and amazing drinks and wine. The Portland Gin and Tonic features Aria, a Portland gin (naturally), house-made tonic water and lime shrub, a potable vinegar, standing in for lime juice. The drink is garnished with an orange peel and juniper berries. (120 NE Russell St.; 503-281-4464)
Top Photo: The Real Good Gin and Tonic at The Liquor Store by Alex Frane
Tags:
Cocktails
,
Spirits
Recent Articles

Feedback
How are we doing? Tell us what you like or don't like and how we can improve. We would love to hear your thoughts!