Portland's Best Bars for Day Drinking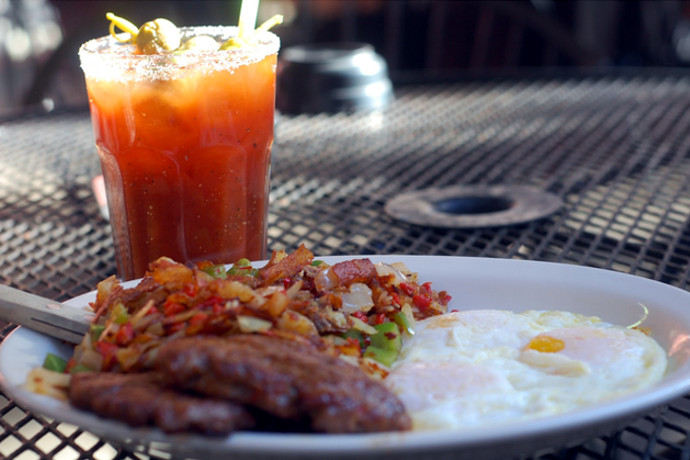 We Portlanders drink at any hour of the day. Maybe you get off your graveyard shift at 7 or 8 AM and need to find a post-work drink. Maybe you've been up all night and need to keep your buzz going (and then get safely home in a cab or bus). We're not here to judge. We're here to help you find those bars open before 10 AM for when you need that early morning Bloody Mary or maybe a beer.

There are a few bars that open early for brunch on the weekend, but this list is dedicated to bars that are open early every day of the week. Did we miss your favorite spot? Let us know on our Facebook or Twitter.

As popular as it is hard to pronounce, Beulahland, on the fantastic 28th and Burnside strip, starts serving their drinks and excellent pies to Portlanders at 9 in the morning. (118 NE 28th Ave.; 503-235-2794)


Serving as the bar for the Jupiter Hotel, the Doug Fir opens at 7 AM for guests or anyone who wants to start their day off with a drink at this stylish, wood-cabin themed bar. (830 E Burnside St.; 503-231-9663)

This beloved diner style bar boasts the earliest opening on our list at 6 AM. It's also the perfect spot for a greasy
hangover curing breakfast
.
(523 SE Grand Ave.; 503-235-5494)

This great neighborhood bar with its huge patio opens at 8 AM. They have a limited breakfast menu after 11 AM on weekdays, but on the weekend it goes until 2 PM, and they host a build-your-own Bloody Mary bar! (15 SE 28th Ave.; 503-231-1093)


The Acrop, as it's known, is famous for having the best steaks at any stripclub, but they also serve breakfast starting at 7 AM. And yes, there are dancers there in the morning. (8325 SE McLoughlin Blvd.; 503-231-9611)

This friendly pub in North Portland opens at 9 AM. It's renowned for its rotating breakfast special, which is a ridiculous deal at only $2.99. (3435 N Lombard St.; 503-283-5014)

This West Side sports bar operates as the Portland State University campus bar, but it caters to a broader clientele than just students. It also opens at 7 AM for breakfast, in case students feel inclined to grab a drink before facing their morning classes. (939 SW 6th Ave.; 503-224-3377)

A popular and comfortable bar on NE Alberta, Radio Room is open at 9 AM for breakfast and cocktails 365 days of the year. On weekends, they supplement their already impressive breakfast menu with further additions. (1101 NE Alberta St.; 503-287-2346)

A classic dive bar at the top of SE Hawthorne with an outer-space theme, Space Room hosts trivia nights and serves breakfast all day, starting at 8 AM. (4800 SE Hawthorne Blvd.; 503-235-6957)

This unorthodox NE sports bar serves sushi alongside their standard bar food and opens at 9 AM. (1501 NE Fremont St.; 503-282-0956)

This massive sports bar on West Burnside serves up Greek food, including gyros and greek pizzas, for dinner but also opens up at 7 AM for breakfast and drinks. (1735 W Burnside St.; 503-224-1341)

Ship Ahoy

A smaller dive bar nestled in the Reed College neighborhood, Ship Ahoy has cheap drinks, great pub grub and a 9 AM opening time.
(2889 SE Gladstone St.; 503-239-0868)
Photo of Breakfast with a Bloody Mary at Holman's by Alex Frane
Tags:
Beer
,
brunch
,
Cocktails
,
Food
,
Spirits
Recent Articles

Feedback
How are we doing? Tell us what you like or don't like and how we can improve. We would love to hear your thoughts!