Portland's Best Coffee Shops and Cafes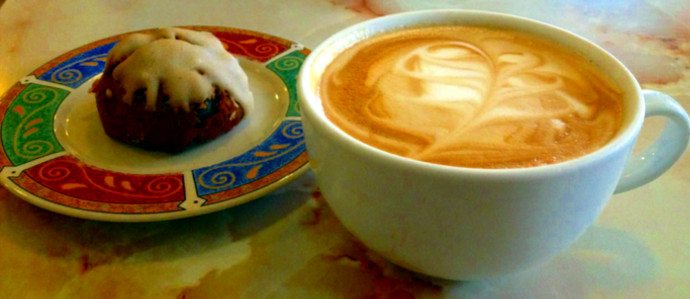 It's easy to drink alcohol all day in Portland when our bars offer brunch cocktails and happy hours all of the time, but it's probably not good for your productivity (or body) to do so. Luckily, Portland, like other West Coast cities, is famous for its coffee shops and roasters. And since January 20 is National Coffee Break Day, we decided to celebrate with a delicious roundup. This list is by no means exhaustive, given the hundreds of spots we have, but includes a few unique ones and some of our favorites, including a few you may not have visited.
Barista
Appropriately named, this series of four coffee shops put the baristas, and their craft, before all else. Not a roaster itself, the shops feature a rotating list of guest beans from various locations, from Portland roasters to beyond. (539 NW 13th Ave.; 503-274-1211)
Blue Collar Baking
Right down the block from the famous Voodoo Donuts, Blue Collar Baking offers an alternative to the usual café fare--this micro-bakery produces delicious bundt cakes and an amazing array of cookies. Baristas here serve Water Avenue coffee and espresso. (319 SW Pine St.; 503-227-3249)
Case Study
Another shop that roasts its own beans. There are multiple Case Study locations, but the one across from the Central Library is a favorite--a great place to read after getting a book from the library, with a fantastic urban aesthetic. (802 SW 10th Ave.; 503-477-8221)
The Fresh Pot
Fresh Pot opened in 1997, serving as the coffee shop for the Hawthorne Powell's Books. While that spot is still bustling, it's the Mississippi spot that's the biggest draw, housed in a former Rexall drugstore, complete with the tiled floor and vintage stools. (4001 N Mississippi Ave.; 503-445-0646)
Park Avenue Cafe
If you're drinking here, you're either a Portland State student or surrounded by them. Park Avenue Cafe doesn't specialize in amazing espresso drinks, but it is a welcome alternative to the campus Starbucks. (1535 SW Park Ave.; 503-225-9335)
Purrington's Cat Lounge
Portland's first cat coffee shop will open to the public on January 24. Guests will be able to order coffees, beers, wine and light fare, and hang out with the resident felines for $8 an hour. It will also serve as a cat adoption center. (3529 NE Martin Luther King Jr. Blvd.; 503-334-3570)
Random Order
No need to bring your own flask--this coffee and pie shop hosts a full bar, focusing on a variety of coffee-based cocktails. (1800 NE Alberta St.; 971-340-6995)
Red and Black Cafe
Completely vegan and worker-owned; it doesn't get much more Portland than that. Red and Black has been a socialist/communist/anarchist coffee shop for years now, and is as popular as ever. (400 SE12th Ave.; 503-231-3899)
Sound Grounds
This cute neighborhood spot, with its ultra-friendly staff, serves Stumptown coffee to local families, and hosts weekly events like storytimes and music for kids. (3701 SE Belmont St.; 503-234-0915)
Stumptown Coffee
An obvious choice, Portland's most famous titular coffee shop put the city on the map for coffee in a big way. While some may condemn the place for being overhyped or played out, Stumptown Coffee still manages to impress with its dedication to the perfect cup. (4525 SE Division St.; 503-230-7702)
SweetPea Baking
SweetPea was Portland's first 100% vegan bakery, and is still one of the best. You never thought vegan pastries or lattes could be so good. It's also part of the vegan "mini-mall", which includes a tattoo parlor and grocery store. (1205 SE Stark St.; 503-477-5916)
Townshend's Tea
Not a coffee house, but the best tea-house in the city, with a huge variety of imported teas, assorted baked goods and a comfortable, casual atmosphere. (2223 NE Alberta St.; 503-445-6699)
Water Avenue
A relatively new addition to the city's local coffee scene, Water Avenue has established itself as one of the premiere roasters and cafés in Portland. Located in the East Industrial District, it may not be as accessible as others, but it's well worth the trip. (1028 SE Water Ave.; 503-808-7084)
Photo by Alex Frane
Tags:
Cocktails
,
Coffee
,
Food
Recent Articles

Feedback
How are we doing? Tell us what you like or don't like and how we can improve. We would love to hear your thoughts!