15 Portland Bars Open for Christmas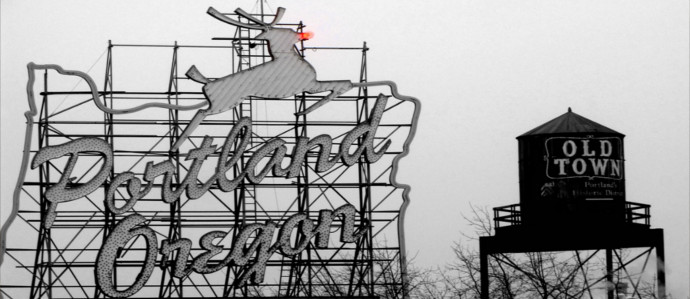 Whether you're in town for the holidays and looking for a quick drink, need to get away from your family for a while, decide you'd rather not cook, or just don't celebrate the holidays, you're probably looking for a bar that's open on Christmas. Luckily, Stumptown bars tend to cater to holiday patrons. Here are 15 of our favorite spots to go on Christmas. Let us know if we've missed any on our twitter or facebook.
Bar Bar: Mississippi Studio's bar is open every day of the year, holidays included. Stop in for a burger and a Scotch (or three) to celebrate the holiday. (3939 N Mississippi St.; 503-288-3895)
Belmont Inn: This friendly dive/sports bar portion of the Belmont bar area shows UFC games regularly, features a number of pool tables, and has a huge tap list, including some unusual nitros. (3357 SE Belmont Ave.; 503-232-1998)
Bonfire: This cozy and dark bar on SE Stark is closed during the day for its employees, but opens again in the evening around 7 or 8 PM. (2821 SE Stark St.; 503-232-3704)
Cheerful Tortoise: This Portland State University college bar and sports bar is open year round, including holidays. Join the crowd for a cheap beer this Christmas. (1939 SW 6th Ave.; 503-224-3377)
Chopsticks II: Chopsticks is also closed on Christmas during the day, but opens at 5 PM for the evening. Get in while you still can—Portland's favorite karaoke spot is closing next summer after 20 years. (2651 E Burnside St.; 503-234-6171)
Doug Fir Lounge: Doug Fir is open all year round, catering to out of town guests at the Jupiter Hotel and locals alike. Cozy up next to its fireplace for a warm Christmas evening. (830 E Burnside St.; 503-231-9663)
Gladstone Street Pub: This little neighborhood bar opens at 6 PM on Christmas. Don't forget to try one of their infused spirits, including some lovely seasonal ones such as their Chai Whiskey. (3737 SE Gladstone St.; 503-775-3502)
Gold Dust Meridian: Gold Dust is normally a popular Hawthorne spot for happy hour and for sharing one of its oversized Scorpion Bowls, but on Christmas it's opening up late, around 7 PM. (3267 SE Hawthorne Blvd.; 503-239-1143)
Interurban: Like others, Interurban will be closed during the day for its employees, but open after 5 PM, serving its usual fantastic cocktails and food. There is also some undisclosed special "thing" for those who attend in pajamas. (4057 N Mississippi St.; 503-284-6669)
Jake's Grill: This revered Portland classic is reservation only if you want a seat in the restaurant, but the bar is open and first-come, first-served. (611 SW Tenth Ave.; 503-220-1850)
MoMo's: Momo's sports cheap drinks and a great outside patio all year, and is a popular spot for PSU students and general youth out and about downtown. It opens around 7 PM on Christmas. (725 SW 10th Ave.; 503-473-8470)
Prost: It looks like Mississippi Avenue is going to be busy this Christmas—just a few blocks from Bar Bar and Interurban is the German 'Beerhaus', Prost. It will also open late, at 6 PM. (4237 N Mississippi Ave.; 503-954-2674)
Radio Room: Great happy hours (both early and late), large patio, drinks specials most days of the week, and being open most holidays make this recycled 1949 Texaco station a popular destination these days. (1101 NE Alberta St.; 503-287-2346)
Rialto and Jack London Bar: Also opening at 5 PM, these two Portland classics feature pool, poker and events in the basement bar. (529 SW 4th Ave.; 503-228-7605)
Ship Ahoy: C Bar is closed on Christmas, but this often overlooked dive just across the street is open all day, so stop in for a cheap drink and make some new friends this holiday season. (2889 SE Gladstone St.; 503-239-0868)
Photo via Flickr
Tags:
Beer
,
Cocktails
,
Food
,
Holiday
,
Spirits
,
Wine
Recent Articles

Feedback
How are we doing? Tell us what you like or don't like and how we can improve. We would love to hear your thoughts!