Reverend's BBQ: Great Southern Cooking in SE Portland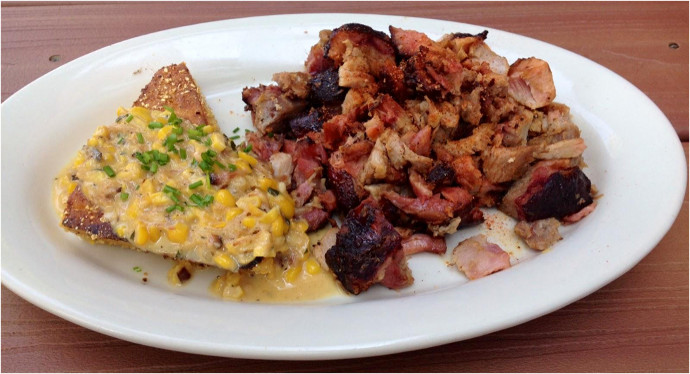 While Portland has a multitude of dining destinations, Southern food has never been the city's forte, with only a few decent restaurants around town. Luckily, Reverend's BBQ, which opened just last spring, is looking to fill some of those gaps.
Nestled in Sellwood, not far from the popular Jade Teahouse and next to a Cena, the well-praised Italian joint, Reverend's is serving up some of the best BBQ and Southern food in the city. Opened by the team behind Laurelhurst Market, Simpatica Catering, and Ate-Oh-Ate Hawaiian, Reverend's strives to serve "the finest barbecue and fried chicken in the area", and it has, by and large, been accomplishing that.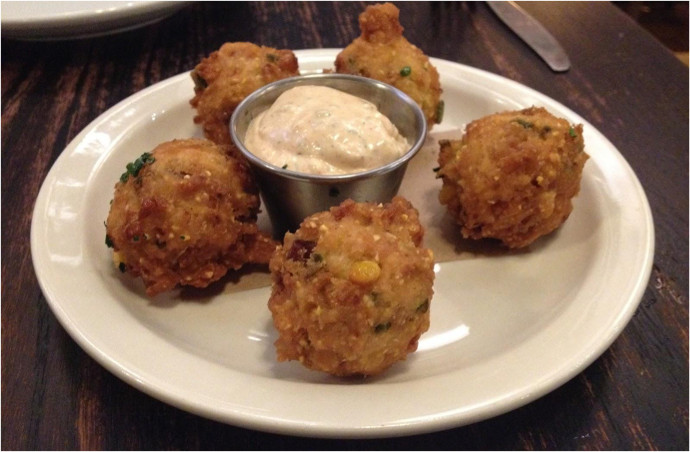 Start with an order of the amazing Deviled Eggs, topped with brisket-ends and Piccalilli (an English version of Indian pickles), or a plate of Hushpuppies with Tasso and house-made Remoulade for an appetizer. The Deviled Eggs may convert even the most reluctant of eaters.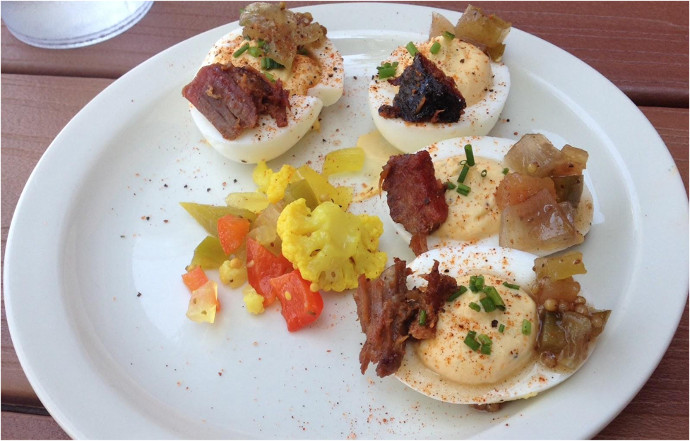 For entrées, diners have a choice between a plate–which comes with two sides of your choice and some white bread toast–or a sandwich, served with one side. The Fried Chicken is amazing, with juicy and tender meat inside beautifully crispy skin, as is the Brisket, which is perfectly smoked, but it's the Pork Shoulder that steals the show. While it's tempting to slather the meat with the assortment of BBQs sauces provided, the Pork Shoulder absolutely does not require it, as it's already perfectly seasoned and smoked.
Similarly, it's the Polenta that demands to be ordered off the sides menu. Creamy, salty, topped with creamed corn, and, of course, Tasso, it's the best Polenta in Portland. The Greens and The Slaw are also a good choice for sides, and ones that at least pretend at being healthy.
If Reverend's has a downside, it's the cocktails. The Sazerac is the classic southern cocktail, made with Rye whiskey, Absinthe, simple syrup, and Peychaud's Bitter, and Reverend's version leaves much to be desired; it's understandable, as Sazeracs are tricky to get right, but it's disappointing at a Southern spot. The "draft cocktails" are similarly underwhelming, though the Ryan's Vesper, based on James Bond's Martini, is quite good, and uses local products Aria Gin and Imbue Petal & Thorn Vermouth as well as Monopolowa Vodka. Still, it's better to stick with one of their many quality beers on tap or in the bottle.
Happy Hour is daily from 3 to 6 PM and offers, among other items, a sandwich and a Session Lager for $10–a great way to try their Fried Chicken Sandwich.
Reverend's BBQ, 7712 SE 13th Ave.; 503-327-8755
Photos by Alex Frane
Tags:
Beer
,
Cocktails
,
Food
Recent Articles

Feedback
How are we doing? Tell us what you like or don't like and how we can improve. We would love to hear your thoughts!