Neighborhood Happy Hour Crawl: Hip NW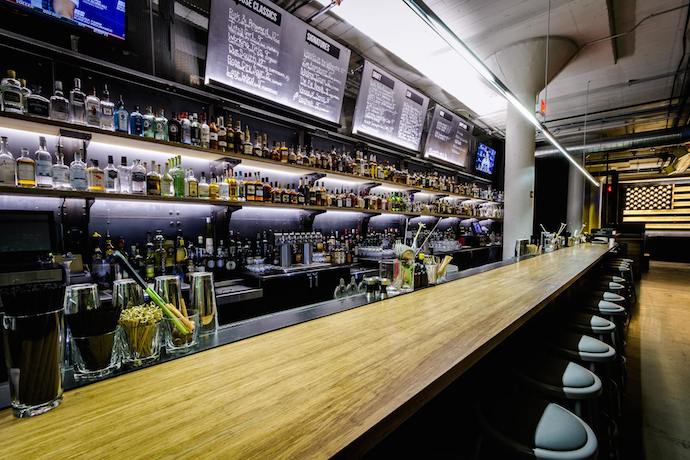 Many years have passed since the NW Industrial area of Portland was transformed from old buildings to swanky and modern bars and boutiques. The renewal isn't over though as bars and restaurants are still transforming loading docks into entry ways with smiling hostesses.
Check out these newer bars and restaurants for a bar crawl of the Industrial NW and Pearl. It's still hip, trust us.
Mediterranean Exploration Company:
John Gorham's newest addition to the Portland dining scene doesn't disappoint. Head to M.E.C. on your first stop in order to catch happy hour from 4–5:30 PM. A few of the cocktails are cheaper and those bacon wrapped dates everyone has been talking about are available for a buck a piece.
(333 NW 13th Ave.; 503-222-0906)
If you can nab a space at the bar you'll catch a glimpse of well made cocktails before they find their way out to tables. For instance, the Desert Heat made from Aria gin, Noilly Prat extra dry, M.E.C. harissa bitters, lemon oil and Castelvetrano olives is prepared with care and stirred just right. Not too long, not too quickly. Just right.
The cocktail menu delves into ingredients such as rose, bitter, Lillet, perserved lemon, cucumber, mint, olives, and more. These flavots combined bring forth flavors of the eastern Mediterranean and beyond.
River Pig Saloon:
Are you one of those Portland sports fans that doesn't quite flaunt your love for the sports ball? Head to River Pig Saloon for your closet sports watching, guit-free. The NW 13th Avenue saloon has positioned itself as a sports bar but it's not overly loud, dark, noisy, or well, sporty. Only two TVs are in eye-shot of the bar.
Four-ingredient cocktails like the Cool Hand Luke (tequila, 5-alarm pepper, agave and lime) will run you only $8 any day of the week. During happy hour from 3–6 PM and 10 PM–2 AM the daily punch is $5 and food is discounted. Want to add some passive Portland sports fan to your personal brand? Watch that Blazers game while devouring the seriously addictive PDX Broccoli ($6) made with red onions, golden raisins, bacon, and roasted garlic aioli.
FYI: River pig is is a reference to the lumberjacks who floated timber downstream from forests to sawmills. (529 NW 13th Ave.; 972-266-8897)
Low Brow Lounge:
Amongst the polished and reserved Portland establishments there's often one black sheep that slips through the mainstream fine toothed comb. That black sheep is allowed an autonomous existence, at least for now.
One of these bars is the Low Brow Lounge. You'll forget you're even in the Pearl (the only reminder might be the Jäger Wall) once inside this dark, cavernous space. The music will be loud and the corn dogs will be mini. Keep it real here and round out your bar crawl of the NW Industrial/ Pearl area. (1036 NW Hoyt St.; 503-226-0200)
Tilt:
First there was Tilt on Swan Island and now there is Tilt in the Pearl (East Burnside Bridge location coming soon). The Pearl location of Tilt is highly entertaining as early as 6 PM and brings a little industrial attitude feel back to the neighborhood. "Pop It LIke It's Hot" echoes off of concrete walls as white (and blue dress shirt) collared gentlemen drink cocktails upwards of $13 while feeding on the best fattie food around: burgers, biscuits and pie.
Try the Pearing ($13) made from Clear Creek Pear brandy, Hum botanical spirit, Lillet Rouge, and saffron. If you're thinking the drinks seem a bit pricey, just remember: Mama's gotta pay rent somehow.
We recommend hitting up Tilt last in your crawl to get your fattie on with some drunken fourth meal action. (1355 NW Everett St.; 503-894-9528)
Photo courtesy Tilt Facebook
Tags:
Bar Crawl
,
Beer
,
Cocktails
,
Food
Recent Articles

Feedback
How are we doing? Tell us what you like or don't like and how we can improve. We would love to hear your thoughts!