4 People You'll Meet at Beaujolais Nouveau Fete 2014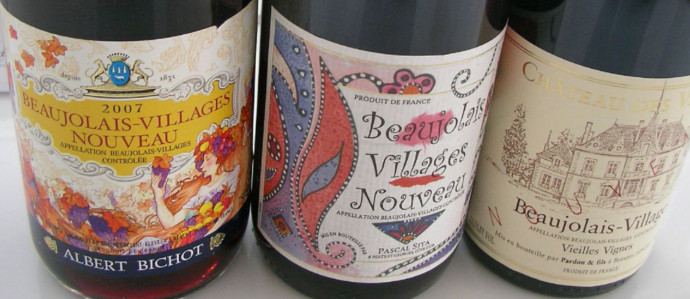 Plan to hear plenty of "Enchanté"s and "Bonsoir"s while hobnobbing with Francophiles at this year's Beaujolais Nouveau Fête, which is expected to draw nearly 500 people to the Heathman in downtown Portland.
Lovers of all things French and all things Beaujolais gather on Friday, Nov. 21 to celebrate le vin primeur of vintage 2014 Beaujolais nouveau. The fête, organized by the French-American Chamber of Commerce and the Alliance Française of Portland, features pours from well-established French vintners Georges Duboeuf and Joseph Drouhin, as well as nearer vineyard favorites WillaKenzie Estate, Pacific Rim, Cooper Mountain Vineyard, Eola Hills and Ruby Vineyard. In addition, for those who prefer brandy to Beaujolais, Hardy Cognac -- and Balinoff Vodka -- will also line the shelf behind the bar. And just as sure as the Gamay was picked by hand, be certain you'll run into a few of the following characters at this year's party:
Bereted Single White Man
He'll be the easiest to spot. Having committed to a Francophile lifestyle years ago, his beret looks worn yet adored. While his mama named him "Peter," he now goes by Pierre and corrects other's pronunciation of "chevre." In one hand he'll hold a glass of Château Timberlay, while wildly gesturing with the other.
New Mommy Ready to Mingle
Having blogged all through her pregnancy and subsequent weight loss, this new mother is ready to paint the town red. She'll wear her hair in a too-short bob ("I needed a change!," she says), and be eager to use the French she had been practicing all day ("Quoi de neuf?" she says), and also eager to share her blog with the world ("Take my card. It's called 'Diaper Hands,'" she says). Spot her sipping from a glass of Beaujolais-Villages Blanc Chardonnay 2013 Lucien Lardy. She rarely drinks red wine, preferring white instead.
Sophisticated Older Woman
Lustrous silver locks fall on her shoulders, which are wrapped in either a demure black shawl, or a wild exotic print indicating her travel to far-off locales. She purrs when she talks and speaks of how fresh, fruity and low in tannins this year's nouveau vintage is. At times, her references are so obscure you're unsure of what she's talking about -- and have a lingering suspicion she may be mocking you -- but she's just so damned charming you don't care.
Extremely Excited Wine Rep
She can barely mask her year-long anticipation for tonight's event. Her dress is adorable and her heels are maybe an inch too high, but she manages to dance around the room to mingle. She's quick to describe her vineyard's offerings with hip and curious buzzwords: Airy! Pear-y! Sexy! Throughout the entire night, she grips two of her favorite bottles, ready to pour.
Photo via Flickr
Tags:
Wine
Recent Articles

Feedback
How are we doing? Tell us what you like or don't like and how we can improve. We would love to hear your thoughts!