Five People You'll Meet at Feast Portland 2014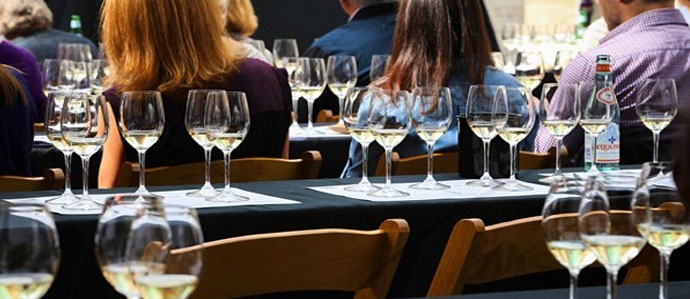 Because people watching pairs beautifully with all of the cocktails, wine and beer at Feast Portland, here are five people you may see at this year's Feast PDX taking place all over the city from September 18-21. After putting back a few liquid samples and
looking up from that mini steak tartare platter
, see if you can spot any of these Feast supporters.

The Food Blogger
She's a woman about the town who not only knows when every new restaurant is going to open, she blogs about fashion and Portland too. And all-things cute. She's well put together and probably knows most of the people in the room (at the very least, she knows them on the Internet). She's likely to be in a group with other bloggers. She's got an iPhone and advanced equipment such as a DSLR. Haven't seen her blog yet? It's OK she has branded business cards too.
Media
The media woman will be teetering on "too drunk" at most events and will be overly accepting of the "disheveled writer" look. The media badge is probably hidden, tucked away in a messenger bag only to be unearthed when it's needed for admission. She's definitely double fisting drinks with no regard to style, alcohol content or flavor profile. By the end of the night, you'll spot stains resembling a Rorschach (ink blot) test on the front of her shirt.
Chef or Brewer (Purveyor)
Celebrity chefs come from all over the U.S. for Feast Portland. Bloggers, media, and foodies finally get an up close look at their favorite chef crushes and also the opportunity to try infamous food dishes from hot spots like
Momofuku
or
Franklin Barbecue
. If he's from Portland, the chef may be just as likely as anyone else in attendance to have a tattoo (or two), a (neatly trimmed) beard and/or mustache. Just don't comment on "how Portland they look," because he probably carries his own bag of very sharp knives.
The brewer will be at Feast for presentations and tasting panels and may even be passing out samples of his product. Look for the branded T-shirt, baseball cap, and sporty sunglasses. He'll be really "stoked" about all of the hops in his new brew and give you multiple samples.
PR/Brand Ambassador
Like a ray of sunshine on a soggy Portland day, you'll see sincere smiles and greetings from the PR folks of Portland. They've probably got a few devices on them and extra name badges and pens and anything else that disaster calls for. The PR professional at Feast will likely be dressed fashionably and sans gourmet sauce dribbles down the front of her shirt. She'll also be Tweeting and having a conversation with an attendee, all while gracefully catching a collapsing food tent.
The Portland Foodie/Wine Tippy
Sure, Portland Foodies come for the food, but it's also about being seen and meeting other connoisseurs. There's a lot of mingling and swirling of wine glasses around the tasting tables. You'll overhear talk of "remarkable" tasting panels and "stellar" seminars. He will be grazing and Instagramming but moving quickly and never staying in one spot too long in order to see all of Feast's offerings.

Tags:
Beer
,
Cocktails
,
Festival
,
Food
,
Wine
Recent Articles

Feedback
How are we doing? Tell us what you like or don't like and how we can improve. We would love to hear your thoughts!