No Keg Stands Allowed: More Portland Restaurants and Wineries Utilize Kegged Wine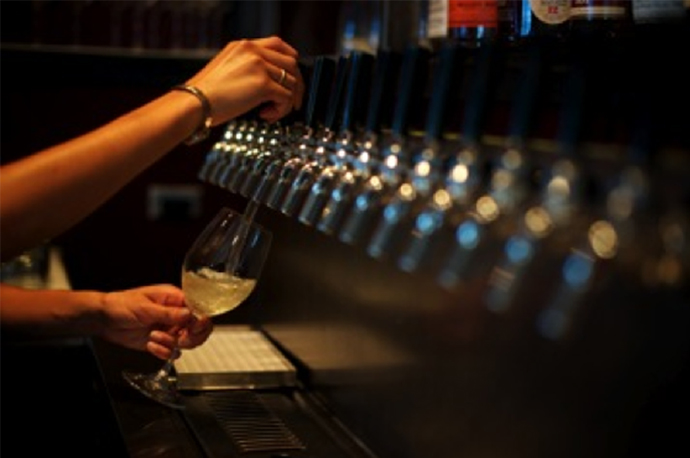 Years ago, the romantic, not-so-local chain Melting Pot was one of the first to serve wine from kegs after they began purchasing kegs from Wooldridge Creek Vineyard & Winery back in 2010. While restaurants like St. Jack and Irving St. Kitchen have utilized the concept, it hasn't exactly been blowing up the wine scene.
The concept of kegged wine is meant to cut back on waste and spoilage (think: beer kegs) but is inherently expensive for many restaurants and bars to install since wine has to have its own set of lines and taps separate from beer. Cooper's Hall and The Bent Brick are two of only a handful of Portland establishments to serve wine sans bottle.
Cooper's Hall (404 SE 6th St., 503-719-7000)
Cooper's Hall located in the SE industrial neighborhood is a 44-tap winery dedicated to kegged wine. The urban winery is brought to us by the collaborative partnership between Joel Gunderson of Restaurant St. Jack, Phil Kramer and Robert Karmin of AlexEli Vineyards, Kurt Huffman of ChefStable, and Robert Sacks and Dave Schrott of A&R Development.

No patio needed in this open and airy building. It's so spacious in fact, it's large enough to hold airplanes. It once housed cars as an autobody shop and even at one point, a temporary political campaign office. There's an open feel added by the lack of separation between the folks sipping wine in the tap room and the barrels of wine.
The wine selection is expansive but manageable. From the winery's own Cascadia White to guest taps pouring chardonnay by Crowley, you'll want to order by the number printed on the menu. It's easier on the server since the guest taps change often, and you too, will remember which wine you just tasted.

While the wine to-go is super convenient, we recommend staying for the inexpensive two ounce pours that cost between $3-5.

The Bent Brick (1639 NW Marshall St.; 503-688-1655)
Hardly new to the wine keg scene, but flying under the radar is Bent Brick. They've been offering wine kegs since they opened in 2011, and have 16 taps. Of those 16 taps, they have special, difficult-to-find wines which include 2013 Brick House Pinot Noir Rose, 2011 Fullerton Pinot Noir Rose, 2013 Eyrie Pinot Noir Rose (exclusively sold at The Bent Brick and Park Kitchen).
Combine the restaurant's kegged wine with an all day happy hour on sunday 4 - 9 PM and you've found a winning combination in the Slabtown 'hood.
Photo: Bent Brick
Tags:
Wine
Recent Articles

Feedback
How are we doing? Tell us what you like or don't like and how we can improve. We would love to hear your thoughts!