Where to Celebrate 4th of July with a Drink in Portland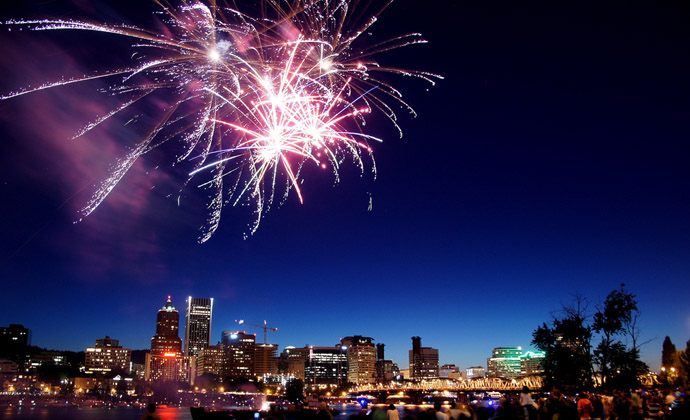 Even though fireworks aren't legal here in Oregon, the streets of Portland on the 4th of July still resemble a Colonial-era battlefield — complete with rockets's red glare and bombs bursting mid air. A short trip through our little Beervana finds folks up to no good in just about every neighborhood. But if you're looking for something a little more structured and less likely to incur eye injuries, we've got a few events listed below. Whether your holiday is safe and legal or not so much, don't forget the real reason we'll be eating and drinking too much: AMERICA.
4th of July 3-Day, 3-Way
Fort George Brewery (1483 Duane St. Astoria; 503-325-7468)
A three-day celebration of 3-Way IPA by Fort George Brewing, and the 4th of July too. Three days of bands and music at Fort George Brewing in Astoria with music by Quick & Easy Boys, Otis Heat, Michael Hurley and the Resolectrics.
Besaw's (301 NW Savier St.; 503-228-2619)
The 110-year-old, family-friendly restaurant will celebrate Independence Day with a Fourth of July BBQ Picnic from 4 to 7 PM and live music by Max McCargar. Please email contact@besaws.com to reserve a table or bring a blanket for a picnic on the lawn.
East End Fourth of July Block Party (203 SE Grand Ave.; 503-232-0056)
Pay 10 bucks to see performances by Black Death, Hirax, Wehrmacht, Cryptic Slaughter, Witchaven, Spellcaster, Cemetary Lust, Dead Conspiracy, Long Knife, Deathblow, DJ Dennis Dread. Trust us, it'll be the most badass 4th of July party on any side of the river. Doors at 3 PM.
Fireworks
Salty's on the Columbia (3839 NE Marine Dr.; 503-288-4444)
One of the only times of the year when Oregonians long to be on the other side of the river in Washington. But then we remember the view of the explosions from Fort Vancouver are actually better observed from our side of the river. Salty's menu will be heavy on the grilled fare and Portland jazz legend Mel Brown will play in the upstairs lounge.
Portland Spirit 4th of July Firework Excursion
What pairs best with a boat and the river? Boating and booze. While it's not a booze cruise per se, there will plenty of alcohol served on board the Portland Spirit. Boarding is at 7:00 PM and cruisin' starts at 7:30 – 10:30 PM. The 4th of July cruise includes plated dinner with choice of entree, house salad, house dessert, bread, hot tea, coffee, entertainment, service gratuities and fireworks. The cost is $99 per person.
Photo: Flickr user samchurchill
Tags:
Beer
,
Food
,
Holiday
,
Outdoor Seating
,
Parties
,
Spirits
,
Wine
Recent Articles

Feedback
How are we doing? Tell us what you like or don't like and how we can improve. We would love to hear your thoughts!