Oregon Cider Week, June 20-29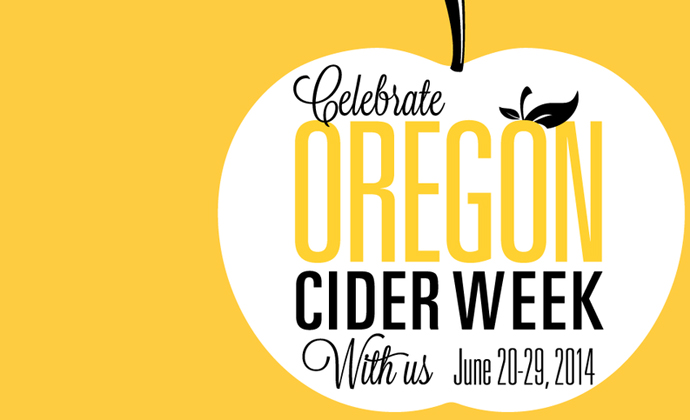 For the third year in a row, The Northwest Cider Association (NWCA) has organized Oregon Cider Week, a 10-day celebration of craft cider from June 20-29. Fests, tastings, and cider dinners, releases, and tap takeovers are happening all over the Portland area, making this the best time of year to get hooked on cider.
Cider Summit Portland (The Fields Neighborhood Park at NW 10th Street & Overton in the Pearl District)
Fri., June 20 from 2 - 8 PM & Sat. June 21 from noon - 6 PM; GA: $25 Advance, $30 at door.
For the fourth year, this is the cider festival you won't want to miss. Over 37 cider producers will set up on Friday and Saturday with multiple samples for you to try. Brewvana Brewery Tours shuttle will run a continuous loop from SE Portland to the Park. Cider Summit also encourages use of the Portland Streetcar to the event.
Food will be provided by World Foods, St. Honore Boulangerie, Masala Pop, along with a dessert pairing from Smitten Truffles and Fifty Licks Ice Cream. Because no one wants to sip on delicious cider in silence; Cascade Blues Association will bring the beats.
Sausage, Beards and Tattoos Fest at Reverent Nat's (1813 NE 2nd Ave.; 503-567-2221)
Tue., June 24 from 5 - 10 PM; PAYG
Do you like your sausage to have beards and tattoos? Er, I meant do you have a beard and a tattoo and like sausage? Well, then this is the fest for you! $15 at the door gets you one big Otto's sausage on a bun (pork or chicken, condiments, and chips too) and two drink tokens. If your beard or tattoo is large and in charge according to Nat's standards, you'll get another drink token. After your tokens are gone, it's pay as you go.
Reverend Nat's One Year Anniversary (1813 NE 2nd Ave.; 503-567-2221)
Sat., June 28 from noon to 12 AM; PAYG
Help Portland's beloved cidery celebrate one year with free pizza, cider specials and rare drinks from the cellar as they debut the new extended taproom hours and new 12-tap cider keg cooler featuring ciders from other local producers.
Txotx Cider Party at Pix / Bar Vivant (2225 E Burnside St.; 971-271-7166)
Sun., June 29 from 4 - 7 PM; $20
At this event, Finnegan cider shoots out of the barrel in a steam and you have to catch what you'll drink in your glass! This is how they do it in the traditional Basque cider houses and how it will be done at Bar Vivant's outdoor courtyard too. For $20, you get all of the cider you can drink before or catch, and one tapas. Tickets available now at Bar Vivant.
Other events
St. Honoré Boulangerie will have cider cocktails, tasting and other events. Hotel deLuxe will have daily tastings from June 24-27, Rev Nat will host a cider appreciation on June 19. Check out The Northwest Cider Association's website for more chances to celebrate cider week.
Event Date: 06/20,06/24,06/25,06/26,06/27,06/28,06/29
Event Time:

Tags:
Festival
Recent Articles

Feedback
How are we doing? Tell us what you like or don't like and how we can improve. We would love to hear your thoughts!