PDX Beer Week on Tap for June 5 - 15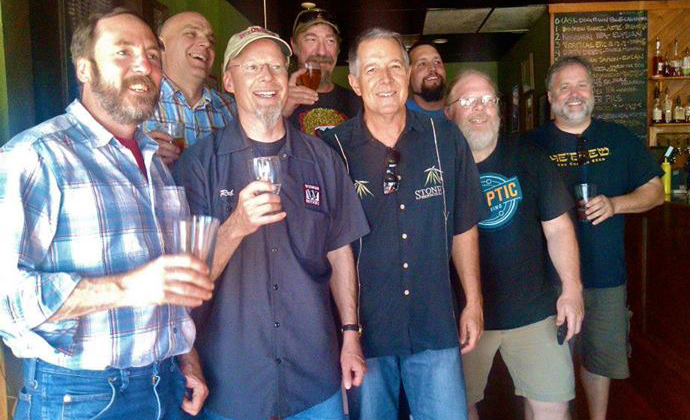 The fourth annual Portland Beer Week will begin on June 5 and continue until June 15 with events, tastings, festivals, seminars, and more. This year there's even an official beer, sandwich, and ice cream!
If you're a newbie to town or the craft beer scene, you should know PDX Beer Week is all about celebrating the "diversity, creativity and excitement for craft beer in the greatest beer city on earth - Portland, Oregon."

2014 Official Beer - Day Drinker Session India Rye Ale brewed by Worthy Brewing Co.

Worthy Brewmaster Chad Kennedy and Hopworks Urban Brewery owner/brewmaster Christian Ettinger who previously brewed together at Laurelwood Brewing have reunited to bring us this IRA (4.32% ABV).

"Day Drinker Session IRA is designed for drinkability, with a balance of fruity northwest hops and spicy crystal rye and fermented with a smooth Kolsch yeast," Kennedy told Drink Portland. "Hops are focused on aroma and flavor over bitterness with rye malt flavors adding balance. It's an aromatic and smooth beer with loads of hop character."

Local purveyors have taken the official beer for the Week and incorporated it into edible items that will be available at events.
Blue Star Donuts will have a PDX Beer Week donut available, Salt & Straw created Portland Beer Week's "Day Drinker Session India Rye Ale" in ice cream form, and Lardo came up with a sandwich especially for the week. It's made from Olympic Provisions Kielbasa, smoked Tillamook cheddar, sauerkraut, Worthy/Hopworks Session India Rye Ale mustard on a toasted ciabatta.

Kick-off Party at Ecliptic Brewing - Brewer Bands Bash (825 N Cook S.; 503-265-8002)
Thurs., June 5, 6 - 10 PM; FREE
Beer and bands collide for a night of nemanisant jamming: The reunion of Brewmaster John Harris' Roadopossum, Double Mountain Brewery's Brewmaster/Owner Matt Swihart and his Mountain Pool Service, Cascade Brewing's Brewmaster Ron Gansberg's band Black Lodge, The Commons Brewery's Sean Burke's bluegrass group Maris Otter, and last but not least, Elysian Brewing's co-founder Dave Buhler playing songs from his solo record "What You Dream." There will be guest taps available at Ecliptic. Expect to see Don Carlos by WIdmer Pils by The Commons, Double Mountain's Hop Lava, a brew by Cascade Brewing, and Loud Noises! IPA by Elysian Brewing.

Festivals

Portland Fruit Beer Festival (Burnside Brewing Co. and adjacent space on NE 7th Ave.)
Sat. June 7 from 11 AM - 9 PM and Sun., June 8 from 11 AM to 6 PM
Some of the participating breweries include Hopworks, 10 Barrel Brewing, Stone Brewing, Reverend Nat's, 2 Towns Cider, and Flat Tail Brewing. There's also a homebrew competition and a VIP session.

Rye Beer Festival at EastBurn (1800 E Burnside St.; 503-236-2876)
Fri., June 13 from 4 PM - 2 AM
If you're into IPAs it's safe to say you might be charmed by rye beer, as many brewers are making hoppier ryes. The 3rd Annual Rye Beer Fest presented by Taplister.com on Friday, June 13 from 4 PM - 2 AM at EastBurn, and is just the place to find one that one rye beer that turns you into a believer. The festival is set to feature 22 rye beers. Pints will be pay as you go.

Portland Beer and Cheese Festival at Burnside Brewing Co. (701 E. Burnside; 503-946-8151)
Sun., June 15, 12 PM; $35
11 hand paired beers and cheeses brought to you by cheesemonger Steve Jones of Cheese Bar. In its third year the fest temporarily moves to Burnside Brewing Co. for more space. Snacks and charcuterie also comes with your all inclusive ticket for $35.

Other Events and Seminars

Ninkasi Presents Brewing Up Cocktails at Circa 33(3348 Belmont St.; 503-477-7682)
Tues., June 10, 7 - 10 PM; PAYG
All-star bartender Jacob Grier and local event organizer/beer writer Ezra Johnson-Greenough will mix up five beer cocktails. Meet Ninkasi owner Jamie Floyd and try his beers as well as the beer cocktails.

Sour/Wild Beer Seminar (Location TBD)
Thurs., June 12 from 6 - 8 PM
Learn about and taste sour and wild ales from those who know best: Cascade Brewing's Ron Gansberg, Block 15 Brewing's Nick Arzner, De Garde Brewing's Trevor Rogers and Breakside Brewery's Ben Edmunds. Check PDXBeerWeek.com for an updated location.

Barrel Master's Night at Hopworks Urban Brewery (2944 SE Powell Blvd.; 503-232-4677)
Fri., June 13 from 6 - 8 PM; $37 (Tickets)
Social mingle and drinking session with brewmaster Matt Van Wyk of Oakshire Brewing, Ben Love of Gigantic Brewing, Widmer Brothers brewer Jack Beiting, Deschutes barrelmaster and Assistant Brewmaster Ryan Schmiege, and moderator Ben Edmunds of Breakside Brewery.

Mississippi/Williams Pub Crawl
Sat., June 14, 12 - 7 PM; $5 wristband at participating locations plus cost of beer
Make your way around to Ecliptic Brewing, StormBreaker Brewing, Bridgetown Beerhouse, Prost!, Interurban, Hopworks BikeBar, Lompoc 5th Quadrant & Tin Bucket. A $5 wristband gets you happy hour prices all day and special taps.

Dinners
Irving Street Kitchen, Raven & Rose, The American Local, Old Salt Marketplace, Firehouse and Whole Foods are all hosting pairing dinners. View the schedule of dinners at PDXBeerWeek.com.

For even more tastings and events or to break down events by the day, visit PDXBeerWeek.com.
Photo: PDXBeerWeek.com
Tags:
Bar Crawl
,
Beer
,
Festival
,
Parties
Recent Articles

Feedback
How are we doing? Tell us what you like or don't like and how we can improve. We would love to hear your thoughts!