Negroni Social and Negroni Week Return to Portland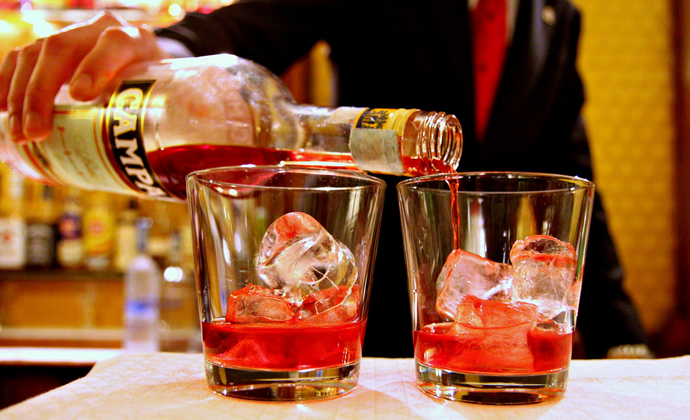 Standing within earshot of the bar, we recently overheard a customer ask a bartender about the ingredients in a Negroni, the featured cocktail for the night. Would it have been weird to offer the guy a sip of our Negroni? Instead, the bartender explained it's both sweet and bitter, and made from Campari, gin, sweet vermouth and an orange twist. If the sweet and bitter, red nectar of a Negroni has yet to pass your lips, you're in luck because June is the month of the Negroni.
You may have heard something about Negroni of the Month, the Negroni Social, Negroni Week, and hopefully, Douglas Derrick. We're here to break it down for you. There's even a glossary at the bottom of this article because we don't want you to get so caught up in figuring it all out that you miss out in the celebration of one of our most beloved cocktails, the Negroni.
It started back in 2010 with Douglas Derrick
Over the course of a year, Douglas Derrick, the then-bar manager at
Nostrana
invented a new variation of the Negroni. Then, continued adding a new cocktail to Nostrana's menu each month, leading up to the first Negroni Social in April of 2011. Why tinker with an original cocktail? Why create a mini-series out of an already perfect feature film? Nostrana's menu is ever-rotating and always changing, so there needed to be a Negroni menu to keep up with Nostrana's pace. What Derrick has imagined is a whole new way of viewing the classic.
Every year since then, Nostrana has had a new Negroni featured on its menu every month and closes out a year-long celebration of the cocktail with the invite-only Negroni Social.
Negroni Social
The Negroni Social is an invite-only bash held at Nostrana. Why Nostrana? Not only an Italian staple in the Portland dining scene, it's where the celebration of the Negroni began back in 2010. David West and Cathy Whims (owners of Nostrana) let Derrick take over the restaurant for one night, "It's using the restaurant's power to do better. All in all, it's good for everyone," Derrick says about the yearly takeover of Nostrana.
At the Negroni Social, partygoers can support the charity, Outside In, by drinking twelve different Negronis from this year's Negroni of the Month Chef Series (13, if you count The Quintessential Negroni).
The Social isn't your father's black tie charity event; in years past there have been contortionists, tights, dancers and plenty of magicians. This year's party is themed, "In the Night Kitchen" based on a popular and controversial children's picture book, written and illustrated by Maurice Sendak. In 2013, Derrick and Nostrana teamed up with Imbibe magazine to broaden the charitable contribution with an event called Negroni Week.
Negroni Week, June 2-8
Last summer, Imbibe magazine launched Negroni Week, a celebration of the iconic Campari-based cocktail by combining forces with Nostrana and Derrick to raise funds for charitable causes around the world. From June 2-8, you can order a Negroni at any of the
participating bars in Portland
(or around the world) and a portion of proceeds will go to the charity of each establishment's choice.
If you haven't embarked down the Negorni's bitter-sweet path, June is an excellent time to start the journey — and if you do —we promise we won't offer you our half-finished Negroni.
Negroni Glossary
Negroni - classic cocktail made from gin, Campari, sweet vermouth and an orange twist.
Campari - an Italian aperitif liqueur. Red in color. "Loved by few, hated by many," as requoted by Derrick.
Negroni Social - an invite-only, over-the-top celebration of the Negroni at Nostrana on June 9th. Benefits Outside In charity.
Negroni of the month at Nostrana - since 2010 and led by bar manager Douglas Derrick, The Rooster Bar at Nostrana has given special attention to a unique Negroni variation every month. This year was the Chef Series featuring a new Negroni cocktail made by famous female chefs from the across the country.
Negroni Week - launched in 2013 by Imbibe magazine and Campari, from June 2-8, 2014, bars across the U.S. and the world mix up their favorite variations of the Negroni and donate a portion of proceeds to a charity of their choice.
Douglas Derrick - found at Raven & Rose. He started mixing variations of the classic Negroni while bar manager at Nostrana and started the Negroni of the Month program. Derrick's love affair with Italian food, bitters and wine began with one of his first jobs as a dishwasher at his uncle's restaurant in Arizona. Derrick is also a member of the Campari Academy.
Outside In - helps homeless youth and other marginalized people move towards improved health and self-sufficiency.

Photo: Flickr user franzconde
Tags:
Cocktails
,
Fundraiser
,
Parties
,
Spirits
Recent Articles

Feedback
How are we doing? Tell us what you like or don't like and how we can improve. We would love to hear your thoughts!