5 Mezcal Cocktails in Portland for Cinco de Mayo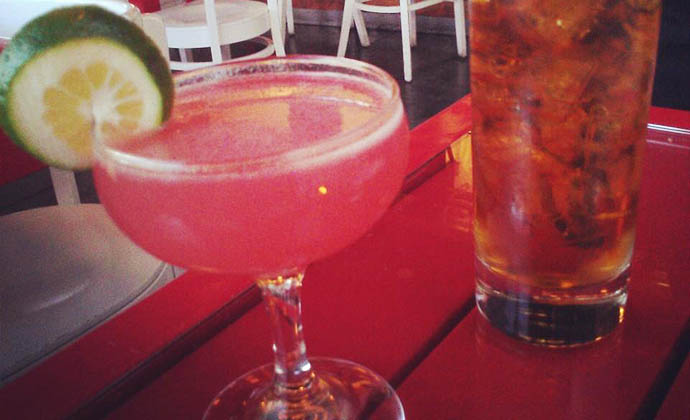 With Cinco de Mayo approaching you may be wondering about the difference between mezcal and tequila. Mezcal is the smoky, older cousin of tequila. If you're having trouble understanding how they are related (yes, that rough-around-the-edges one is still part of the family) look first at the agave they are made from.
Tequila has to be made Blue Agave, while mezcal can be made from over 30 different varieties of agave. Mezcal is produced differently than tequila giving the spirit its smoky flavor; The pinas (pinecones) from the agave are "cooked" underground.

Now that we've covered the basics, it's time to get out there and do some taste testing for yourself. Here are five mezcal drinks we love, just in time for Cinco de Mayo.

El Guapo
The Box Social (3971 N. Williams Ave.; 503-288-1111)
The swanky North Williams Ave. drinking Parlour is dark but inviting. Step past the curtains and have a seat because one of our favorite mezcal drinks in the city is mixed here. Served tall, over ice and with a salt and pepper rim, this tequila and passionfruit cocktail has Del Maguey Vida Mezcal shot floating in an inverted lime peel. The small "cup" of mezcal floats in the drink until you've taken enough sips to submerge the shot into the drink. It's creative, just the right amount of smoky and sweet, and one we're ready to head back for.
The Agave (pictured above)
Smallwares/Barwares (4605 NE Fremont St.; 971-229-0995)
The Agave cocktail can be ordered from either the Smallwares or Barwares menu. Barwares is the back half of the restaurant devoted to happy hour plates, cocktails, sake and beer. Order The Agave for a taste of both tequila and mezcal plus grenadine, lime juice, ginger syrup. This one is shaken and served up with a lime wheel. The mezcal isn't masked by sweetness, and the grenadine doesn't become cloying before the last sip. Like many cocktails at Barwares, The Agave is as solid as they come.
The High Desert Swizzle
Kask (527 SW 12th Ave; 503-241-7163)
In dark corners of hotels, in basements and tucked behind other restaurants of different names are some of the best dishes and cocktails the city has to offer. Portland's sneaky like that. One such hidden gem is Kask, located downtown, adjacent to Grüner. Try The High Desert Swizzle made from Del Maguy Vida mezcal, strawberry shrub, lime, and demerara sugar. The name comes from the swizzle stick used to make the drink frothy. In addition to tequila and mezcal cocktails, mezcal by the shot is available starting at $5.
Hacha Diabolica
Luchador Bar & Lounge (4835 N. Albina Ave.; 503-517-9347)
Owned by Kenny Hill (Trebol, and Higgins) and Justin King (Rooks Barbershop), Luchador is located in Trebol's old space on N. Albina Ave. At this North Portland Luchador-themed bar you'll find 100% agave tequilas and mezcals, house-infused tequilas, margaritas (like the Luchador— a marg with a beer stuck in it), tequila flights, and Mexican and South American-inspired food. There's not only Power Hour from 6-7 PM daily that includes $1 PBR and $1 tequila shots, there's one cocktail in particular you need to order. The Hacha Diabolica is made from Chile de Arbol-infused tequila, San Pellegrino grapefruit and served with a float of mezcal. This cocktail is smoky and sweet, just like a mezcal cocktail should be.
Mexican Manhattan aka Urban Cowboy
Xico (3715 SE Division St.; 503-548-6343)
This mezcal cocktail isn't for the faint of heart. It's strong and packed full of delicious bitterness. Served up in a martini glass, the Urban Cowboy is made from Vida Joven mezcal, Mexican Ango, Capano Anica vermouth, Imbue Petal & Thorn bitter vermouth, and an Amarena cherry. In addition to the Mexican Manhattan, Xico has a menu of mezcal flights, young mezcales, aged mezcales, and even suitcase mezcal that runs $36 for a flight of three.
Photo: Karen Locke
Tags:
Beer
,
Cocktails
,
Holiday
,
Spirits
Recent Articles

Feedback
How are we doing? Tell us what you like or don't like and how we can improve. We would love to hear your thoughts!