Nostrana's "Bitter 101: Amari" Menu Will Get You Hooked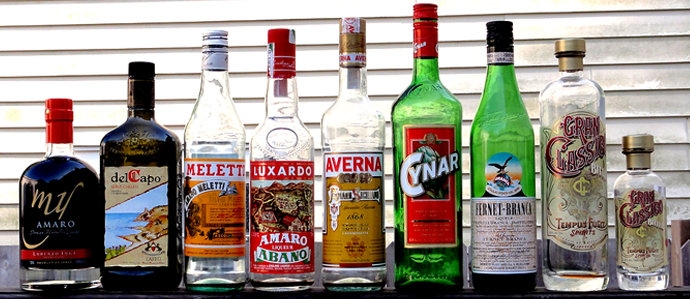 "Averna is the ultimate gateway bitters," Niki Ganong (aka @SudsSister) tweeted recently. The comment followed an article about Campari purchasing Averna. For many imbibers, Averna and Campari are not household names. But they can be, if we just give them a try.
Amaro Averna is just one (gateway) amari available on Nostrana's "Bitter 101: Amari" menu. Amari (bitters) are an unexplored territory for most but once discovered they lead us down a dusty and scenic path, with no turnarounds.
Amaro is a traditional herbal liqueur drunk after meals as an after-dinner digestif. Alcohol content usually varies between 15-40%. Nostrana's aim is to provide flights of amaro for tasting, just like the beer and wine fights we've become so familiar with. Three-glass fights are available after a meal at Nostrana or from the Rooster Bar for $15.
Nostrana offers three categories of bitters on its Bitter 101 menu: beginner, intermediate and advanced. The beginner flight consists of bittersweet amari (such as Averna) and is a "painless introduction." You'll also get Meletti and Amaro CioCiaro. The intermediate selection is "not for the faint of heart" and includes Amaro del Capo, Amaro Braulio and Luxardo Amaro Abano. The advanced flight is "bracingly bitter for the initiated" but there's one on the list you've at least seen, if not tried: Fernet Branca. The advanced flight also includes Varnelli Amaro Sibilla and Amaro Nardini.
Once you've unlocked the amari right of passage at Nostrana, you can move onto the menu of other digestivi that includes house antica limoncello, Luxardo Amaretto di Saschira, and even locally made Vermouth such as Imbue.
Photo: Flickr user Editor
Tags:
Spirits
Recent Articles

Feedback
How are we doing? Tell us what you like or don't like and how we can improve. We would love to hear your thoughts!