Help Widmer Brothers Celebrate its 30th Anniversary Celebrations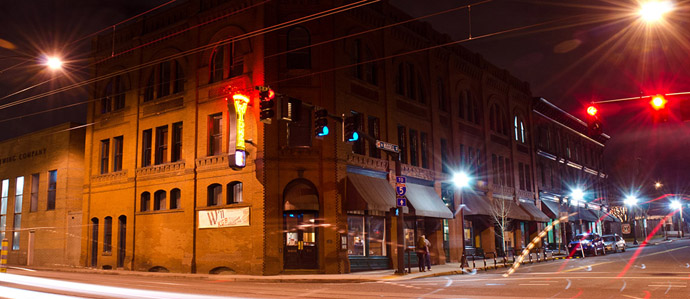 Widmer Brothers Brewing turned 30 this year, and to celebrate the brewing company is throwing a grand re-opening party, Blacklight IPA launch party, and pre-game toast at a Timbers game. In addition to these events, Widmer has already begun releasing its nostalgic "30 beers for 30 years" series in concurrence with the 30-year celebration.
Widmer Brothers Pub Grand Re-Opening, April 3, 6 PM (955 N. Russell St.; 503-281-2437)
The Gasthaus Pub located in the Industrial area of North Portland along the yellow line, hasn't changed much since 1996. The brewery is celebrating an interior facelift on the official date of incorporation 30 years ago. See the changes for yourself with 24 beers on tap and a special 30th Anniversary menu for the night. Limited releases, including the first three releases in the 30 Beers for 30 Years, will be ready to sip. Lastly, you can make all of your Twitter/beer friends envious with a sneak peak of the Blacklight IPA before the launch party.
Blacklight IPA Launch Party, April 4, 7 PM at Kelly's Olympian (426 SW Washington St; 503-228-3669)
This bold, hoppy session-style black ale is a collaboration between Widmer Brothers and Boneyard, and is one of the first six of Widmer Brothers' limited release collab beers with other Oregon brewers for the 30th anniversary celebration. The joint efforts don't stop at the beer, Widmer Brothers brought on LipPop Booking to present live music by RLLRBLL, Gallow Swings, and Downgown. Like beer nerds in Portland, where there's one, there's many: Blacklight will be poured alongside three Widmer Brothers beers and three Boneyard beers.

Kurt and Rob Toast the Timbers Army, April 5, Toast Pre-Game (Providence Park at 1844 SW Morrison St.)
Before the Timbers face the Seattle Sounders, Kurt and Rob Widmer and Abram Goldman-Armstrong will raise Widmer Brothers Green & Gold Kölsch to fellow members of the Timber Army before the April 5 game. Goldman-Armstrong won the "Full 90" category of the 2012 Timbers Army Homebrew Competition with this recipe for the Green & Gold Kölsch. Come celebrate and drink to the Timbers, Widmer Brothers, the Timbers Army, and the 2014 Season. No tickets will be available from Widmer but if you were already planning on attending, join in on the toast.
Photo: Widmer Brothers
Event Date: 04/03,04/04,04/05
Event Time: 6 PM
Location: Multiple locations

Tags:
Beer
,
Parties
Recent Articles

Feedback
How are we doing? Tell us what you like or don't like and how we can improve. We would love to hear your thoughts!